Posted 3rd August 2016 | 1 Comment
ScotRail industrial action goes on hold for new talks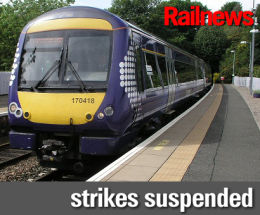 THE RMT has suspended its programme of industrial action in Scotland.
Rail strikes have already taken place in the dispute with ScotRail over extensions of driver-only operation, and two days ago ScotRail said it was preparing a legal challenge to the union's recent actions.
The RMT had said only that it would consider a letter from ScotRail setting out its reasons, but the union now says that all action has been suspended.
The union's executive said: "We note that a meeting has taken place with our elected Representatives and Lead Officer in Scotland to discuss the recent proposals from ScotRail. Further we note that it is the majority view [of] our negotiating team that all further industrial action should be suspended to allow for further talks to take place with the company.

"We therefore instruct the General Secretary to suspend all pending action. Further we instruct the General Secretary to arrange an urgent meeting with Abellio ScotRail to discuss platform train despatch procedures with ASLEF in attendance."

The union's general secretary Mick Cash said: "The union has made sufficient progress to enable us to suspend the current programme of industrial action on ScotRail to allow for further detailed discussions on the issue of platform train despatch procedures. Our colleagues from ASLEF will be involved in those discussions with the company.
"The progress we have been able to make in this dispute is entirely down to the resilience, determination and strength of our ScotRail members who have taken wave after wave of rock-solid action in defence of rail safety. They are a credit to the entire trade union movement."
There has been no comment so far from ScotRail.
Reader Comments:
Views expressed in submitted comments are that of the author, and not necessarily shared by Railnews.