Posted 21st June 2016 | 5 Comments
DOO strikes disrupt ScotRail, Southern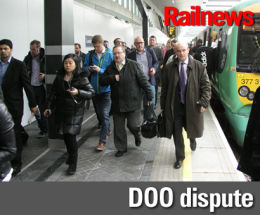 TRAIN services are being disrupted in much of Scotland as well as Sussex and Kent, as conductors working for ScotRail and Southern stage simultaneous strikes today in protest at proposals to extend driver only operation.
Both Abellio and Govia Thameslink Railway are defending the plans, and denying union claims that DOO is less safe than using conductors to control the doors.
The RSSB has come out in support of DOO, saying that 15 years of research has not turned up any 'increased risk'. In fact, it suggests DOO could be safer, because it removes any chance of 'miscommunication' between conductors and drivers.
Govia Thameslink's chief operating officer Dyan Crowther said: "The RSSB statement is clear and unambiguous. Not only is DOO safe, it could be even safer than having a conductor closing the doors. We call on the RMT to cease their alarmist scaremongering about safety."
The Southern walkout is the fourth day of action, but the Scottish strike is the first of seven days of walkouts which the RMT has called, including one 48-hour stoppage over a weekend. As in southern England, the union is opposing proposals to extend DOO, although ScotRail said a second member of staff would still travel on board the new electric trains which are to be introduced between Edinburgh and Glasgow Queen Street.
Phil Verster, the managing director of the ScotRail Alliance, said: "This strike is totally needless. The RMT have refused point blank to talk to us about how we modernise and improve Scotland's railway. Instead they have hidden behind a national policy that says that nothing must ever change. Tens of thousands of our customers will be disrupted and hundreds of our own people will be hit financially as a result of their intransigence.
"The RMT have been saying that the strike is about driver-only trains. It is not. There would still be a second person scheduled to be on services following the introduction of the faster, longer, greener trains from late next year.
"The RMT have said that services that have the train door opened and closed by the driver are unsafe. In fact, 59 per cent of people who travel by train in Scotland do so on a service that safely operates in this manner. This has been the case, with the full agreement of the trades unions, for 30 years."
However, the RMT is showing no sign of backing down. Talks at ACAS in the Scottish dispute broke down yesterday, and RMT general secretary Mick Cash said: "They set up a series of ludicrous preconditions that they know cannot be met by the union and, as a consequence, yet again they effectively sabotaged the process."
However, ScotRail said the RMT had been running a campaign of 'disinformation that doesn't bear any scrutiny'.
The war of words has deepened in the south of England as well. The RMT published a list of services which it said had been cancelled by Southern even though train crews were available. Southern responded with explanations for most of these, but conceded that there could be some errors in communication at such a confused time. The company denied that it would cancel services deliberately, not least because cancellations could result in 'heavy fines'.
The RMT has won the support of the TUC. Deputy general secretary Paul Nowak said: "Nobody wants a strike. It means inconvenience for the public and lost pay for staff.
"The rail workers deserve our support. They are putting passenger safety first. Trains need more than just a driver -- they need other properly trained staff to ensure that passengers are safe.
"If you are in any way vulnerable, having a guard on board makes a real difference.
"Southern Rail, backed by the government, are putting their profits before passenger safety. We need a resolution which respects staff and keeps passengers safe."
Reader Comments:
Views expressed in submitted comments are that of the author, and not necessarily shared by Railnews.
Shame on Dyan Crowther for accusing the RMT of scaremongering. They're the ones doing the scaremongering. ;)

The trains operated by Northern on my local line feature guards. Most of the time they don't pass through trains during busier periods, remaining in the rear cab most of the time. Those that do collect fares during the busier periods and have a 'presence' on the train seem to struggle to carry out both fare collection and train operation duties. It is not uncommon to have to wait for a guard to finish dispensing tickets then walk the near entire length of a train, past/over passengers, bikes, children, prams, luggage, lap-tops and other items to get to the rear of the train to open the doors, delaying the train in the process. Why can't fare collectors collect fares and drivers operate the train, minimising delay, maximising fare collection and not compromising safety? Does the RMT and TUC really believe passengers care about the job title of the company employee stood in front of them when they need assistance?

I hope for everyone's sake that the strikes go on until TOCs listen to the RMT. ;)

Oh good grief....so no end in sight then!

The RSSB statement seems pretty clear and I'm sure I've seen similar from the RAIB as well

Given DOO already operates on about a quarter of ScotRails network (in particular the busy Strathclyde area) already I can not believe that safety is really at the heart of RMT's campaign but something else (maybe two fingers up at a Tory government?)

Surely there must be a fear that a prolonged and toxic dispute this summer - in particular one that no-one really understands the reasons for other than he said/she said press statements - could drive a modal shift away from rail and actually threaten rail workers more broadly rather than a fight over who gets to open doors on trains? That would have to be a worry for TOC and union alike

Ultimately the people who suffer the most in all of this are passengers; for everyone's sake lets hope they don't vote with their feet