Posted 4th July 2016 | 7 Comments
Southern to axe trains in bid to boost reliability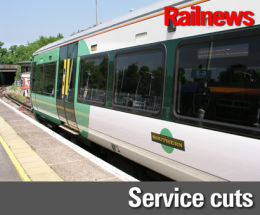 SOUTHERN is set to cut the number of services it operates in a bid to improve reliability. The RMT says it has learned that the changes will remove 350 trains a day from the timetable.
The operator, which is part of Govia Thameslink Railway, is embroiled in long-running industrial disputes over plans to convert most services to driver-only operation, although a second member of staff would usually be carried as well in a supervisory role. However, their duties would not include opening and closing the doors or dispatching the train.
Services have been frequently disrupted by high levels of conductor sickness, as well as periodic strikes, and the problems have triggered a large number of complaints.
Southern managers told a public meeting on Saturday that they would be publishing a revised timetable tomorrow which would come into force on 11 July. There will be fewer trains on some routes, but it is hoped that they will be more predictable.
GTR chief operating office Dyan Crowther said: "We're doing that to match the number of staff that we have to the timetable. It's really, really important we accept that what we have not been able to do is to provide customer certainty. By putting in an amended timetable that's what we're going to be able to do."
MPs in the area have also become involved. The member for Hove, Peter Kyle, said unreliable train services were now putting jobs at risk.
Last week he told the Commons: "This shambles is turning into a crisis. I have people writing to me who are late for work every day and getting written warnings from their bosses. The Government seem to expect them to turn to their bosses and say, 'Don't worry. By 2018, it will all be fine'. When will this shambles and crisis end? When can people tell their bosses that things will get better?"
A Remedial Plan drawn up in February by Govia and the DfT, which was published at the end of May in a redacted version, allows greater numbers of cancellations before the operator would be in breach of its franchise contract, a change which is being bitterly criticised by the RMT.
The union's general secretary Mick Cash said: "This latest savage attack on passenger services by GTR is nothing to do with staff sickness and everything to do with gross mismanagement of this franchise and the failure to employ enough guards and drivers to fill the current rosters and diagrams. The continuing attempt to blame the front line workforce for this crisis is a cynical and cowardly ploy that will not wash with the travelling public.
"The solution of this failing, basket-case franchise is not axing more trains and attacking those trying to hold it together at the sharp end -- it is the removal of Govia at the earliest possible point."
Reader Comments:
Views expressed in submitted comments are that of the author, and not necessarily shared by Railnews.
Southern must be losing money with reimbursing all those Delay Repay claims, this new timetable will probably stop that! In the meantime commuters are still subjected to a terrible service with no end in sight

It's not a certainty that it will be coming. Besides, it doesn't look good to implement a project if it has more haters, and I know it does. ;)

DOO is safer than guards, or platform dispatch. FACT. There is absolutely zero need for platform dispatchers or guards in 2016. CCTV is always safer at all times. If drivers don't like having liability for dispatch, then they should resign. They are paid enough as it is, and maybe should start earning their £50,000 a year by taking on liability for the customers who pay their exorbitant wages. If they can't be bothered to check a platform properly then they should be jailed, and for a long time I hope.

Get the agencies in to smash these union dinosaurs in ASLEF and RMT. G4S can recruit keen migrants, or use workfare to perform security duties on trains, if need be. There are plenty of people who will willingly work for G4S without demanding ridiculous final salary pensions, free travel or other lavish gold plated gifts.

It is time the brave managers took on the wreckers in the militant parts of the country (North / Midlands / Wales / South West). DOO should not be a South Eastern metro thing, we need full DOO everywhere. Aberdeen to Penzance should be run DOO, with self dispatch at every stop.

@Douglas, the unions aren't fussing, they're just making it transparent that DOO ISN'T safe. ;)

We can't rely on them to say "no" to DOO though. ;)

Caught between a rock and a hard place by the sounds of things. GTR can't get their staff back to work (they say) to run a full timetable. But surely running a reduced service will mean extra pressure on an already over subscribed network?

Can the RMT not see that this prolonged dispute is seriously having an impact on people's lives? If more DOO is coming (and it appears to all intensive purposes it is) then why won't they focus on how it's implemented with the minimum of fuss rather than just saying "no" and digging the heals in

Both sides of this dispute seem to care little about the travelling public and that is ultimately very sad...unless I'm mistaken, nobody is losing their jobs, nobody is having to take a pay cut and the safety argument doesn't appear to hold any water

There must be more to this than meets the eye. If commuters start looking at alternatives to rail then the long term impact on jobs and services could be a lot more devastating than a dispute over who is responsible for opening doors