Posted 14th July 2016 | 6 Comments
Cabinet reshuffle: Patrick McLoughlin leaves DfT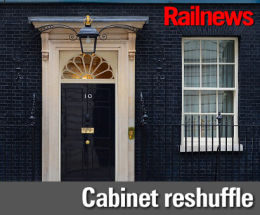 THE Prime Minister's office at 10 Downing Street has confirmed that Patrick McLoughlin is moving from his present post as transport secretary to become Conservative Party chairman and Chancellor of the Duchy of Lancaster in Theresa May's new government.
The MP for Derbyshire Dales has been in charge of transport since the autumn of 2012, when he replaced Justine Greening. One of his first tasks was to announce the failure of the Intercity West Coast competition and deal with the aftermath.
He ordered a review of the Department for Transport's organisation and methods, and appointed former Eurostar chief Richard Brown to replan the franchising programme.
He is a committed supporter of the railways, especially the plan to build HS2 between London, the West Midlands and the north, on which it is hoped construction can begin next year.
The name of the next transport secretary has not yet been announced.
Reader Comments:
Views expressed in submitted comments are that of the author, and not necessarily shared by Railnews.
Shame that Patrick McLoughlin has been moved. Just when there was someone who seems to get things moving. Let's hope that the new man is going to follow the same script.

Whilst I am also sorry to see McLoughlin go, Chris Grayling was of course at one time the shadow Secretary of State for Transport when in opposition, for a couple of years, so he should know quite a lot about transport. I seem to remember he had some quite interesting (even radical) views then, but apparently he is an HS2 supporter.

We need continuity - no backsliding. It should be clear to anyone that rail use is growing and needs further investment to ensure that the system can cope. In addition to HS2 &HS3 this should include the completion of the 'varsity' route throughout - a potential money-spinner without doubt. I hope Chris Grayling is up to it.

I agree with John. Patrick McLoughlin will be sorely missed as Transport Secretary - he seems to have been a keen advocate for rail and, during his tenure, backed a number of long-overdue development projects. We now know that Chris Grayling is the new Transport Secretary and we can only hope that he is just as enthusiastic for rail. We do not want to enter a period whereby cost-savings are once again the norm and new projects, such as HS2 and further electrification, are shelved.

Just when he was getting a grip on the transport issue - hope his replacement knows something about railways.