Posted 5th July 2016 | 7 Comments
Southern reveals extent of service reductions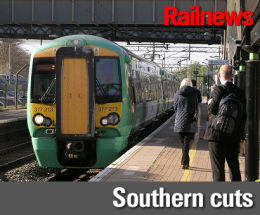 SOUTHERN has published the details of an emergency timetable which will come into force next Monday (11 July) in a bid to boost reliability by advertising fewer trains.
Southern said it was 'the best thing we can do', but a rail union has condemned the move as 'crisis management'.
Almost one in six services -- a total of 341 -- will be lost each day, as the company continues to battle with high levels of conductor sickness and the long-running dispute with the unions over extensions of driver-only operation, which has already led to several 24-hour strikes this year and is showing no signs of a resolution soon.
Southern's owner Govia Thameslink Railway is at deadlock with the RMT in an argument over whether DOO is safe. GTR has pointed out that most of its services have been DOO for many years, while the RMT has reaffirmed that will oppose any extensions. The union has also announced several further strikes on ScotRail over the same issue.
The reduced Southern timetable from next Monday includes the suspension of Southern's hourly services between Clapham Junction and Milton Keynes Central via the West London line, Harrow and Watford. This route is also served by London Overground and London Midland, but only in sections. Other timetables will be cut back. They include the Coastway routes, with buses replacing most trains between Seaford and Lewes, many fewer through trains between Brighton and Southampton, and a reduced off-peak service between Tonbridge and Redhill.
Southern said the changes would preserve 95 per cent of the peak capacity at London Victoria, with London Bridge maintaining 86 per cent in the mornings and 84 per cent in the evenings.
The company has been under increasing fire over widespread cancellations in recent weeks. The Labour Party today (5 July) called for the Govia Thameslink Railway franchise to be terminated, echoing similar calls from the rail unions and angry MPs.
Southern has labelled the dispute as 'entirely unnecessary', pointing out that more than 40 per cent of Southern services are already DOO, and that DOO is standard on Thameslink, Great Northern and Gatwick Express, although there is still a related dispute with ASLEF about working new 12-car trains on the Gatwick route as DOO.
Southern passenger services director Alex Foulds said: "We are introducing this temporary weekday revised timetable with reluctance but it is the best thing we can do for our passengers who have been suffering daily cancellations ever since this dispute with the RMT began, and for which we are sincerely sorry.
"It should give the majority of our passengers a better, more consistent service that they can plan around. Whilst our first priority is our passengers, we also understand that this has been a difficult time for our staff. Conductors already know that their jobs are guaranteed, that there will be no reduction in salary and that the independent rail safety body has confirmed our plans are safe.
"Now, after listening to our staff, we have also decided to restore leisure travel benefits. All of this, we believe, should help our staff feel able to return to work and so reduce the issues causing the current high level of train cancellations."
The RMT, meanwhile, is staying firm. The union's general secretary Mick Cash reacted to the timetable cuts by saying: "This is crisis management on Britain's biggest rail franchise, a franchise that is now in terminal meltdown. The continuing attempt to blame this gross mismanagement on the front line staff is a cynical and cowardly ploy by a company who have chosen to wage war on their passengers and workforce alike.
"The managers at GTR pay themselves fat salaries and bonuses, in reward for failure on an epic scale, while the staff on the trains and platforms are left to take the blame for the bosses' incompetence.
"This so-called emergency timetable enables Govia to cancel 15 per cent of their trains and rig their appalling performance figures to protect their profits.
"Instead of conniving with this scandal the Government should fire GTR and immediately instruct the legal, public-sector fall-back operation to take over."
Southern said compensation for delays would be 'set against normal and revised timetables'.
Revised strike dates in the ScotRail DOO dispute have also been announced by the RMT, following another walkout on 3 July. Stoppages have been called for 10,11,14,16 and 17 July.
Reader Comments:
Views expressed in submitted comments are that of the author, and not necessarily shared by Railnews.
The Docklands Light Railway trains are driven without human control then?WOW! Never came across that. Could not imagine that on the whole network just as much as DOO! ;)

[Strictly, DLR trains are controlled (or driven) by computer. The program used was, of course, written by human beings, but they only intervene when working becomes out of course. The new Network Rail ROCs also regulate trains with computers. Humans oversee the results, and can again take over if necessary. 'Driving' a train under ERTMS is largely automatic too, as it is on some London Underground lines.--Editor.]

Interesting how the unions are blaming all of this on the company. It is doubtless the company had a part to play, obviously, but so does the union. Are the unions suggesting that the strike action and lack of conductors are not connected??

At the end of the day this is playing directly in to the hands of those who want to, rightly, ban rail staff from striking in the interests of the general public, commuters and those that need these services to run.

As far as I am concerned, the arguments of the conductors losing their jobs is just that they do not want to do anything different than what they have done for years. Sit down, do nothing until a train arrives at a station and then go and sit back down again. Same as when ticket offices closed on the underground. "I like sitting behind my little window, thank you very much, how dare you make me deal directly with passengers who need my help".

The next thing the British public will be wanting are trains driven automatically without humans. ;)
[As on the Docklands Light Railway?--Editor.]

The quicker trains are all driverless the better. DOO is perfectly safe, get a grip and stop disrupting everyones lives. GTR should just fire the lot of them.

The elephant in the room in this sorry state of affairs remains the DfT. The well reported comments of the Franchising Director from earlier in the year exposed the departments role in determining the staffing arrangements for this group of services. Why else is this high level of disruption being tolerated and the normally expected sanctions against the franchisee not being taken?

The enlargement of the Thameslink franchise was always going to be a major challenge and was recognised as such by awarding a management contract while the disruptive works were completed. However changing operator has also exposed a weakness in the franchise process where the incoming operator has inherited problems left by the outgoing franchisee. Since taking over Govia have inherited a railway short of drivers with an expending traction & route learning programme and have been playing catch up ever since.


"The continuing attempt to blame this gross mismanagement on the front line staff is a cynical and cowardly ploy by a company who have chosen to wage war on their passengers and workforce alike."

If this is the case, does the RMT really think it is winning the hearts and minds of the customers on whom GTR is allegedly waging war on by adding to their woes through the continuation of this strike and the implementation of this emergency timetable as a result?

Have both parties forgotten that it is those same customers that are funding GTR (through fare box returns and taxation) AND the RMT via members wages derived from said fare box returns and taxation? I can understand and appreciate there may well be safety and job concerns but both parties need to get their act sorted out and work together to reach a compromise and settle this issue, as in the end it is the customer who is suffering the most, the same customer that is subsidising both parties in the first place.

That don't have to cease there – they can give DOO the big fat "no" that I've always craved. ;)