Posted 14th June 2016 | 7 Comments
Talks restart in Southern conductors' dispute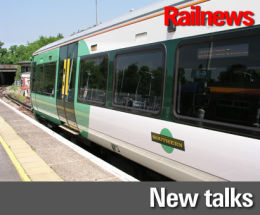 TALKS have restarted between Govia Thameslink Railway and the RMT union over the long-running and often bitter conductors' dispute.
GTR is planning to replace most conductors on Southern routes with 'on board supervisors', who would deal with passengers but not control the doors or dispatch the train, which would become duties of the driver.
The RMT opposes the change, claiming that safety would be affected -- which GTR denies.
There have been three days of strikes over the issue so far this year, and both sides have accused the other of unreasonable or unfair behaviour.
However, the two sides resumed discussions at the conciliation service ACAS yesterday.
Afterwards, GTR said: "We met with the RMT at ACAS today. We responded to the points raised by the Union, and they have taken our responses back to their executive for consideration. We await their response, and hope that they will move this forward and help us develop the On-Board Supervisor role."
Reader Comments:
Views expressed in submitted comments are that of the author, and not necessarily shared by Railnews.
To be sure that DOO is not implemented on future rolling stock, we'll tell the manufacturers which will build the stock not to make them DOO capable. ;)

CCTV cameras are more suited to catching criminals stealing from a corner shop.

Interesting but unsubstantiated claims.

I would like to see real evidence for and against the driver operating the doors. On the underground the driver does this at every station, and before anyone says there is always a member of staff on the platform, no there is not. But yes the new trains are longer.

There will always be those such as unions, staff and management that want things that are unreasonable or do not want to change things.

Unfortunately the unions have a political agenda, and wind the staff up by
phrasing things in such a way as to not be untrue but not wholly enough to give the full facts of the matter. Staff who do not want to change what they do, as they have got so used to it, then complain as they have been led on by the Unions who as I have said do not give the whole accurate story. But then on the other side are the bad guys, the managers who have been given a job to do, that job to introduce new technology, new ways of doing things, but then they also have their own agenda.

In reality, this has nothing to do with safety of passengers. it has got everything to do with unions vs management with the piggies in the middle being the staff, who do not want to change what they do.

It is dangerous, too dangerous to bring in. Keep it with the conductors.

DOO is dangerous.

I have seen many close shaves with drunks jumping on the sides of trains, or causing serious disruption, and violent behaviour.

CCTV is no use if a bunch of drunken idiots are leaning against the side of the train, banging on the window at their mates, 10 carriages away from the driver. A guard can position themselves in the right place and keep an eye on any dangerous behaviour near the platform edge, and deal directly with the people involved. A driver is not in an appropriate location, and delays and distraction will occur, if they have to keep walking back, and deal with anti social behaviour, with possible SPAD or other incident risks.

With all the sackings and jail terms for rail staff, due to dispatch incidents on the platform, often by intoxicated people, why would drivers want to take liability for dispatch and anti social behaviour, on top of driving a train.

Horton claims CCTV is safer than guards. He should put his money where his mouth is, and be willing to serve prison time, if someone falls under a train due to DOO dispatch.

The talks will last until Christmas the way this is going.