Posted 7th June 2016 | 9 Comments
New talks in 'toxic' Southern conductors' dispute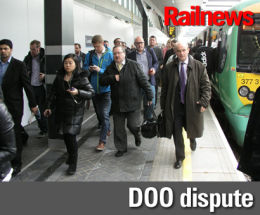 TALKS have started at ACAS in a bid to resolve the long-running dispute between Govia Thameslink Railway and the RMT over proposals to replace many Southern conductors with on-board supervisors, who would not control the doors or start the train. Southern has promised that there will be no pay cuts or compulsory job losses when most Southern trains are converted to driver-only operation.
But the discussions are taking place against a turbulent backdrop of accusations and denials, while one Sussex MP wants the franchise reviewed by the DfT because its performance is getting worse, with up to 90 trains a day currently being cancelled. Govia has published sharply increased sickness figures affecting its conductors, and the RMT has accused the company of cancelling some trains because of alleged staff shortages when train crews were actually available.
Govia has dismissed this claim as 'ludicrous', while the RMT said it was 'sick and tired' of taking the blame for what it saw as 'mismanagement'.
RMT general secretary Mick Cash said GTR had created a 'toxic' working environment. He has already accused Southern managers of 'bullying' his members.
Writing in the June edition of Railnews, Govia Thameslink Railway chief executive Charles Horton said: "The railway men and women of Britain are overwhelmingly diligent and hard-working, and they care deeply about the rail service they provide. But they are being led astray, and misled repeatedly, by trade unions acting in their own narrow interests and ignoring the interests of either commuters or railway workers themselves. It's time for those unions to get on board with these changes."
Meanwhile, Crawley MP Henry Smith, who has been a frequent critic of Southern, is calling for a meeting about its industrial problems with the transport secretary Patrick McLoughlin, saying: "We need to start questioning the franchise now."
More talks at ACAS are understood to be planned for next week.
Reader Comments:
Views expressed in submitted comments are that of the author, and not necessarily shared by Railnews.
Train services from Brighton & Hove are so AWFUL, so difficult, so stressful, so completely unreliable, that I'm forced to move back to London. This is no way to run a railway. Especially at these outrageously crazy prices.

The RMT (and to a degree Aslef) have been spoiling for a fight for a long time, picking a variety of petty squabbles with TOCs.

Why is it that Thameslink can run 387s in a 12 car rake, but not Gatwick - who used to runs 10s.

The only toxicity in this dispute has been injected by Mick Cash. Sadly his members are like sheep while Mr Cash makes his mark with TOC management, by putting the fear of God into them. It's not working, and RMT members are suffering. The daft bit is that the drivers and conductors are losing money, while Mr Cash sits in his ivory tower with no loss of income.

As for GTR, they should have brought the unions in to talk much earlier, but can conveniently blame the change of franchise…..

I've backed the RMT on this one, but hopefully there is a conclusion to this never-ending saga. 💤

Given that new trains are not exactly bought off the shel but need to be ordered and manufactured over several years it raises questions as to why talks are not held much earlier if new trains are markedly different to those in service with the increasing number of 12 car fixed length Thameslink trains coming to mind with plans to use ATO in central section.

While we also have arguments re new class 387 trains which it seems can be used on Thameslink but not on Gatwick Express because new trains have extra carriages but are only a bit longer than old trains a situation which would have been even more daft if new trains were shorter but still had extra carriages !

Of course it's also the attitude of train companies which often never gets reported especially in newspapers for while Stagecoach which operates South West Trains believes in putting a 2 nd person in both sections of a 2x5 carriage trains thinking of them as good for passengers we have other companies even TFL London Overground who see removing 2nd person as a quick win in cost cutting and have no interest in customer service.

As for calls to withdraw Govia from running TSGN well the government only recently awarded the I believe concession which is more designed to see through merging of routes into Thameslink project and raises the question as to why DFT did not run this operation like it did ECML until say 2020 when TSGN could be re-awarded with TFL taking London only services , and maybe re-configured Southern, South East services and West Anglia together with changes to Midland franchise post electrification .



DOO and self dispatch without platform staff is always safer than with guards and platform staff at all times. All trains should run DOO and the drivers should do their jobs properly rather than moan about prosecution because they cannot be bothered to check a platform - hardly a taxing job for £50,000. All stations should be DOO self dispatch.

Drivers who don't want DOO should go the way of the guards, go and take a job on the minimum wage and see how far your hard leftist "safety" lies take you in the real world. The sooner railway workers are outsourced to G4S and replaced with keen migrants, and the thuggish unions crushed, the better for the rest of us.

Time to take on the FGW militants and Northerners after the brave Southern Management finally crush these socialist wreckers.

Although I don't live in the Southern region, I am planning to come down on holiday in a couple of weeks time and will be using Southern trains to get around as I don't drive. Also I do live in Cambridgeshire which is served by Great Northern and I use their trains a fair bit as well as Thameslink trains from Bedford. My take on this situation is that both sides have been as bad as each other. Southern should not be trying to force these changes through when the union clearly has safety concerns and the union should be much more flexiable and actually listen to what Southern is proposing. But the worst thing has been this war of words that has erupted over this issue and the cliams and counter claims that have been hurled about the sudden rise in cancellations. It's childish, it's offensive and it is disrespectful to passengers who have done nothing wrong and are having their journeys ruined every day because Southern and the RMT seem more interested in hurling insults at each other rather than sitting down and sorting this mess out. Southern passengers deserve better than this and if Southern and the RMT actually care about the customers they serve, they will grow up, stop acting like a bunch of two year olds and sort this dispute out NOW, because if they don't people are going to vote with their feet and not use the trains at all

I would take the RMT more seriously if they didn't keep crying wolf. I remember a year or to ago they were telling everyone who the new Northern and Transpennine franchises would definitely lead to service cuts. It didn't. I can see why there might be alarm over having no-one on the train but the driver, but that's not what's being proposed - as far as I can tell, the only issue under dispute is which member of staff on the train operates the doors.

Never thought I'd say this, but I miss Bob Crow. I disagreed with him most of the time, but at least under Bob Crow's leadership I could understand what the grievances were. If people aren't taking Mick Cash's claims seriously, he only has himself to blame.

At least talks are a positive step forward although not convinced that ACAS will be able to sort out this mess

I worry that there has been too much mud-slinging from both parties and also doubt that either RMT or GTR will concede enough ground to make it meaningful

After all GTR have a franchise commitment to the DfT to deliver DOO and RMT's "say no" campaign is national (see ScotRail, Northern and MerseyRail amongst others) so can't imaging they will want to weaken other threats of industrial action

Can't believe that this has become such a toxic campaign from both parties....ultimately leaving trains cancelled and passengers in the middle

If everyone is so professional then why allow things to degrade so far and completely. What trust and 'industrial relations' is going to exist between RMT and GTR once the dust has (hopefully) settled on this dispute and what about the next time

The inflammatory use of language from some of Mick Cash's statements on behalf of the RMT (and not just directed at GTR) lately doesn't suggest there is a view of working in partnership with the TOCs rather focused on pushing through an agenda

Whoever does or doesn't take responsibility for this it looks like an unpleasant summer ahead for rail travellers across the UK; although I really hope I'm wrong