Posted 28th June 2016 | 10 Comments
Jail sentence for West Coast SPAD driver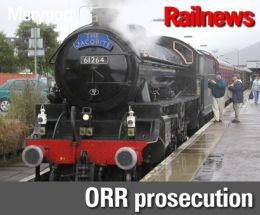 THE driver of a steam-hauled charter train who turned off a safety system and almost caused a major collision with a high speed intercity train has been given a jail sentence by Swindon Crown Court.
Melvyn Cox was driving the train at Wootton Bassett Junction near Swindon in March last year. It overran a red signal by almost 700m and came to rest fouling the main Great Western line, only moments after an Intercity 125 express had passed.
He pleaded guilty to health and safety charges in connection with the incident, and was given a four month sentence, suspended for 18 months.
The court heard that he had directed a colleague to turn off the Train Protection and Warning System, which would have stopped the train.

His employers, West Coast Railway Company Limited, also pleaded guilty and were fined £200,000, plus costs of £64,000.
The ORR said its inspectors had uncovered 'significant failings in WCRC's managerial controls'.
HM chief inspector of railways Ian Prosser said: "Train operating companies and their drivers hold positions of great responsibility, with a duty to protect the safety of colleagues and passengers. Almost all undertake their roles in accordance with the rules and their training.
"West Coast Railway Company's ineffective management led to their train driver deliberately misusing a key safety system on a train travelling between Bristol and Southall.
"This prosecution has led to WCRC taking significant steps to improve its management of safety, with support from the regulator.
"Rail safety remains one of the regulator's key priorities and we will always take action against companies or individuals if failings are found."
Reader Comments:
Views expressed in submitted comments are that of the author, and not necessarily shared by Railnews.
What has Driver Only Operation got to do with this case ??? Nothing !!!

Only by pure luck did Melvyn Cox not kill hundreds of innocent men women and children. He must suffer the consequences of his criminal actions.

I am of the view that jail sentence given should not have been suspended, and he should never drive any rail vehicle again.



Will the TOCs backing DOO get a criminal offence like this train driver? I highly doubt it.
[You are right to doubt it. No one has suggested that DOO is criminal or illegal.--Editor.]

I certainly hope he lost his job and never drives trains again!

The driver is getting some hate across all boards. I don't see the TOCs backing DOO getting any hate. ;)

I will have to go back on my first comment for this article that said drivers keep us safe if DOO is implemented. ;)

I find this staggering that the courts were so lenient with the driver. he could have killed a great many people by his actions.
Network Rail doesn't want charters on the railway, thanks to this idiot they might have got their way.
Safety systems are there for a reason, to prevent accidents when staff are distracted or unwell. This was deliberate and sloppy.
The article does not say whether he will be allowed to drive trains in the future. Let's hope not.

He isolated the AWS which rendered the TPWS ineffective because there was an Temporary Speed Restriction in place on the route which had triggered an emergency brake application. The driver didn't want to have any delays caused by consistant brake demands from the AWS, plus the AWS warnings were not apparent to the crew.

But WHY did he turn it off?
Must have been a reason?
Annoying beeps or something?

Most train drivers keep their service safe from harm – it's just the small minority who have messed up, and they won't have meant it.