Posted 24th March 2016 | 4 Comments
West Coast returns to the rails after safety shake-up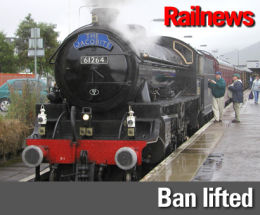 THE Office of Rail and Road has lifted its Prohibition Notice on the West Coast Railway Company.
The heritage operator's safety certificate was revoked with effect from 18 February, after a series of hazardous incidents. One resulted in a prosecution which is still in progress.
ORR had launched a review of WCRC's safety certification in December after a number of incidents. The first of these, last March, involved a steam locomotive operated by WCRC passing a signal at danger at Wootton Bassett Junction near Swindon. The train came to a stand fouling the main line, narrowly missing a collision with a GWR express which had passed less than a minute earlier.
After the ORR had taken action, West Coast was then unable to operate trains on Network Rail infrastructure until the ORR was satisfied that 'its governance and operations meet industry practice and are fit for the scale of its operation'.
The ORR said that it now received 'evidence of, assurances that steps have been taken to remedy the issues we identified'. These include the introduction of clearer governance structures with proper accountability for safety, more robust risk assessments and better management of staff, with a more effective focus on safety.
ORR director of railway safety and HM chief inspector of railways Ian Prosser said: "A decision to stop any train operator from running rail services is never taken lightly. I am satisfied that WCRC has now taken all the necessary steps to address the issues of concern on safety, such that I am now able to lift the Prohibition.
"We shall continue to closely monitor WCRC over the coming period to ensure that their approach is embedded into the culture of the company and that they fully comply with all the commitments they have made. Fit and proper safety management is one of the reasons we now enjoy the safest railway in Europe. ORR will never compromise on safety."
In a letter to the ORR, West Coast chairman David Smith has undertaken to reduce the complexity of the business. An independent safety consultant has already been appointed, while the managing director has been empowered to take safety and training-related decisions without the need for board approval. All steam charters will carry a traction inspector in the footplate in future. Mr Smith said: "In order to satisfy ourselves that lessons have been learned and that our improvement plan is being successfully implemented the board and management team have been restructured to strengthen the focus on the future safe operations of our trains."
The lifting of the West Coast ban has come as good news for other heritage operators, who had been forced to cancel some trains while seeking alternative suppliers of locomotives and rolling stock. The 'Jacobite' steam service, which is operated by West Coast between Fort William and Mallaig, should also now be able to start running as advertised from 9 May.
Meanwhile, the prosecution of the West Coast company and one of its drivers has been unaffected by the ORR's decision to restore West Coast's safety certificate. Pleas in response to health and safety charges in connection with the Wootton Bassett incident had been due to be heard by Swindon Crown Court on 18 March but the hearing has now been adjourned to a day in May, reportedly at the request of one of the defendants. The exact date has yet to be announced.
Reader Comments:
Views expressed in submitted comments are that of the author, and not necessarily shared by Railnews.
Perhaps getting people who want " to play trains" off the mainlines would be a good thing. After all NR & the TOCs have an excellent safety record. Recently reported we have the safest railway in Europe if not in the World!

There better be no more incidents involving West Coast Railway Company, or they will be permanently banned from running steam tours. They're treading on thin ice.

Lets hope the 'uncompromising' safety bit applies to every TOC and not just the minnows