Posted 4th November 2011 | 5 Comments
Germans buy open-access operator Grand Central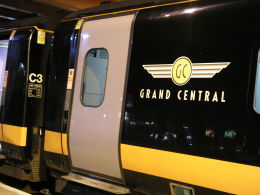 WEEKS of speculation about the future ownership of open-access operator Grand Central have ended with confirmation that Deutsche Bahn has bought the company, via its British subsidiary Arriva UK Trains.
The price of the buyout has not been revealed, but the acquisition will mean that DB now controls Grand Central as well as the CrossCountry, Arriva Trains Wales and Chiltern Railways franchises, plus concessions to run Tyne and Wear Metro and London Overground. The London concession is a joint venture with Hong Kong-based operator MTR.
Present Grand Central managing director Tom Clift is to stay in his post, and Grand Central's headquarters in York will be maintained.
Bob Holland, who is the managing director of Arriva UK Trains, said: "We firmly believe open access will play a valuable part of a balanced portfolio for our UK Trains division alongside our franchises and concessions.
"Bringing Grand Central on board means we have a live open access operation up and running, one which is popular with customers and which we believe we can develop to become a key commercial part of our UK rail operations."
DB had already inherited a share of former open access operator Wrexham & Shropshire when it bought Chiltern Railways operator Laing Rail, but the Wrexham operation was closed down at the end of January this year.
Grand Central MD Tom Clift added: "Today opens a brand new chapter for Grand Central and for open access operations on Britain's railways.
"The decision by Arriva, one of Europe's largest transport undertakings, to acquire Grand Central is a huge vote of confidence in all our staff who have worked so hard over the last four years to deliver the very highest standards of customer service to the growing numbers of passengers using our routes.
"I will continue to lead Grand Central and will report directly into Bob Holland, MD of Arriva's UK Trains division. Meanwhile Grand Central will remain a self-contained business with its own unique brand and identity. Our headquarters will continue to be based in York."
Today's announcement means another major change for Grand Central, which began more than eight years ago as a prospective open access operator linking Newcastle and Preston.
The ORR refused to grant a licence for that route, on the grounds that the services would be 'primarily revenue abstractive' and affect the then prospective franchise TransPennine Express.
Grand Central survived to launch an alternative service between London and Sunderland, and last year added a second route between London and Bradford.
However, its founding director Ian Yeowart left the company after a rumoured boardroom fallout, and is now promoting another open-access operator, Alliance Rail, which is proposing to run services from London King's Cross and Euston to various parts of the north of England.
Reader Comments:
Views expressed in submitted comments are that of the author, and not necessarily shared by Railnews.
Will be interesting to see what happens now. Will Alliance disappear? Will Arriva's open access become one operation?

Clearly aimed at damaging any future competitor on the ECML.

Another WSMR on the cards. Arriva already destroyed them.

This acquisition, which follows the purchase of EWS, Chiltern Railways, Arriva and Wrexham & Shropshire, definitely proves that Deutsche Bahn indeed have ambitions to be the largest single rail operator in the UK. They also have a substantial financial interest in "yet-to-start" open access operator Alliance Rail Holdings Ltd and no doubt, the German tentacles will try and ensnare any other British operator may dare to offer competition. Perhaps, a future to-be-privatised Network Rail might even be in their sights!

I always traveled on Grand Central when i lived in Sunderland. There prices where value for money and the service from staff was fantastic. The timing however where never 100%, the train was regularly late by 15 - 20 mins. Lets hope DB keep running GC unlike Wrexem.