Posted 17th September 2007
GNER era ends as National Express wins prize – at a price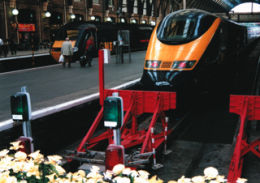 GNER trains standing at King's Cross
GNER's reign on the East Coast main line will end in December after eleven and a half years.
It was created as a company which would concentrate on excellent customer service, and that, under its former chief executive, the ebullient Chris Garnett, is what it always strived to do.
The company won numerous awards and brought in a high standard of at-seat catering in first class. It also made a pretty hefty contribution to government coffers.
In just over a decade the operator, part of the Sea Containers shipping group, went from receiving a substantial government subsidy to paying a respectable premium for the franchise, then to voluntarily 'handing back the keys' after it became apparent that holding on to the franchise would potentially mean a £50 million loss.
In its first year – 1997 – GNER received about £65 million in subsidy and the original seven-year franchise was planned to break even by its end in 2003. In fact, GNER paid a premium from 2001/2 and this continued through a two-year franchise extension to 2005.
After a battle against First and Virgin-Stagecoach, GNER gained a new 10-year franchise in May 2005. This committed GNER to invest £125 million in the company, including £75 million on the train fleet, and to pay a premium of around £1.3 billion over the decade. The Government's new East Coast deal with National Express commits it to a similar £1.4 billion in premium payments, but over a shorter, seven and-a-quarter year franchise.
It is less clear what total investment NEG is putting in – although in some aspects, such as HST re-engining, it is continuing GNER's programme.
However, all talk of electrifying an alternative route into Leeds has gone, although NEG has clearly had positive talks extra services from 2010. One of GNER's contentions when trying to introduce its halfhourly service to Leeds was the lack of suitable train paths, especially after new open access operator Grand Central had taken an allocation.
During 2006 it became clear that GNER was not going to be able to meet its future franchise premium obligations, and in December that year it voluntarily ended its 10-year franchise.
The company then entered into a management agreement with the Government to continue operating the services until a new franchisee could be found.
GNER said the withdrawal – at a time when its Sea Containers parent was in financial difficulties – was the result of "a number of unexpected external events" beyond its direct control. These included the loss of revenue due to the London bombings in July 2005, higher energy and fuel costs, and regulatory permission being granted for a new openaccess entrant on the East Coast route.
Bob Mackenzie, chief executive officer of Sea Containers and executive chairman of GNER, said: "We were never in breach of the 10 year contract, but due to all of the unforeseen circumstances and the considerable step-up in premium this year, Sea Containers was likely to lose £50 million had we held on to the franchise.
"We therefore voluntarily agreed with the Government to enter into the management contract. This has allowed GNER to provide the original benefits under the terms of the 2005 franchise and make a profitable contribution to the parent company every month since last December."
GNER did not entirely lose interest in the future of the East Coast route, taking a share in the latest franchise bid by earlier rivals Virgin- Stagecoach.
"By teaming up with Virgin and Stagecoach we were part of a strong and robust bid for the next franchise," said Mr Mackenzie.
"We are disappointed that the Government has decided that our combination of talents did not meet its financial requirements."