Posted 8th April 2015 | 8 Comments
Alliance and Grand Central make fresh bid for Blackpool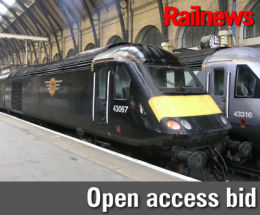 A NEW bid to operate open access services between London and Blackpool has been mounted by Arriva-owned Alliance Rail and Grand Central.
The proposal is now to be considered by the Office of Rail and Road (the new name for the Office of Rail Regulation), which will also launch an industry consultation.
If they go ahead, the services will be operated by Grand Central on behalf of Alliance Rail, using a fleet of new six-car Alstom Pendolinos. Alliance Rail said such a service would also create more than 120 jobs.
Trains would run six times a day from 2017, compared with the twice-daily services from and to Blackpool recently introduced by Virgin.
The announcement of the bid follows the recent designation of Blackpool as an Enterprise Zone.
Grand Central chief executive Richard McLean said: "Grand Central has a solid reputation for providing great services and achieving market leading customer satisfaction. Since we began in 2007 we have consistently scored highly in passenger surveys, with our services much valued by more than one million customers.
"We are very excited about the opportunity to provide our market leading services for people on the West Coast Main Line and to delivering much needed services for Blackpool."
It is not the first time that Grand Central has tried to add Blackpool to its network. A 2010 bid for paths from Euston was rejected by the ORR in March 2011, which said at the time that allowing open access operators on the West Coast Main Line would have to wait until there had been a full recast of the timetable. It also described that bid as 'primarily abstractive', which Grand Central denied.
Meanwhile, the new attempt to boost Blackpool services has been welcomed by local rail campaigners, but they have pointed out that paths on the WCML are still in short supply.
Paul Nettleton, who chairs the Blackpool and Fylde Rail Users Association, told the Blackpool Gazette: "The only problem with these plans is that Grand Central need permission from the ORR. You have seen how many problems Virgin Rail had getting one service from Blackpool to London. It would be very nice but I can't see it happening. It is being very optimistic."
Alliance Rail has also made applications to operate services on the East Coast Main Line between London King's Cross and Edinburgh, while FirstGroup has unveiled a plan to run its own open access service between London and Edinburgh, calling at Stevenage, Newcastle and Morpeth, which First said is intended to attract passengers from domestic flights.
Reader Comments:
Views expressed in submitted comments are that of the author, and not necessarily shared by Railnews.
TPE, Stirling or Perth - Manchester. 2 per day calling Larbert, Cumbernauld, Motherwell, Lockerbie then usual stops to Manchester.

Scotrail, Glasgow - Blackpool. 2 per day. calling at Motherwell, Carluke, Lockerbie, Carlisle, Penrith, Oxenholme, Lancaster, Blackpool. (May - Oct).

Why shouldn't franchises add alternative routes to maximise revenue and serve the communities?

Steve Alston states THREE operators to choose between on ECML. That is true KX to Doncaster, then it drops to two as far as Northallerton, north of Northallerton it is ONE all the way into Scotland.. Hobson's choice!
It would be great to see more services introduced north of Newcastle, calling at some of the smaller stations OR running over the existing metals on the freight only Blyth & Tyne. That would certainly help reduce congestion on the local roads.

It's true there is a degree of incompatibility between open access operation and incumbent franchises. Personally' I'd like to see franchising abolished , with general competitive open access instead, except for natural monopoly operations with captive markets where some form of local direct-democracy public ownership would be preferable.

Now really is the time for the ORR to open real competition on the West Coast. It has been grossly unfair that the East Coast has three main intercity operators to choose from, whilst the West Coast has only one.

Time to trim Beardie's monopoly, long overdue.

Alliance Rail must cost ORR / Network Rail / DfT and others a lot of money assessing its open access bids, even First Group has got in on the act. The current open access plans for the ECML would wreck Virgin Trains franchise and the West Coast plan would affect the tender arrangements for the new WCML franchise. Alliance also has form on big promises remember the new chinese trains for the East Coast which turned into HST's. Both First and Alliance should have the riot act read to them if they want to remain on the East Coast, IEP orders placed now, First's proposed Edinburgh service to go to Cambridge/ Stansted not London with some Leeds to Stansted trains. Alliance can forget Edinburgh and Newcastle and their 180's to be used elsewhere and not on the West Coast (remember Nottingham Trains). If DB wants to grow it's inter city market then upgrade Cross Country with additional pantograph cars for its 221/220 fleet and re-brand to Grand Central providing its award winning service to customers currently enjoying the worst inter city on-board service in Europe

With Grand Central being one of the best TOCs in terms of value for money and customer satisfaction, I would love to see them running more of the railways. In fact i would love to see much more open-access services, but with ORR having rejected Alliance's plans before, I don't really expect they will act differently this time.

A main problem for Alliance is to make maximum use of limited available pathing.

Would it make sense for them to run trains from Euston consisting of seperate sections for 2 different destinations that can split at a suitable junction ? In this particulat instance, perhapr a 6-cat Pendolino' for Blackpool could be coupled to a second 6-car unit forManchester Victosia and beyond ( eg. Rochdale )that could divide / combine at Warrington or Newton-Le-Willows ?