Posted 18th February 2016 | 13 Comments
Heritage operator off the rails over safety fears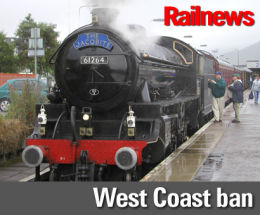 A HERITAGE operator involved in a series of dangerous incidents, including a SPAD at a main line junction, has been banned from Network Rail infrastructure with effect from today by the Office of Rail and Road.
Railway inspectors from the ORR had been investigating West Coast Railways since a steam-hauled charter overran a stop signal at a junction near Swindon in March last year and came close to colliding with a Great Western HST, after the Train Protection and Warning System had been allegedly switched off.
In other incidents trains moved unexpectedly and one collided with platform buffers at Weymouth, which the ORR said had not been reported, in contravention of RIDDOR. There was also a further incident later last year involving a further TPWS intervention by a fireman during a shunting movement at Doncaster, while the company's Southall depot was found to be poorly lit and lacking proper fire extinguishers. Liquefied Petroleum Gas was being incorrectly stored while other safety requirements were also not being met, including rules about the handling of hazardous substances.
The ORR is also concerned that one general manager had resigned shortly after being appointed and was not replaced, so that responsibility for safety became blurred among the remaining senior management. Essential documents were lacking and some staff were not properly briefed. There was also a dispute with the ORR about maximum train lengths.
West Coast Railways, which operates the scheduled 'Jacobite' steam service between Fort William and Mallaig, has defended itself in some of these cases. It said, for example, that the Doncaster incident had been reported, although not promptly, and that the Weymouth collision was not severe enough to justify a direct RIDDOR notification, while Network Rail had cut off the power and water at Southall depot. West Coast also appointed an acting head of operations on 7 December.
However, HM chief inspecting officer Ian Prosser decided to revoke the company's Safety Certificate from 18 February. 24 hours notice was given so that the company could legally return its rolling stock to depots yesterday.
He said: "A decision to stop a train operator from running rail services is not taken lightly. However, my concerns about West Coast Railway Company's lack of appreciation of the seriousness of a collective range of incidents over the last year, coupled with ORR's concerns on the company's governance, regrettably make this prohibition necessary. These failings create a significant risk to operations on the mainline network.
"We want to encourage successful business operations on our railways and hope WCRC will be able to put in place steps to ensure fit and proper safety management with a view to resuming operations. Our inspectors stand ready to work with the company to support and advise as it strengthens its approach to safety."
Meanwhile a court will decide the outcome of the original SPAD near Swindon next month. The town's Crown Court will hear pleas on 18 March from the company and one of its drivers, in response to charges in connection with the Health & Safety at Work Act.
Reader Comments:
Views expressed in submitted comments are that of the author, and not necessarily shared by Railnews.
Gerald of Andover. I note that you think all heritage traction should be confined to our heritage lines and that you do not want any of your journeys disrupted by these trains. I also note that you have been an enthusiast for 70 years. During that time I imagine that you saw steam in its prime, not to mention the many lines that were culled in the sixties during the Beeching era. Don't you think that it's a bit unfair with your judgement that you want to see heritage traction off the rails just so a modern system can be run. When all is said and done how many of these trains are there on the system at any one time 4/5 at most in a day which is a very small percentage. Heritage trains serve a purpose, they give those of us that missed out on steam a chance to see them in their full glory and sometimes travel behind them and also they give the youngsters a chance to see these magnificent machines at their best, take a look at their faces when the Flying Scotsman pulled into York. Before you make judgements again think of others, the railways are run for the benefit of all of us not just a minority.

At the risk of putting one's 'neck on the line', can I suggest that all efforts are made to ensure the 'Jacobite' operates between Fort William and Mallaig this summer as it contributes a lot to the local tourist industry. It has run without incident for many years, principally, I believe, because the traincrews are all local people who worked the line in BR days (all the drivers starting as firemen on the West Highland in steam days). Even if the stock has to be hauled to Fort William by another company then so be it. I just wonder if the local politicians have thought about what the demise could mean to many local restauranteurs etc.
[Just to clarify one point (forgive me if I have misunderstood what you are saying), WCR is banned from Mallaig-Fort William because that is Network Rail infrastructure too. So you would need another company to have responsibility for the Jacobite as well as getting the stock to Fort William in the first place.--Editor.]

I think the Biblical expression, "As you sow, so shall you reap," covers this, but all of us who travel on specials, not least steam-hauled ones, are going to suffer for West Coast's apparently cavalier attitude to its responsibilities. One cannot but agree with ORR's action.

Flying Scotsman's return to main line is due to be operated by DBS.

On our heavily used rail system it is nonsensical that steam or any so called vintage traction is allowed onto the main lines. All such uses by people who want to play trains should be confined to dedicated heritage lines such as Severn Valley, Great Central etc.
As a regular rail user and rail enthusiast of 70 years who recognises that railway engineering has moved on, I do not want my journeys - usually for pleasure - disrupted by the use of traction from a century ago interfering with the smooth running of a MODERN RAILWAY.

Jak Jake clearly does not understand.

The court case is one process for breaches of Health & Safety legislation, the review and industry consultation over West Coast's safety accreditation is another. The only connection is that the ORR is involved in both cases.

If you read the ORR's 9 page letter, you will realise that after Wootton Bassett, there has been a series of unrelated incidents, which demonstrates a sloppy and unprofessional safety culture, poor train handling and a malaise within the company because no one is ensuring safety compliance. The timing before Scotsman's appearance is unfortunate, but the remedy was in West Coast's hands.

The ORRs action is because of a culmination of incidents, and a justified decision IMO.

Jak, I don't think you should be laying the blame at the feet of the ORR, but at the operator and their seemingly long catalogue of failings. It seems, from the reporting that safety failings with this particular operator are systemic and there is no place for that on the modern railway. If it were just the single incident you mentioned, I doubt the ORR would have acted in this manner.
Seeing the Flying Scotsman back on the mainline would be great but not at the expense of someone potentially being killed or injured.
{gets down off soapbox}

DBS are operating Flying Scotsman next week, however as NRM did have WCRC as there chosen TOC they may look at DBS to permanently take over this role, whether DBS have the resources available I do not know however for the time being Chris it looks like this will be the case. The issue Jak is that WCRC overrode important safety equipment which lead to a near fatal accident at Wotton Bassett, if this had happened (thank goodness if did not) then it would have been game over then for WCRC. The hearing which is happening whereby the ORR are taking a driver (involved in the SPAD at WB) is starting/has started. Either way someone has to be prosecuted whether that is the driver on Tangmere or WCRC as a whole. The fact is WCRC broke the rules so they should have to pay for the consequences.

So, Jak Jaye, you think repeated safety infringements should be overlooked. What if someone died, how would you explain, well we knew there were problems but we thought we would wait for someone else to do something?

I don't think you can hold the ORR responsible at all for the potential scuppering of Flying Scotsman's main line return. The blame must lie firmly with West Coast Railways for, apparently, failing to ensure that their personnel would not tamper with the TPWS equipment. I am sure the NRM will find another responsible operator.

Having already been prohibited for one period it is disappointing that WCR find themselves with a further prohibition notice. For ORR to have to take further action is a clear indication of this operator's failure to comply with it's licence commitments regarding safety management. The letter released by ORR clearly demonstrates that despite assurances that the breaches raised would be addressed there has been a failure to do so. ORR would appear to have shown patience but has a duty to act where sure flagrant non compliance is demonstrated. That court proceedings that have been initiated regarding the SPAD and still in progress has bearing to the enforcement action ORR has found necessary to take.

WCR's has provided a valuable service in the niche charter market. As the now dominant operator of heritage services it has a duty to all that these services are safely provided to the highest operational standards. While some of the incidents documented by ORR may appear trivial taken in total they have shown that this operator is importing an unacceptable level of risk to the network. Until it can demonstrate that risk is being managed ORR has no option but prohibition. Maybe this is the last chance saloon as failure to convince ORR that it is complying will lead to withdrawal of it's operators licence. While this would be a sad loss there is no place on the network for a maverick operator that so very nearly blighted the industry's hard won safety record.




Does this mean there will be less steam locomotives on the main lines? If so, the heritage operator responsible ought to hang their heads in shame. Rail enthusiasts will find this especially tough to accept because not many opportunities arise for them to take pictures of historic steam locos.

Well thats scuppered 'Flying Scotsman's return to the main line thanks a bunch ORR! bet the NYM are impressed couldn't they wait 'till the court case?
One of the 'incidents' was at Reading when a misunderstanding led to a loco hauled train moving a matter of feet before stopping,hardly grounds for a ban