Posted 9th November 2015 | 2 Comments
Railway braced for spending cuts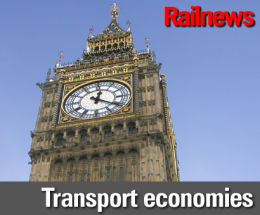 THE Department for Transport is facing a budget cut of almost a third over the next four years, it is reported.
The Chancellor George Osborne is expected to announce spending reductions at four government departments today, which will amount to an average of 30 per cent.
The agreements are ahead of the formal spending review on 25 November, and are being described as 'provisional'.
No details are available, but the economies are believed to cover what is being described as 'day to day spending', and will be achieved through efficiency savings and closing some 'low value' programmes.
The proposed cutbacks come as Network Rail's own budgets are being reviewed. The transport secretary 'paused' some electrification schemes in June, and although he has since announced that they are to go ahead, project timetables have been extended. As a result, for example, the Midland Main Line will not now be electrified between Kettering, Nottingham and Sheffield until the early 2020s.
Railway finances are also affected by a government undertaking to restrain increases in regulated fares to the equivalent rise in the Retail Price Index each year, effectively 'freezing' them in real terms for the life of this Parliament.
The other departments included in the new round of economies cover local government, the environment and the Treasury itself.
Reader Comments:
Views expressed in submitted comments are that of the author, and not necessarily shared by Railnews.
What a suprise the latest goverment making cut on transport!. I am sure everyone was aware that a conservative goverment would make cuts so I will expect no complaints from all those people that voted conservative.
You voted then in so you voted for this.And the same goes for other areas of cuts.