Posted 11th August 2015 | 1 Comment
Further walkouts planned after Night Tube talks fail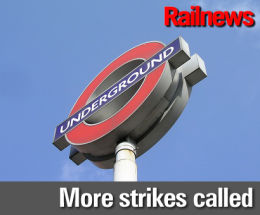 UPDATED 16.05

LONDON Underground is set to be hit by more strikes later this month after Night Tube talks between the company and the unions stalled again.
Two more 24-hour walkouts by train operators have been called from 21.00 on 25 August and again from 21.00 on 27 August. Staff in other grades, including station staff, will walk out for 24 hours on the same days but starting two and a half hours earlier, at 18.30.
RMT general secretary Mick Cash said: "Our members the length and breadth of London Underground have made it clear that they are determined to protect their work/life balance and not fall into a trap where they will be forced to wreck their home lives in order to comply with the "rosters from hell" which have been drawn up to plug the staffing gaps in the Night Tube plans.
"Staff are angry that their grievances are being ignored and dismissed by both the Mayor and his officials and that there has been no substantial move as of today from London Underground to make progress towards a negotiated settlement. That is why we have no option but to strike again. It is ridiculous that the job cuts programme for fleet, engineering and station staff is also still being bulldozed through against this background.
"The Night Tube plan has been botched from the off. The basics haven't been done and those who will pay for this shambles will not only be our members but the London daily travelling public who cough up a fortune and who will find their safety and the reliability of the service compromised from 12th September onwards. Running tube services with fatigued and burnt-out staff is a recipe for disaster.
"The action goes ahead and RMT remains available for talks regardless of the point we have reached in the dispute which is perfectly normal."
London Underground has defended its offer as fair, and the Mayor of London Boris Johnson has said he will not authorise any more money.
Chief operating officer Steve Griffiths said: "Our customers and London's businesses want to see this dispute resolved and we call on the unions to engage in calm and realistic discussion with us.
"Yesterday, however, and having previously argued that it was 'not about money', the RMT leadership made further demands for unaffordable pay rises and the hiring of even more staff – including the reversal of the modernisation of customer service in LU stations. They expect our customers to pick up a bill running into hundreds of millions of pounds for this through higher fares or by forcing us to cut back investment to improve Tube services in a rapidly growing city. No responsible management can give in to such demands.
"We have reiterated our intention to keep talking and listening and have shown flexibility by putting forward a very fair revised offer. New rosters were never going to be 'imposed' – we shared them with staff for consultation and so they can see for themselves how the Night Tube will affect them. Staff will still be able to swap shifts around so that they can work at the times which best suit them.
"To minimise the impact on shift patterns, we have recruited more than 500 extra staff. This means we can guarantee that drivers will work the same, or less, weekends than they do now and, after a short transition period, they will have a choice about whether they work Night Tube shifts or not. Crime on the Tube is at an all-time low and the largest proportion of our customers at night will be those travelling to and from work. However, safety is our number one priority and we have 100 extra British Transport Police on board to support us.
"Instead of yet more strike threats, we need level headed and sensible discussion on how to deliver a modern transport service alongside fairly rewarding our hardworking staff and protecting their work-life balance. That deal needs to be affordable and sustainable – and certainly not be at the expense of massive fares rises or cuts to improvements – and can only be agreed around a negotiating table, not through strike threats. We remain ready at all times to meet and negotiate such an agreement. We urge the unions to join us."
Reader Comments:
Views expressed in submitted comments are that of the author, and not necessarily shared by Railnews.