Posted 5th August 2015 | 1 Comment
Unions 'want 32-hour week' for Underground staff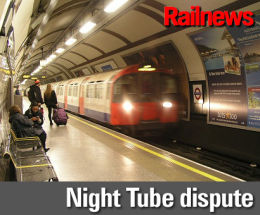 LONDON Underground has revealed that the rail unions are demanding a 32-hour, four day working week, as another all-out strike looms.
Talks at ACAS over pay and conditions for staff on the proposed 'Night Tube' broke down two days ago, and the Underground is set to close for 24 hours from 21.30 tomorrow. The action is being taken by members of ASLEF, RMT, TSSA and UNITE.
RMT general secretary Mick Cash has labelled the plans for Night Tube, which is planned to begin on 12 September, as 'botched from the off', although the RMT has said that it is not opposing all-night services on Friday and Saturday nights in principle so long as the pay and conditions are acceptable.
The RMT has accused the Underground's negotiating team of lacking experience in railway pay bargaining, but until now the extent of the unions' demands had not been known.
The revised offer currently on the table includes an above-inflation average two per cent salary increase this year and an inflation-proof rise in 2016 and 2017, plus a single bonus of £500 for all Night Tube staff and an extra £200 a night for train drivers during a 'short transition' period. Station staff will get another bonus of £500 when the closure of ticket offices has been completed next February.
The Underground's managing director Nick Brown said: "The unions rejected this fair offer outright and instead demanded more money, the hiring of even more staff – including for ticket offices that customers no longer use – and a 32-hour, four day week. No employer can afford to meet those sorts of demands.
"We continue to urge them to call off the strike, put the new offer to their members and not subject Londoners to further unnecessary disruption. We remain available for talks at any time."
A spokesman for the RMT said it was the union's policy to seek reductions in working hours, and that a 32-hour week had been a 'policy objective for some years now'.
Underground passengers are being urged to complete their journeys by 18.30 tomorrow evening, before services start to be wound down and trains return to their depots.
Reader Comments:
Views expressed in submitted comments are that of the author, and not necessarily shared by Railnews.