Posted 4th August 2015 | 4 Comments
Underground set to be hit by another 24-hour walkout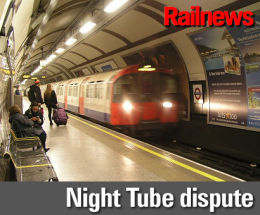 TRANSPORT for London is warning that its Underground network will be closed again on Thursday, as unions stage another walkout in the continuing dispute over the introduction of Night Tube services in September. It will be the second all-out strike on the network within a month.
Under the Night Tube plans, trains are set to run all night on Fridays and Saturdays on most of the deep tube lines, apart from the Bakerloo and Waterloo & City and some outer sections of the other lines.
TfL also wants to introduce all-night services on the subsurface Underground network in due course, as well as parts of London Overground. The Docklands Light Railway will follow suit by 2021.
ASLEF, RMT, TSSA and Unite are arguing that the proposed pay package for all-night staff is not good enough, and that the new conditions endanger the work life balance of train operators and others.
Talks have been taking place at the conciliation service ACAS but these broke down yesterday, making Thursday's walkout almost inevitable unless there is a last-minute breakthrough. The RMT said it would remain available for further talks.
RMT general secretary Mick Cash explained: "Our members have made it clear that the latest offer from London Underground is merely a rehash of the previous package and does nothing to tackle the core issue which revolves around staff being at the beck and call of management to be hauled in during their free time to try and plug the staffing gaps which riddle the Mayor's Night Tube vanity project.
"RMT is also deeply concerned that the talks are being conducted by people who have no background on the tube and no understanding of how processes and logistics work. That is deeply worrying and a major departure from when the combine was managed by people with a deep-seated knowledge of the railway. That is a major barrier to progress.
"Those who will pay for this shambles will not only be our members but the London daily travelling public who cough up a fortune and who will find their safety and the reliability of the service compromised from 12 September onwards."
London Underground has defended its proposals. Its latest offer includes an average two per cent salary increase this year, and one per cent or inflation (whatever is higher) for 2016 and 2017. All staff on Night Tube lines or stations serving them will be paid £500 once the Night Tube is introduced on 12 September 2015. Drivers would receive an extra £200 for each Night Tube shift worked during the introductory period, and station staff would also receive a £500 bonus when the abolition of ticket offices is completed next February.
London Underground chief operating officer Steve Griffiths said: "After listening to the unions, we put forward an extremely fair revised offer, which addresses their concerns over work life balance and rewards our people for the hard work they do in keeping London working and growing. Despite this, the new offer has been rejected outright by the union leadership, again without consulting their members. We continue to urge them to put the new offer to their members and not subject Londoners to further unnecessary disruption. We remain available for talks at any time."
If Thursday's strike goes ahead Transport for London will run additional buses and river services. Overground, DLR, tram and National Rail services are not expected to be affected, but TfL warned that many of these services will be 'much busier than usual,' especially during peak hours. Heavy road traffic is also likely.
Reader Comments:
Views expressed in submitted comments are that of the author, and not necessarily shared by Railnews.
One of the revisions to laws governing unions and votes should include the right for ACAS to order the union to put a new offer to the membership.

Paragraph 9 says "(LUL's) latest offer includes an average ...".
That does not tell us how this offer differs from the previous one, nor does it tell us how the "average" is to be calculated.
There is no transparency, indeed BOTH sides are putting up smoke-screens, which means that the fare-payers are left in the dark!
[There are limits to how much detail can sensibly be incorporated in news copy, which is not an academic essay. It would also become tedious (and a waste of space) to recap information which is now out of date. The word 'average' is London Underground's, not ours. I suspect that the detailed formula is quite complicated.--Editor.]

In cases such as this, where we are told "We have offered X", "We want Y", "We have now offered X + Z", "No, they have offered X + P - Y", and so on to a "settlement", why can we not be told in detail what X, Y, Z, P, etc are?
[Could I refer you to paragraph nine of this story for details of the current LUL offer? As far as the union claim goes no details have been given, which is quite usual. We cannot, I am afraid, publish what we do not know.--Editor.]