Posted 30th June 2015 | 3 Comments
TfL announces Overground shortlist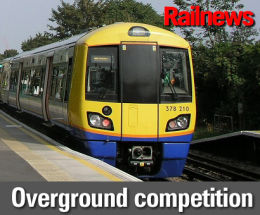 THE shortlist for the next London Overground concession from November 2016 has been announced by Transport for London.
Four prospective operators have been named. They are Arriva Rail London Limited, LoKeGo Limited (a joint venture between Keolis and Go-Ahead), Metroline Rail Limited and MTR Corporation, which runs the present concession in partnership with DB Regio as LOROL.
TfL said the next contract will cover all London Overground routes, including the inner suburban West Anglia routes which were taken over from Abellio Greater Anglia at the end of May.
The contract will include options to introduce an all-night service at weekends from 2017 and will also cover services on the proposed extension to Barking Riverside. TfL said 'the new operator will also be expected to deliver sustained improvements in performance levels'.
Other changes during the forthcoming contract, which will last for 7.5 years with a possible two-year extension, will include the arrival of at least 45 new trains from Bombardier. These will go into service from 2018 on the West Anglia routes and also Romford-Upminster and Gospel Oak-Barking, when that line has been electrified.
The contract will be another concession, not a franchise on the National Rail model. TfL will continue to control all visible aspects of the operation including train and station branding as well as fares, timetables and marketing. The new concession holder will receive a fee for operating the routes while TfL will receive all revenues, as it does now, including the income from station car parks.
TfL said it intended to issue all the tender documentation by the end of July. This will mark the start of the three month tender period with bid submissions expected by mid-October.
London Rail managing director Mike Brown said: "London Overground customers have experienced major improvements over recent years. We have taken neglected and often unstaffed stations and transformed them into modern and useful parts of the transport system, evidenced by a five fold increase in passenger numbers.
"The new operator will play a key role in continuing that success and introducing further improvements including new air-conditioned trains. In the meantime we're working to improve our services every day, especially on the new routes we've recently taken over, where services need to be brought up to the high standards seen elsewhere on London Overground."
London Overground will be nine years old by the time the new contract begins. The first contract with LOROL started in November 2007, when the initial network covered several routes which had been operated until then as Silverlink Metro.
The change of management transformed the system, with more than 60 new trains then ordered and put into service to replace the elderly units which Silverlink had been using. The number of passengers has also ballooned, so that the original electric three-car Class 378 Bombardier trains were then lengthened to four and most recently to five vehicles.
Transport for London said Overground now carries 176 million passengers a year, the equivalent of more than 585,000 a day.
Reader Comments:
Views expressed in submitted comments are that of the author, and not necessarily shared by Railnews.
Amazing, another two fingers up to the north from this London centric government, The Northern Rail fleet is just getting older and older being replaced with cast offs from London (class 319) and possible introduction of refurbished D-Stock from 1978! Whilst the railways in the north are bursting at the seams and the pausing of any further electrification programs being proposed its amazing that new stock, new investment in infrastructure etc is being plowed into the south...talk about a North South divide...

I am on my "high-horse" again but it should be noted that every one of the shortlisted bidders has foreign involvement in some form or other. The only UK-owned company is Go-Ahead, which has a 49% stake in LoKeGo, although I would suspect, if successful, they might be the actual designated operator. Which other UK companies submitted bids for this franchise and why were they not shortlisted?

[Unfortunately, perhaps, the details of the 'non-shortlisted' bidders were not published. They rarely are, unless the bidders themselves wish to identify themselves.--Editor]