Posted 19th June 2015 | 4 Comments
Bombardier wins contract to build new Overground fleet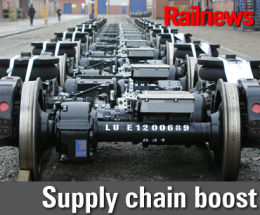 TRANSPORT FOR LONDON has awarded a contract with a capital value of around £260 million to Bombardier Transportation to build at least 45 more Overground trains in Derby.
The award is provisional, and is expected to be confirmed after the normal 10-day standstill period.
Bombardier built the first fleet of Class 378 units for London Overground after 2007, and all 57 are currently being strengthened to five cars, having originally been built as three and then extended to four as passenger demand grew.
The 45 new trains will operate on the Liverpool Street to Enfield Town, Cheshunt (via Seven Sisters) and Chingford routes, which became part of the Overground network on 31 May. They will be also be used between Romford and Upminster and on the Gospel Oak to Barking line, after that route has been electrified in 2017.
The new rolling stock is expected to be similar to the original fleet, with walk-through interiors, air-conditioning and improved accessibility.
TfL said the contract would support hundreds of jobs in Derby, including more than 20 apprenticeships.
Bombardier will supply 31 new trains to replace all the old Class 315 and Class 317 trains on the Overground West Anglia and Romford to Upminster routes, plus 8 new four-car trains for Gospel Oak and Barking. and a further six trains to improve services on other Overground routes. The contract includes maintenance and also contains options for more trains beyond the initial 45.
London Mayor Boris Johnson said: "This brand new fleet of trains will enable London Overground to carry a growing number of passengers more reliably and speedily than ever. The award of this contract is good news not just for London Overground customers but for UK plc as well. By investing in new trains here in the Capital TfL is helping to support jobs and skills in Derby and right across the country."
Mike Brown, managing director of London Rail, added: "These 45 new trains will significantly improve the comfort, reliability and overall quality of train services for our customers. Some of the trains we have inherited along the West Anglia route are over 30 years old and have not been in use for some time. We're now working hard to overhaul these trains to make them more reliable until the new trains come into service from 2018.
"Ordering new trains for the Gospel Oak to Barking line and West Anglia route together, as well as including a provision to order more trains should passenger demand warrant additional capacity, ensures that we get best value for money for our customers."
Reader Comments:
Views expressed in submitted comments are that of the author, and not necessarily shared by Railnews.
Will these new trains still have only two sets of doors per carriage which are woefully inadequate on existing Overground or will they go for an extra set?

Some transverse seating, PLEASE?

(I doubt it. --Editor.)

For continuity (maintenance , driver training and familiarisation) this makes sense although you would have thought that these trains would operate in longer fixed formations (ie more than 5 vehicles) given the areas they serve. Still a tick in the box for UK jobs in the industry.