Posted 11th December 2012 | 5 Comments
Overground 'M25' circle is complete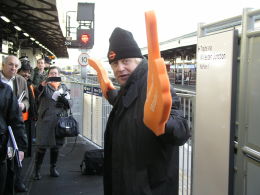 Mayor of London Boris Johnson donned some outsize gloves to emphasise the new Overground route from Clapham Junction
TRAINS are now running on London's 'rail M25', which has been formed by opening a new London Overground route between Surrey Quays and Clapham Junction. The service was launched by the Mayor of London Boris Johnson and transport secretary Patrick McLoughlin, who described the Derby-built trains used on the system as 'great'.
The new route includes a restored 1.3km link which takes trains from a junction south of Surrey Quays round to the existing line across south London towards Clapham Junction, which it joins near Queen's Road, Peckham.
Services are now running every 15 minutes between Clapham Junction and Dalston Junction, via south and east London.
Transport commissioner Peter Hendy hailed the completion of the circle, saying that London Overground "really has been a case of 'if you build it, they will come' ".
He joined the Mayor and Transport Secretary on board an eastbound service train from Clapham Junction. As Boris Johnson made his way down the train past assembled reporters, he entered the next car and exclaimed: "Oh good. Some real passengers."
In fact, passenger levels on the Overground network have been soaring since it was launched just over five years ago, when Silverlink Metro routes were transferred to Transport for London in November 2007.
The south London route is not the only addition: Overground has already gained the former East London Line from London Underground, which carries through trains between Highbury & Islington and West Croydon or Crystal Palace.
London Overground, which is operated by LOROL under a TfL concession, now runs 1,090 services a day using a fleet of 57 electric Class 378 trains and eight diesel-powered Class 172s. The diesels are needed for the Gospel Oak to Barking line, which has yet to be electrified.
Transport secretary Patrick McLoughlin, who is MP for Derbyshire Dales, travelled on a 378 from Clapham Junction with the launch party and exclaimed: "These trains are great. I went to see them being built at Bombardier in Derby".
Reader Comments:
Views expressed in submitted comments are that of the author, and not necessarily shared by Railnews.
In response to James Palma's point i was not advocating the removal of staff from all trains just expressing a view that the railway would be better off all round if working practicies had moved with the times a bit more rather than constantly opting for the status quo to keep the unions happy .

Perhaps now that have got this completed they will start to look at the dangerous over crowding on some of the Clapham Westwards services?


In response to Phillip Clarke's message regarding guards, I for one appreciate having an additional member of staff on trains and I am not entirely sure of his reasoning why they should not be employed. I regularly see these guards walking through the trains and I have even been greeted by several.

Well done London Overground for creating a hugely popular network with brand new trains and refurbished stations however i fail to understand why brand new trains with built in cctv etc on parts of the network still need to be operated by guards in the traditional way,a proper world class metro does not employ 1950s working practicies