Posted 8th May 2013 | 3 Comments
£88m order confirmed for longer Overground trains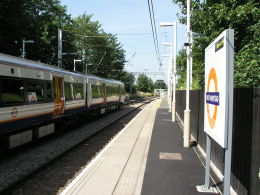 A DEAL worth £88 million has been signed with Bombardier by Transport for London, which said earlier this year that it intended to increase the size of the Overground fleet in response to sharply rising demand.
57 more Class 378 vehicles will now be built in Derby, with the first examples coming into service in December next year.
The new vehicles will allow all the Class 378s operated by London Overground to be extended from four to five cars.
The present fleet was also built at Derby a few years ago, after the operation of former Silverlink Metro routes had passed to Transport for London in November 2007.
Acting director for TfL London Rail Jonathan Fox said: "With this order, the London Overground Capacity Improvement Programme is firmly underway to meet the demands of increasing numbers travelling on our network. We are looking forward to introducing the longer trains from the end of 2014, starting on the East London Line.
"In 2012/13, the network carried nearly 125 million passengers – nearly four times the number carried when we launched in 2007."
Reader Comments:
Views expressed in submitted comments are that of the author, and not necessarily shared by Railnews.
Good news but there remains a question concerning manufacturing of railway equipment in the UK. It is a fact that Bombardier's factory at Derby does not actually make anything, as the majority of major components are imported from Europe. Other equipment is acquired from UK third-party suppliers and everything is put together by the people at Litchurch Lane. One upon a time the UK was a world leader in the design and manufacture of bogies and it was a sad day when Bombardier decided to relocate the work to Germany, leaving Derby as a mere assembly line for the UK train market.

Just a query. These trains were originally three cars only. Is each of the cars motored or was the original intermediate car a trailer? If so, is the added fourth car also a trailer, and what will the new fifth car be? Surely the original driving cars alone will not have enough power to propel FIVE cars? I presume all cars are motored.