Posted 31st March 2015 | 1 Comment
All change for Scots as new franchises start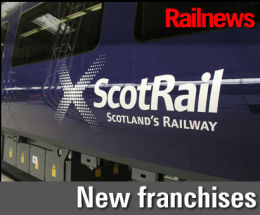 TWO new rail franchises have started in Scotland as successors to the FirstGroup contract which was launched more than a decade ago.
The main franchise remains known as ScotRail and is run by Abellio, the international arm of Dutch Railways.
The Caledonian Sleeper services, which have been part of the main ScotRail franchises since 1997, become separate for the first time and are being operated by Serco.
The original ScotRail franchise between 1997 and 2004 was won by National Express Group. First has been granted more than one extension to its contract since it took charge in October 2004, but managing director Steve Montgomery is staying in his post in spite of the change of ownership.
The new franchise is being formally launched at Stirling on Wednesday by Scottish transport minister Derek Mackay, who is promising 'an exciting special offer available to all passengers'. The new ScotRail will also be offering jobseekers free travel to interviews, plus a full month's free travel when they secure a job. Other fare offers will include an expansion of the current Club55 concession to anyone aged 50 or more, while advance fares between any two Scottish cities will start from £5.
ScotRail is the biggest contract awarded by the Scottish Government, and is worth just over £6 billion.
Mr Mackay said: "The Scottish Government was clear that this franchise should be about more than delivering a rail service – it should be an enabler for growth and an important contributor to communities up and down the country.
"Abellio are getting this off to a great start by offering a huge helping hand to those looking for work. More people will now be able to benefit from the ScotRail 55+ concessionary scheme, which will now be available from the age of 50."
Abellio was announced as the new franchise holder last October. Developments during the new franchise include new Hitachi AT200 trains for the main Edinburgh-Glasgow Queen Street route, which is being electrified, as well as refurbishments for existing trains, free WiFi on all trains and an increase of 23 per cent in the number of vehicles in the fleet. Some stations will also be refurbished.
There will be 'a new approach to cycling' with more than 3,500 parking spaces and bike-hire at a number of stations, and the launch of a 'Great Scenic Railway Journeys of Scotland' campaign to attract more tourists.
ScotRail staff, who all transfer to the new franchise, have been given a commitment to living wage earnings, which will extend to subcontractors. The operator will create at least 100 apprenticeships and has guaranteed no compulsory redundancies throughout the life of the contract.
Mr Mackay added: "The offer put together by Abellio to secure this franchise is hugely innovative and puts Scotland at the forefront of the rail industry with gains such as the living wage guarantee and the trade union representation at Board.
"A successful railway can become a real contributor to the growth of a nation and Abellio will be reaching into all areas of Scottish public life, with plans including a £1million community engagement fund.
"The launch this week will be the start of a very exciting period for Scotland's rail services which will benefit the people of Scotland and public life throughout the country."
Abellio has agreed to move its UK headquarters to Scotland. Its CEO Jeff Hoogesteger said: "The Scottish Government told the nation to expect a transformation in rail travel across the country. That may sound quite a task, but it is a true reflection of the Government's ambition for Scotland's railway.
"The ball is now very firmly in Abellio's court, and we have no higher priority than to bring our vision for ScotRail to life.
"Under Abellio, ScotRail will not simply be a train operating company, but a passenger operating company. This means it will play a truly strategic role in the long term development of the nation; providing jobs and support for small businesses in towns and cities across the country; supporting and boosting Scotland's leisure and tourism industries and connecting businesses and people by improving journey times and the capacity of Scotland's rail services."
The contract is for 10 years but a break clause will allow either side at the halfway point to decide to end the contract in 2022.
Unlike other franchise changeovers, the new ScotRail franchise will not require rebranding. A standard identity for Scottish rail services was launched by the Scottish Government several years ago, and this will remain unchanged.
Reader Comments:
Views expressed in submitted comments are that of the author, and not necessarily shared by Railnews.