Posted 28th May 2014 | 12 Comments
Serco wins Caledonian Sleeper franchise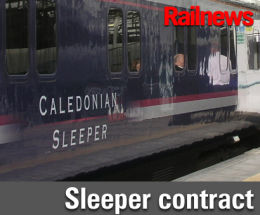 SCOTTISH transport minister Keith Brown will announce this morning that Serco has won the new Caledonian Sleeper franchise.
Transport Scotland has separated the sleeper operation from the rest of ScotRail to form a standalone contract for the first time.
Unconfirmed reports have claimed that Serco had offered a major upgrade to the type and quality of service, moving the operation towards the 'luxury train' market.
FirstGroup, which currently runs ScotRail and had bid for the sleeper contract, has already reacted to the imminent announcement.
FirstGroup chief executive Tim O'Toole said: "I would like to thank all of our employees who have worked hard to deliver the best possible service for Caledonian Sleeper customers over the past ten years. We submitted a strong bid which would have offered further high quality services for passengers and a good return for taxpayers.
"As a Scottish company, we remain committed to providing more and better rail services for Scotland. We have operated the current ScotRail franchise since 2004, providing more than 2,300 services per day, and over that time the franchise has achieved record highs in passenger numbers and also in customer satisfaction scores. We are shortlisted for the next generation of the ScotRail franchise due to be awarded by Transport Scotland in the coming months.
"We will continue to provide sleeper passengers with the best possible service until the new franchise commences, and will work closely with the new operator to ensure a seamless handover. We are tremendously proud to have provided this important service, providing a key link between Scotland and London, for the last decade and wish the team every success for the future."

It's the second rail franchise disappointment for First in less than a week. The Department for Transport announced on 23 May that the next Thameslink franchise had been won by Govia, which means that First Capital Connect will end in mid-September.
The Caledonian Sleepers are overnight services to and from London Euston, which start or finish as two trains in London but divide or join en route so that several Scottish destinations are served, including Aberdeen, Inverness and Fort William.
The cross-border service is one of the last of its kind to survive in Britain. The other is the Night Riviera between London Paddington, Plymouth and Penzance, which forms part of the Great Western franchise.
The new Caledonian contract starts on 1 April next year.
Reader Comments:
Views expressed in submitted comments are that of the author, and not necessarily shared by Railnews.
Whilst i am not a full time user of the Anglo-Scottish sleeper, i have many times travelled through the night and enjoyed my time on-board. However i am hoping SERCO can actually deliver the much needed investment in new rolling stock and provide a really good service.

The point being raised about day/night uses this will not happen as NR have not got the capacity to allow serco to run a daytime service plus this would cause issues with the franchise agreement as it is a night time only contract.

From what i can gather the new rolling stock will not be DMU as these would be too noisy, they will be a mixture of EMU and Loco hauled modern fleets similar to the City Niteline fleet in Europe.

Why would anyone feel sorry for First Group? They are bottom feeders. They low ball contracts then cut corners to lower costs. They haven't made any significant investments since privatisation.

Serco has am opportunity here for a radical new offering. Perhaoe the thing fhat most detracts from the sleeper services;' is that the trainsets are only running during nighttime and sit around uused during daytime.

Serco could try and solve this by designing trainsets convertible between day and night configurations. Economy class could use North American style reclining seats, with luxury class use seating that can convert to flatbeds akin to modern airline practice. How much compartnentalisation would be desirable is a moot point.

Such trains would be able to do " out by night /return by day" revenue aarning diagram each 24 hours on Londo - Scottish Highlands and 3 single journeys on London - Edinburgh / Glasgow, giving big improvements in utilisation. Such service might make even one or two cross - country sarvices from southern England to Scotlanda viable proposition too.

Hopefully first will retain scotrail, transpennine and FGW. I'd also like to see them gain west coast too. Can't imagine they would get east and west coast but they already have a finger in the east coast with hull trains.



Melvyn, I realise FirstGroup is the biggest transport company in the UK, but I certainly do not like to see Govia, partly owned by SNCF-owned Keolis, taking over a huge franchise such as Thameslink. Hopefully this Caledonian Sleeper franchise represents a step towards Serco operating services independently and NS-owned Abellio being pushed out of the UK.

"Feel sorry for First who have lost Thameslink " I suppose comic pathos is what this site really needs !



I just hope a separate London-Scotland franchise might lead to some daytime services and add some desperately needed Anglo-Scottish competition........

Given want of specialised vehicles and a relatively small sleeper fleet in totality within the UK, I am surprised the Cornish and Anglo-Scottish services are franchised separately. One would assume bringing the two together would be more cost effective in both marketing terms and operationally or am I missing something?

I do feel a little sorry for FirstGroup though as they have already lost the Thameslink franchise. The DfT should definitely compensate them for this loss by giving them another franchise as they are a British company and we need more British TOC ownership. Hopefully a foreign-owned one like Arriva Wales can be given to them, although maybe not as it would overlap with FGW. Possibly Southeastern?

Good thing is Serco is a British company and they are not forming their usual alliance with Abellio here. I think new electric multiple-unit trains would be good, at least for the Edinburgh / Glasgow to London services, as I am not a fan of locomotive hauled carriages for passenger use, especially not if they are using electric Class 90s which could be used for freight. Although I understand this is commonplace for luxury train travel.

New trains too, hopefully they won't be DMU's with an engine under each bed. Airline style lie flat beds will be good. Exciting times for the sleeper.

Tough times for first group but I doubt we will see them react childishly like virgin did when they lost west coast.