Posted 8th October 2014 | 8 Comments
Abellio confirmed as new ScotRail operator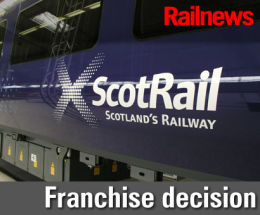 THE Dutch operator Abellio has won the next ScotRail franchise, beating Arriva, MTR and National Express as well as the present franchisee FirstGroup.
FirstGroup said it was 'disappointed', while one union leader has condemned the decision as a 'slap in the face for rail passengers'.
Abellio is the international division of state-owned Dutch Railways, Nederlandse Spoorwegen. The operator already runs the Greater Anglia franchise and also has stakes in Merseyrail and Northern. It will now take over in Scotland at the end of March, and move its UK headquarters to Glasgow.
Transport Scotland said that Abellio "will invest millions in providing an improved service and superior facilities for passengers and a better deal for staff. Included in the new franchise, worth up to £6 billion and launching on 1 April 2015, are measures to make train travel more attractive across the board".
There will be a break clause in the franchise after five years. Unlike the present franchise, the new contract does not include Caledonian Sleeper services, which are to be run separately by Serco.
Scottish transport minister Keith Brown said: "Following extensive consultation by the Scottish Government, Scotland's railway has attracted a world leading contract to deliver for rail staff and passengers.
"We've already ensured that regulated rail fares will stay in line with inflation or less, and Abellio has come up with some truly innovative ways to make rail even more affordable, such as the £5 intercity fare anywhere in Scotland and reduced ticket prices for jobseekers and those newly in work, as well as a Price Promise for guaranteed best value fares.
"There will be benefits all over the country, with faster services between all our cities, new trains in the Central Belt, a Great Scenic Railway scheme bringing more tourists to the north, the south west and the Borders and major shopping developments at the stations at Aberdeen and Inverness. Glasgow will be the new base for Abellio in the UK with around 200 jobs.
"Trains will have more space for prams and wheelchairs, there will be rigorous new service quality control measures ensuring cleaner trains and improved right-time measures. We'll see later services for concerts and events and improved integration with bus, ferry and air timetables, alongside a £520,000 Station Travel Planning 'Plus' programme and a Journey Companion app with door-to-door travel info, to ensure passengers can get straight from A to B.
"Every station will have CCTV and passengers will enjoy improved waiting facilities at 40 stations, extra retail facilities at up to 50 stations, and hundreds of new car parking spaces.
"All employees including employees of subcontractors will be paid at least the living wage and a new Scottish training academy will be established."
The size of the Scottish fleet is set to increase by 23 per cent, according to Transport Scotland, which has also promised that there will be no compulsory redundancies for staff.
The choice of Abellio has angered opponents of rail privatisation. TSSA general secretary Manuel Cortes said: "Only a few weeks ago, the Scottish people were promised the power to run a publicly owned railway which would put them first, ahead of private rail firms. Now the Scottish Government wants to hand that railway to a firm run by Dutch state railways."
FirstGroup, which has run ScotRail since October 2004, had conceded defeat ahead of the formal statement.
Chief executive Tim O'Toole said: "We are very proud of our success in operating First ScotRail and our team were recognised last week, once again, as Rail Operator of the Year. We have kept our promises and more for ten years, delivering record levels of service including during this extraordinary summer in Scotland with the Commonwealth Games and the Ryder Cup. Our bid would have delivered even greater levels of service and growth, and we are disappointed we will not have the opportunity to implement the credible plans we submitted, building on our record of improvement across every measurable score, for the benefit of ScotRail's passengers and employees.
"We shall continue to operate First ScotRail until the new franchise commences on 1 April 2015. Until that time we will deliver further enhancements to trains and stations including further free Wi-Fi and continue important work to enable the extension of smart ticketing across the whole country and the opening of the Borders Railway next year."
The decision is the second rail-related blow for First this year, which has already lost the Thameslink franchise to Govia, but Tim O'Toole added that the Group's medium-term targets had not changed.
He explained: "We are actively participating in franchise competitions with the objective of achieving earnings on a par with the last round of franchising, with an acceptable level of risk. We are in negotiations with the Department for Transport to operate the First TransPennine Express franchise until February 2016, and continue discussions with the DfT in respect of a potential longer direct award to operate First Great Western, our largest franchise, over the period when a substantial programme of infrastructure upgrades and introduction of new trains will take place."
In a separate pre-close trading update issued today, First said that passenger volumes from its rail sector had continued to show 'robust growth', and that rail revenue was expected to increase by 6.5 per cent in the first six months of the current trading year.
Reader Comments:
Views expressed in submitted comments are that of the author, and not necessarily shared by Railnews.
It seems First will need to look at what it offers given this is the 2 Nd franchise it has lost despite being the current operator .

It seems this award includes new trains and an inventive reuse of HST trains cut down in length and thus freeing up DMUs which are like gold dust . Whether any will leave Scotland for England or Wales is not stated but reuse of surplus HSTs for long distance services might be a practical quick fix until electrification catches up with supply of DMUs to non electrified lines.

I wonder why rail unions have not thought of setting up their own cooperatives to bid for rail franchises !



"Interesting piece of news about Abellio Scotrail introducing a refurbished fleet of HST's from December 2018"

Interesting indeed. However, having read this up, it seems to be about everything but high speed.

Anyone from Scotland is welcome to correct me here, but as I understand it, the issue this is meant to solve is overcrowding out of the major cities on long-distance journeys. The complaint is that the trains they currently have are too short to acccomodate the number of passengers. Coincidentally, the ECML and GWML are about to replace a large number of HSTs which had to be 8/9 cars long to accomodate London passengers, and these working trains have nowhere to go. This kills two birds with one stone.

The one thing this won't do is shorten journey times (at least not more than a couple of minutes). It's presumably the same problem that IC225s have on the ECML - the infrastructure won't support the top speed of the train. It would be a far more ambitious project to have intercity trains running at intercity speeds. But this seems a reasonable idea - provided that the old diesel ICs remain reliable, and it's a cheaper option that building new trains, I don't see why not.

Now all we have to do is find a new home for the electric 225s.

I fail to see how it's a free market when state owned companies can run our railways but we don't have a state run equivalent to tender for theirs .

As for the market well it's 20 years since privitisation yet only a few bus companies have shown interest in terms of BRITISH companies tendering for franchises and one that is linked to an airline have shown interest in franchises.

One could ask why no new companies have developed to run rail franchises or is this proof that rail privitisation is just a bit of dogma ?

I think concessions are a better way forward for local services .

I prefer the railways to be a free-market and for competition between companies, so if the franchise was given on merit then it may not be a bad thing for ScotRail to be taken over by Abellio. If they deliver improvements and investments quickly and efficiently then surely it's a good thing. The problem is fewer and fewer British companies are owning the railways. They really need to step it up.

Interesting piece of news about Abellio Scotrail introducing a refurbished fleet of HST's from December 2018 to introduce a true Inter-City service across the 7 Cities, I wonder if these will be converted to plug doors similar to the Chiltern fleet to make them 2020 compliant?

Nationalised by the Dutch. I don't see how anyone who wants the Franchises 'Nationalised ' can object to that. And as we are in the EU with EU rules and regulations on 'Free Trade' and no hidden Government Subsidies, I can't see how there are any grounds to object.

Two interesting details:

* £5 fares for journeys anywhere in Scotland, and
* Reduced price tickets for jobseekers.

If those things are as good as they sound, they won't be cheap, and this will have been factored into agreed level of subsidy. Wonder how much it is?