Posted 8th October 2014 | 4 Comments
FirstGroup loses ScotRail after ten years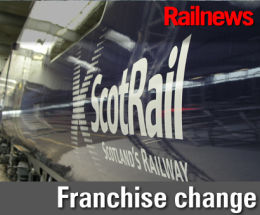 ABELLIO has won the next ScotRail franchise, it is reported. A formal announcement is expected from Scottish transport minister Keith Brown this morning.
The present operator FirstGroup, which has run ScotRail for the past ten years, has already conceded defeat ahead of the formal statement.
FirstGroup chief executive Tim O'Toole said: "We are very proud of our success in operating First ScotRail and our team were recognised last week, once again, as Rail Operator of the Year. We have kept our promises and more for ten years, delivering record levels of service including during this extraordinary summer in Scotland with the Commonwealth Games and the Ryder Cup. Our bid would have delivered even greater levels of service and growth, and we are disappointed we will not have the opportunity to implement the credible plans we submitted, building on our record of improvement across every measurable score, for the benefit of ScotRail's passengers and employees.
"We shall continue to operate First ScotRail until the new franchise commences on 1 April 2015. Until that time we will deliver further enhancements to trains and stations including further free Wi-Fi and continue important work to enable the extension of smart ticketing across the whole country and the opening of the Borders Railway next year."
The decision is the second recent rail-related blow for FirstGroup, which lost the Thameslink franchise to Govia earlier this year.
However, Tim O'Toole added that the Group's medium-term targets had not changed. He explained: "We are actively participating in franchise competitions with the objective of achieving earnings on a par with the last round of franchising, with an acceptable level of risk. We are in negotiations with the Department for Transport to operate the First TransPennine Express franchise until February 2016, and continue discussions with the DfT in respect of a potential longer direct award to operate First Great Western, our largest franchise, over the period when a substantial programme of infrastructure upgrades and introduction of new trains will take place."
In a separate pre-close trading update issued today, First said that passenger volumes from its rail sector had continued to show 'robust growth', and that rail revenue was expected to increase by 6.5 per cent in the first six months of the current trading year.
Reader Comments:
Views expressed in submitted comments are that of the author, and not necessarily shared by Railnews.
More and more franchises are now in the hands of foreign-owned companies such as Abellio, Keolis and Arriva (Deutsche Bahn). I have said for years that I would not be particularly bothered if British train operators had similar access to all European countries. Germany and one or to other countries have indeed given contracts to British-owned companies but the likes of France and Italy still only allow domestic companies to run passenger services. Also British-owned companies appear to be excluded from the likes of Belgium and Holland. The British government should be doing more to persuade the French government in particular to open their door to allow British operators to compete on a fair basis with French companies. However, I remain unconvinced that any changes will occur.

my bet is that First will get the East Coast franchise, hence the stripping of Scotrail and Thameslink to avoid monopoly.

not how it works? we shall see.

Never thought id say this 'but better the devil you know' i mean Abellio? you cannot be serous! Northern Rail staggers along with nodding donkeys and Greater Anglia isnt much better.So who's getting the 'Jewell in the Crown'?(ECML) not Vermin Rail please!! i read somewhere that in the last full year of BR they got 3bn in subsidies to run the WHOLE network while the pigs at the modern railway trough get what is it 6bn? and rising