Posted 18th October 2013 | 14 Comments
Union's East Coast claims are 'scaremongering'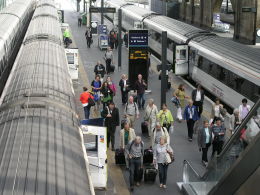 THE RMT union is claiming to have seen a copy of the forthcoming offer document for reprivatising the East Coast franchise, which it says reveals 'a systematic and politically motivated devaluation of the performance and achievements of ECML in the public sector in order to justify a third gamble on the private option'.
However, the Department for Transport has called the RMT's claims 'misleading scaremongering'.
Protests have been staged today as the DfT prepares to take the first step towards returning the Intercity East Coast operation to the private sector in early 2015, before the General Election in May.
East Coast passed to the control of the Department for Transport via its subsidiary Directly Operated Railways in late 2009, after the failure of the previous National Express franchise.
The DfT has already said that East Coast will be offered as a 'going concern', which means that the successful bidder will acquire the existing operating company rather than setting up a new one.
The RMT said the leaked document reveals that service quality is at risk. Some parts of the document have been redacted according to the union, deleting statistics which make a favourable comparison of East Coast against other, privatised, intercity operators.
The union said the manipulation of the data was intended to 'play down the success of public ownership'. One point which the union alleged has been removed is that East Coast is the carrier of the highest number of passengers per train kilometre among the British rail franchises, and one of the highest in Europe.
The RMT claimed that the leaked copy contained a note that suggests 'we remove this graphic if we want to avoid references to competitors'.
The union dubbed this 'the most blatant and cynical piece of political engineering to try and justify hiving off the line for private gain'. It added that the draft gives bidders 'the option of establishing an intermediate class between Standard and First'.
RMT general secretary Bob Crow said: "This leaked document, coming on the day of union protests at Parliament aimed at keeping the East Coast in public ownership, is political dynamite which blows the lid off the lengths to which the Government are prepared to go to bulldoze through reprivatisation before the next election.
"The fact that the public option is putting over a billion pounds back into the treasury, while improving services and delivering more capacity, has been cynically airbrushed out of the final document in a disgraceful piece of political chicanery which must be called in for scrutiny to hold back this full tilt dash for privatisation.
"If the Government are allowed to get away with this, passengers can expect third class services, shoddy performance and higher fares while the private companies get a gold-plated, eleven year franchise that will enable them to launder hundreds of millions of pounds into the pockets of their shareholders. It stinks and it must be stopped."
The Department for Transport said: "This is ill informed scaremongering from the RMT. By choosing to release inaccurate information, they are misleading the public. We have no intention of requiring a 'third class' service, reducing performance levels, or in any way devaluing this vital railway. As the independent Brown Review concluded, franchising works for passengers and taxpayers alike."
Reader Comments:
Views expressed in submitted comments are that of the author, and not necessarily shared by Railnews.
It may well be that DOR have made a good job of day-to-day running on the ECML.

But the whole point of privatisation was to liberate enterprise, innovation and corresponding investment. Ever since the advent of the Strategic Rail Authority, the TOC's have been restricted so that such enterprise, innovation and development has been "knocked on the head" - nowadays DfT seem to make all the important decisions,leaving the TOC's with just day-to-day running, which DOR may well be able to do just as well.

If we are to have a privatised railway then shouldn't we be encouraging its potential benefits rather than stifling them ? TOC acountabulity should be acheived either through effective competition , or for natural monopoly operations via direct democeacy ( consumer cooperatives ).

Think Uncle Bob's spot on with this one but who will listen?

Like to travel by East Coast. It's attitude seems more of a service (for passengers) than a business (for customers)!

Why mess around with it?

Leave it as it is, as said earlier as a 'benchmark', like the BBC upholds quality in broadcasting.

If a third class service is to return by all the politicians & the government & the transport secretary should all the train operators have an expanded branch line operation designed to do this like London Midland & Northern Rail & all Local Operators in their own region & area's & more locally which network rail could designed & build where they do not have one operating or one accurately running or thought about since the channel tunnel was built & no railway line even re-open with the high speed line & would a branch line operation improve time keeping & cut down travel wasting more accurately in a lot of area's & cities & communities not served from London which are not on the railway map & even better & with more better high speed lines being built from the continent to meet all requirements!!

How long until we hear Boaby Crow threaten a ballot for industrial action?

Broken record springs to mind.

Yup, big yawn over three-class railways here too. It was introduced across most of the Intercity Network including the ECML in 1988 - by British Rail. I can't remember who got rid of it, but it was eventually scrapped after privatisation. And, frankly, no-one cared either way. I didn't even notice they'd got rid of it for months.

Basically, the whole concept was based on business travellers paying extra to avoid mixing with leisure travellers, because the benefits of "Silver Standard" was, err, a free newspaper and instant coffee. That's now an outdated concept, because most TOCs have decided to forget about separating different kinds of traveller and just sell first class tickets for whatever people pay for it. Look at off-peak trains now and you'll find loads of obvious non-business non-wealthy travellers tacking advantage of cheap first class fares.

I think the chance of three-class rail travel returning is round about zero, whoever runs it. And if it does come back, expect no-one to notice.

On Saturday night Sky News was reporting the return of 3rd Class travel on ECML with inevitable film of steam trains on a heritage railway but what 3rd class would actually mean was still not clear .

I suppose for passengers forced to stand or sit on floors old memories of 3rd class might sound like an improvement !

Interestingly introduction of a third class of travel is not new. Bridging the gap between existing no frills advance standard fares and first class has been tried before. Eurostar do this with 'Leisure Select' accommodation.

Years ago BR (WCML) introduced 'Silver Standard' for full standard class ticket holders in a reserved carriage, offering 'at seat' light refreshments. The arrangement did not last very long. Dividing relatively small trains into three parts according to ticket type was not without difficulty in both its execution and management of the variable peak demands.

What works for pre-booked Eurostar may be inappropriate for 'walk on' domestic trains. It will come in for harsh criticism if it is seen as another means by which TOCs raise the cost of rail travel both directly and indirectly via the excess fares box!

The benefit is rushing through the privatisation before the election in case the incumbent party lose. Note how all the other franchises terminate a short time after the election. This will scupper any attempt by the winning party to make any drastic changes to the entire process/system/network. The potential embarassment that a goco is actually doing better than any private company is therefore minimised. The sad truth that the railways continue to be the political football banded about in such a way in that it continues to be someone else problem while no real forward thinking solution or future is ever tabled by any party with the guts to see it through.

I think they are doing a great job why change it .The line is making money so the Government is making money that what it is above .This a very good railway Company so let,s keep it that way for always.

As a regular user of the East Coast franchise, I must say that I am pleasantly surprised by the levels of service achieved under the present ownership.
As I have said before: "If it ain't broken, don't fix it!". Let's have at least one fairly efficient Railway Company in this country.

Generally speaking I am all in favour of private capital and competition. But I admit that the running of the East Coast franchise by public servants has been a suprisingly great success, and especially when compared with the 2 previous 'owners'. I can't see what benefits will be gained at this stage by going 'private'. Having one of the franchises kept as a successful 'nationalised' benchmark could well help help keep all the other private franchises focussed on what will happen to them if they don't keep upto their commitments.

We all know there have been no substantial changes on East Coast. The reason it is making a "profit" is because they reduced the premium payments.
To try and promote a "nationalisation is best" campaign is synical and misleading, but nothing less than I would expect from Bob Crow.