Posted 19th May 2014 | 5 Comments
Unions lose court fight to stop East Coast sale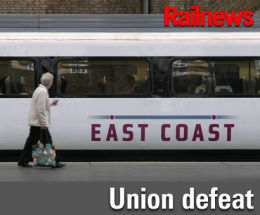 A COURT has ruled against unions who had mounted a legal challenge to the reprivatisation of the East Coast franchise, but the unions say they will not giving up.
The RMT had argued that selling the present nationalised operation back to a private sector bidder was wrong, with its acting general secretary Mick Cash claiming that rail privatisation had been a 'disaster'.
Rail minister Stephen Hammond had responded that private sector operators had brought 'skills, expertise and innovative thinking' into the railway industry. He also defended the government's policy of reletting East Coast, saying that it was time to find 'a long-term partner' on the route.
The RMT, Aslef and TSSA had joined forces to petition for a judicial review of the government's plans, but their petition was rejected by Mrs Justice Patterson sitting in the High Court.
After the judgement, Stephen Hammond said: "This is a ringing endorsement of the government's franchising programme and sends a clear message to those intent on pursuing an ideological argument that has no benefit for passengers.
"The decision enables us to continue to build a better railway with record levels of investment, faster trains, better punctuality and more pleasant journeys for passengers up and down the country."
Meanwhile Mick Cash of the RMT, speaking for the three unions, said their legal battle had only reached the first stage. However, it is not clear what the timetable for a possible appeal would be.
The East Coast competition has reached the Invitation to Tender stage, and the shortlist consists of FirstGroup, Keolis/Eurostar and Stagecoach/Virgin. They must submit their bids to the DfT by next month. The winner is due to be announced in October and then take over in February next year.
Railnews understands that the present operating company is likely to be sold as a going concern, so that East Coast staff will not face a transfer to a new employer..
Reader Comments:
Views expressed in submitted comments are that of the author, and not necessarily shared by Railnews.
Privatisation has not delivered on competition between rail operators like it said it would, prices have rocketed and British train engineering and manufacturing has dwindled. Apart from that, there is much more investment in the railways and punctuality and reliability are much better. If the negatives are sorted out then we could have a very successful and fairly cheap railway system. So I don't totally agree on privatisation being a "disaster".

I am a great believer in the the British Economist, E F Schumacher, who wrote the book 'Small is Beautiful:Economics as if People Mattered' in 1973. Since then I have frequently noticed how big, bold, brash firms like Banks frequently fail their staff, customers and investors by being too big to care about anything other than profits. I have noticed that since Privatisation it is the smaller companies and franchises which have been most successful - for example DRS and Chiltern Railways. So from those examples (and I could give others) I would argue that its not whether the railways are Privatised or not, its the size that really counts. So I would suggest that the larger franchises need breaking up into smaller ones to be even more customer focused, and effective. Complete Re-Nationalisation would be the worst of all options creating a huge Monolithic structure with services competing for investment behind close-doors, and a management that would be slow to react to change.

Good. I hope they have to pay the full costs as well.

Great route with fantastic potential. Bring a 2 or 3 hour frequency back to glasgow and we are complete.