Posted 27th February 2012 | 16 Comments
Siemens sounds warning over Crossrail tender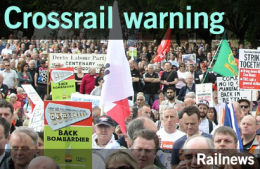 THE GOVERNMENT has been warned that it must not bias its decision about Crossrail rolling stock in favour of a British builder. The competition to build 600 vehicles worth an estimated £1 billion starts tomorrow, amid warnings that the future of the British train building industry is in the balance.
The decision to award the £1.4 billion Thameslink rolling stock contract to Siemens last year meant that the work was lost to Britain's last train-building factory in Derby, which is owned by Bombardier.
Although Siemens was named as preferred bidder last June the contract has yet to be signed off, although this is expected shortly.
Even while the Thameslink deal remains unconfirmed, the Department for Transport is now inviting tenders to build the Crossrail fleet – a contract which some industry observers had speculated would be the natural successor to the Thameslink work and likely to be won by the same company.
Protestors in Derby have been maintaining that this must not happen, because although Bombardier has given its Litchurch Lane works in Derby a stay of execution after winning a contract to build 130 Electrostar vehicles for Southern, its future after 2014 is still uncertain.
But as the Government prepared to begin the Crossrail procurement process, one of the contenders fired a warning shot. Siemens said that ministers and officials must not show any 'national bias' when reaching their decision about who the builder of the 60-train fleet should be.

The UK representative of Siemens, Steve Scrimshaw, told the Guardian that he was expecting a 'fair playing field'.
"Anything else would be anti-competitive and could have long term damaging consequences for a competitive Britain that is open for business." he said. He also defended the outcome of the Thameslink procurement process, maintaining that it had been 'fair and transparent'.
Supporters of Bombardier in Derby do not agree. They are bitterly critical of the fact that the wider economic benefits of awarding the Thameslink contract to the Derby works had been disregarded, although they say that EU law did not prevent this.
The government said that the terms of the Thameslink contract had been drawn up by the previous Labour government, and that these were binding. No such restriction affects the Crossrail contract, which can start with a blank sheet of paper.
Apart from Bombardier and Siemens, the other contenders for the Crossrail contract are Spanish CAF and Japanese Hitachi.
Hitachi has already achieved preferred bidder status to provide the next-generation Intercity Express fleet in Britain, while CAF has just won a contract to build new trams for Midland Metro.

Reader Comments:
Views expressed in submitted comments are that of the author, and not necessarily shared by Railnews.
Here is a simple rule new trains have to be as level with our platforms as possible? Well the new S Stock trains fit much better with platforms while Siemens trains often need a ladder to climb aboard!!

Fact is other countries dont order trains in penny packets like we do which means they can order trains and add provision for follow on orders thus getting around competition laws. While we order our hald dozen trains and then need a new contract that has to go out to tender wjhen we want another half dozen!!

In France they order follow on orders for TGVs for lines that have yet to be built!!

Bombardier need the contract to keep the staff in work and keep it in the uk we are loseing alot of jobs here in the uk lets not lose more


Siemens trains aren't better than bombardier "in every respect"- the trans Pennines 185 are massively overweight and tearing the track up, the chilternrailways clubman trains are the best customer trains on the network (from derby), and whilst Siemens have produced the dreadful 350/2 for London midland, and had major problems with the 380s for scotrail, bombardier have produced the most reliable emus on the network for C2C. That said the SWT 444s are excellent as well.

I'm a bit confused by the comment below about Bombardier "throwing their toys out of the pram" . The article is a bout Siemans making a fuss, Bombardier have not commented.

In response to comments about reliability, that was not the reason Bombardier lost the Thameslink contract. It was for financial reasons.

A German company warning the British Government about fairness in tendering ?

That alone ought to disqualify Siemens from bidding IMO, as it is interfering with the process. In point of fact I'd cancel the Thameslink contract with them as well.

I think the British Government ought to do exactly what the German and French Governments do with their tenders. Award the business to their own. How many non-French built trains are running in France ? How many non-German built trains are running in Germany ?

I think the British Government ought to remember why it is there in the first place. To look after the best interests of the electorate that sent them there, and that includes considering the full implications of huge contracts like this.

What is the point of sending thousands of young people onto Higher education engineering degrees in the East midlands, if there's no engineering careers in Derby ? Whats the point in British taxpayers spending money on training young engineers to then send them to Dusseldorf ?




Yes start with a blank piece of paper.
Clause.1. The winning bidder must build the trains in the UK.
Clause.2. No other clauses needed.

As someone who regularly travels on Bombardier products, I have to say that they are far inferior to every Siemens product of similar ilk.

What the politicians must also realise is that Bombardier, since privatisation, have has the bulk of the UK train orders, by a long way, and for them to throw their toys out of the pram in such a way is frankly childish and damaging.

In terms of reliability, Bombardier have issues with electrics, bogies, doors, interconnectivity, air conditioning and brakes (as I heard on this mornings Meridian)

Why should the passenger have to put up with an inferior product just for the sake of saving a few jobs?

Incredible

The decision to take is what presents the best value proposition for a train that will last in excess of thirty years. Life cycle costs need to be fully reflected when it comes to making the right call.

There might be a short-term benefit for the wider Derby economy but will this be enough to keep Litchurch Lane open for any longer than the delivery of Crossrail? I doubt it somehow as we live more and more with the realities of SE Asian competition.

A decision based on commercial reality is the way ahead..

To those saying work should be kept in our backyard, well perhaps if Bombardier produced better quality products it would be more feasible. Just have to look at their recent product reliability and the reasons for not awarding it to Derby are clear (172, 377/5, 379, S Stock).

I also believe that Siemens trains use a considerable percentage of UK sourced components and contractors in their UK trains. Personally I think the passengers would prefer something that works well irrelevant of where it's built than soemthing that is built here and does not work.

How this company have the cheek to make this comment when its own executives have been jailed elsewhere in the world for corruption is beyond me. If this company wants UK orders why does it not set up a production and assembly plant in the UK? BMW make UK cars why does'nt Siemens want to make UK trains ?

Let the better product win!

BTW - Bombardier makes more trains for Germany rail than what Siemens does.

I agree with the comments already posted. How the M.D. of Siemens in the U.K. has the nerve to point out national bias in procurement contracts is something he should try to explain to us all. How many trains have the German railways bought from foreign manufacturers in say the last 25 years? Would Siemens consider manufacturing in the U.K.? Bombardier and Hitachi think that this point is important when trying to win orders, and the long term employment prospects of the U.K. taxpayer must be taken into account by our govt.when considering tender bids. This has obviously not been the case to date.


I am not surprised at Siemens' comments, quite natural for them to speak thus, but what our Government should do is simply to adopt the procedures used by the French and German governments when awarding contracts - which is why those two countries' companies get so much work in their own backyard. Our Government must come off the fence and support our own industries - as those two continental countries do. Previously they blamed the Labour Government; now is the time for them to act on their own - if they've any guts. We shall see.

Good point. I bet Siemens spokes people don't insist that the German Government "must not show any 'national bias' when they order trains? Siemens have just won a big order in the UK anyway!

I don't think the tendering process was biased, the issue seems to be the grounds on which the procurement decision for Thameslink trains was made. It is interesting to note that a Siemens spokesman is warning against national bias. Perhaps he would like to clarrify how many trains Alsthom, Bombardier, CAF, Hitachi, etc. have constructed for the German market in the last 20 years compated to Siemens?