Posted 2nd October 2012 | No Comments
Date announced for Virgin court challenge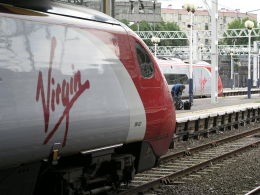 VIRGIN TRAINS will be able to test its claim against the DfT over the award of the West Coast franchise in the High Court later this month, because the date has been confirmed.
Virgin said the hearing has been set down to begin on Wednesday 17 October, which is two weeks tomorrow.
Three days have been allowed for Virgin and the Department for Transport to make their respective cases, although there is no certainty that a judgment will be given immediately the hearing ends. There is also the possibility that the losing side could apply for permission to appeal.
Virgin is contesting the award of the 13 year four month Intercity West Coast franchise to FirstGroup, which had been announced on 15 August, on the grounds that the DfT did not properly assess the degree ot risk represented by First's £5.5 billion bid.
FirstGroup is required to provide a financial buffer worth £200 million as a form of insurance against failure, but Virgin is arguing that it should have been £600 million, which both First and the Department for Transport have denied, saying that the calculations were 'robust'.
Virgin had offered premiums worth £4.8 billion at net present value -- £700 million less than First. The Virgin buffer, which like 95 per cent of First's up-front payment is technically a 'subordinated loan', was put at just £40 million. The remaining £10 million from First is to be an injection of shareholders' capital.
First said today that it is still 'confident' and mobilising for takeover as planned on 9 December, but it is known that representatives of Directly Operated Railways, which is owned by the DfT, are also attending the meetings in case DOR has to step in to keep the service going.