Posted 3rd September 2012 | 1 Comment
Government puts West Coast signing on hold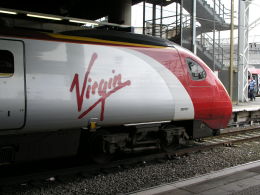 THE DEPARTMENT FOR TRANSPORT has admitted that it cannot sign off the new Intercity West Coast franchise with FirstGroup because Virgin Trains has started High Court action. Until now ministers had insisted that signatures were imminent.
In a statement to the House of Commons, rail minister Theresa Villiers said: "As a result of a legal challenge, which the government intends to defend robustly, we have not yet signed the contract with First West Coast, and consequently the competition remains live. I cannot give the full commercial details of the winning bid, or indeed of the other bids.
"Nor is it usual or appropriate – once litigation proceedings have commenced – for the Government to comment on the detail of that, other than to say that our legal advisers are fully engaged in addressing and responding to those proceedings.
"I will continue to keep the House updated, subject to the constraints of legal or commercial privilege."
The suspension of the completion must place doubt over FirstGroup's position, and in particular whether it can still take over on 9 December.
Neither First nor Virgin have commented yet following the DfT announcement, but they have become embroiled in a war of words over which contract would be best for the country.

Virgin has also vigorously contested claims that it only starting questioning the DfT's handling of franchise competitions recently. The chief executive of Virgin Trains, Tony Collins, said that his company had been expressing its concerns about the way bids are evaluated for the past 'two or three years'.
No date has yet been set for the first hearing in the High Court, but it is expected to be within the next week or two. Much will depend on that hearing, after which the court will decide if a full judicial review is justified.
Reader Comments:
Views expressed in submitted comments are that of the author, and not necessarily shared by Railnews.