Posted 5th September 2012 | 11 Comments
Exclusive: controversial West Coast bids compared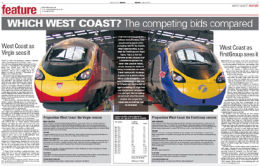 THE TWO controversial West Coast bids which could be scrutinised in the High Court this autumn are published side by side in Railnews today. The new print edition for September gives its readers a unique chance to see what the competing bidders would achieve, after outgoing rail minister Theresa Villiers told MPs that she could not provide them with any details of the proposals from FirstGroup and Virgin Trains. She also told them that the competition is still 'live', even though FirstGroup had been announced as the winner on 15 August.
Before she left her post at the Department for Transport yesterday to become Northern Ireland secretary, Ms Villiers had also admitted that it was not possible for the DfT to complete the Intercity West Coast contract with FirstGroup at the moment, because of the legal challenge which is being mounted by Virgin.
The growing crisis now poses question marks about who will be running West Coast from 9 December, although FirstGroup has said it is continuing to prepare for the takeover.
Railnews managing editor Sim Harris commented: "The word 'farce' is now being heard in some quarters, and indeed the present situation does seem ridiculous. No matter who comes out on top in the end, this affair has highlighted the unsatisfactory way that our railways are run. They have never been controlled directly by a government department, not even in wartime, until the Strategic Rail Authority was abolished a few years ago.
"The West Coast debacle shows that even if the SRA was not perfect, trying to control a successful and growing industry from Whitehall does not work in the best interest of passengers, freight customers or taxpayers. It is time to take the red ministerial boxes out of the equation."
Reader Comments:
Views expressed in submitted comments are that of the author, and not necessarily shared by Railnews.
I personally live on the GWR line to Paddinton and I will only get on a IEP train that is all electric. Mixing Fossil Fuel and Electric units and cantenary etc = an explosion waiting to happen. NO THANKS.

When our govt, see's reason and LOGIC, the entire National Network and all branch lines will be Electric. Build a Nuclear Power plant just for the network and Bob's your Uncle, a railway that is not dependent on fossil fuels as they are going to run out this century.

We are buying the equipment to place the mast's/wiring, why when it reaches X on the map should it stop, continue to use the equipment till all lines are powered!

Same for TBM's, we buy them and then sell them back after the tunnels are dug, why not once that project is finished, I can easily list 300 other tunnelling projects that could use the same equipment(just has to be disassembled and reassembled where needed anywhere in UK/Eire)!

A simple solution would be to let the WCML be open ACCESS, then anyone who wants to run a service, simply rents that Path.
7am to Glasgow via Virgin, a 7:02 to Glasgow via FGW.
8am to Glagow via FGW, a 8:02 to Glasgow via Virgin.
it could have anyone operate with open access. A German DB train could run Frankfurt to Edinburgh services or Madrid to Manchester by Spanish or French or Italian operators.

Currently the 221 Voyagers (being the tilting version) are not a viable proposition for the E-Voyager project according to sources in Bombardier and Alstom because the tilt equipment takes up too much room. Time will tell, we have not seen any of the real detail yet.

This dispute just underlines the basic flawedness of the franchising model - a series of government controlled private monopolies where virtually the only competition occurs in the franchise bidding process - in many ways the "worst of both worlds"( nationalisation and privatisation). I would like to see a logically coherent "real" privatisation with open - access operation on those services where effective competition is feasible ( most intercity routes, for example).

Perhaps we have here an opportunity to run a "pilot scheme" de - franchising on the WCML, allowing Virgin and Firstgroup. and possibly others to run competing services. Instead of fixed - contract subsidies / premiums, performance - related incentive payments could be offered / levied equally to all the TOC's involved.

First should get it because blue pendolino's look much better than the red one's.

The Virgin bid on second glance isn't as attractive or as deliverable as it claims.

By withdrawing the voyager fleet and replacing them with 21 baby pendolinos that sees an increase of just one train whereas the first bid proposes introducing these new trains and retaining the voyagers therefore having 20 extra trains to serve undeveloped markets such as Blackpool Shrewsbury etc. Virgin also propose to build locomotives to drag the pendolino whilst not under the wires which create operational challenges which are unneccessary.

The claim about providing 135mph running on certain sections has already been undeliverable during the upgrade as speeds over 125mph can't run on conventional signalling and requires in cab signalling. This claim is one designed to attract headlines but is very unlikely to be acheivable and i suspect Virgin know that or at least they should do if the previous 15 years are anything to go by.

Their claim of investing £99 million into the improvements of stations on their network does strike me as being something they should have been doing for the past 15 years and not something they claim to be promising more than First now. The condition of many of their stations Crewe for example is appalling and action should have taken place long before now.

Personally i think the new class of accomodation could prove attractive if its priced sensibly, look at how popular weekend first accomodation is and without anything further than a first class seat and a few refreshments. Speaking personally i'd happily pay a £10-£15 upgrade for a first class seat and free wifi.

As i say Virgin being the masters of spin and PR have made their bid to look more attractive and del iverable than it actually is and then has the cheek to call other bids undeliverable


No doubt Virgin have only publicised the good things about their bid. Perhaps thats why it looks better.

If I fail to get a job at interview, but find out later the sucessfull candidate was less qualified in certain areas than me , does this give me a pass to go to court and get that person slung out ? I think the answer is no, Virgin are behaving in a similar way ,yes they have made a good job of running the WCML ,but they knew the length of the deal and that there was no garuntee of winning another term and to be fair its not rocket science to operate a railway other firms are equally as capable,,Mr Branson well done but its now time to bow out gracefully.

Now we've seen the Virgin bid, the government's decision is not as it seems.

Why not listen to the passengers (aka customers and voters) and the staff who have to make this work?

Consider:
Investment or "sweating the assets".
Long term commitment or walking away when things get tough.
Confortable seating or "sardines".
Professional cheerful staff or "jobsworths".



Interesting!

I wonder if there is a hidden agenda here on the part of the DfT?

The IEP contract has recently been signed, and throughout the process the possibility of dead-hauling EMUs by diesels has been rubbished; but this is just what Virgin proposed. So how could DfT argue that dead-haulage wasn't practical on GW and ECML, but then accept it for WCML?

Also, the Virgin bid would have released its present fleet of Super Voyagers; ideal candidates for conversion to bi-mode, so again it would weaken the case for IEP.

Virgin/Stagecoach seem to be investing more of their own money in their proposal than First offered; of course new trains, modifications to existing fleets, etc all just result in increased leasing costs, so when these are removed from the offers it seems that First only plan to invest £20m, whereas Virgin planned a minimum of £39m. Its not clear how much, if any, of the track improvements would be funded by Virgin, and the on-board service investment of £109m would probably include a contribution from Virgin, although I'm sure some of this will be picked-up by vehicle owners.

Not sure how the three-class system would work; I understand Virgin considered the idea for Cross-Country but dropped it and, as has already been mentioned, BR tried something similar with Silver Standard on the WCML, without success.

Bottom line, though, is that it's clear to see why Virgin are slightly annoyed by the DfT's actions, why the department would want to keep this information quiet, and why the Government doesn't want a House of Commons debate on the subject.

It's nice to see the Virgin offering and in a number of respects, it is far more attractive than that of First Group in my opinion, with the replacement of all Voyagers with short Pendalinos and far more realistic passenger growth forecasts.

First Group's plans for three classes of accommodation may work on a fully reservable and high capacity service like Eurostar, but to apply this to domestic 'walk-on' trains seems like a recipe for trouble. I recall Inter-City tried 'Silver Standard' on WCML and the problems created were legend, with a total mis-match of customer demand to seat categories available. Silver Standard was short lived!