Posted 30th August 2012 | 14 Comments
West Coast contract on hold as allegations fly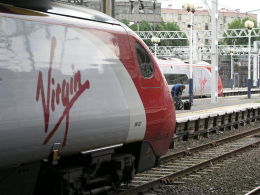 THE DEPARTMENT FOR TRANSPORT has not yet signed the controversial West Coast contract with FirstGroup after the 'cooling off' period ended, but the DfT is declining to say whether the delay has been caused by the legal challenge from Virgin. Virgin, which came second, is alleging that the process was flawed, which the DfT denies.
Virgin has lodged a preliminary claim with the High Court which says the transport secretary failed to take a 'risk adjusted view of the premium offered by the bidder'.
It maintains that 'on the basis of information presently available, there is no evidence that the Secretary of State undertook the relevant analysis'.
The core of the argument centres on two issues. One is the level of growth which can be expected and the other is the closely linked factor of revenue, from which premiums must be paid.
FirstGroup is forecasting average annual growth of 10.4 per cent, while Virgin expects 8.5 per cent. The total premiums, at net present value, would be £5.5 billion from First, as against £4.8 billion from Virgin.
A further point of contention is the timetable for premium payments, which First has 'back-weighted' more tham Virgin. The effect is that First will pay a larger proportion of its premiums in the last few years of the contract, which lasts for 13 years and 4 months. There is also a possible extension of 20 months.
Critics of First have claimed that extreme 'back-weighting' raises doubts over whether the last few payments could in fact be made.
Virgin is also attacking the lack of information which has been provided to it, as a failed bidder, since the announcement was made on 15 July. It says the Dft has 'repeatedly' refused to anwer some 40 questions about the bid, and is quoting European case law which says a contracting authority must provide "an adequate statement of reasons to unsuccessful tenderers".
In reply to the claim from Virgin, the DfT says it does not accept that transport secretary Justine Greening 'acted unreasonably and/or committed a manifest error in her treatment of the FirstGroup bid'.
A Department for Transport spokesman added: "We will fight these claims robustly and show clearly that these allegations by Virgin and their business partners Stagecoach are ill-founded and misconceived. We expect to sign the contract soon."
Meanwhile, First has insisted that its business plan is realistic and achievable, saying that cheaper seats will be sold more effectively under a new yield management system. It is also planning to introduce 11 six-car electric trains on the Birmingham-Glasgow route by 2016 as well as serve several new destinations, which include Shrewsbury and Blackpool. It also said it had 'every confidence' in the bidding process, which had been 'rigorous, detailed and fair'.
Reader Comments:
Views expressed in submitted comments are that of the author, and not necessarily shared by Railnews.
How on earth can the franchise be 'owned' by 'Virgin', a franchise is there to be won or lost, thats the whole point.

I'm bewildered by those who think 'Virgin' transformed the 'West Coast'. Sure, they initiated a fleet of new 'Pendolinos' and 'Voyagers', and Chris Green and Tony Collins and their teams did a good job with the operation, but even those guys would admit that the bulk of the effort was shouldered by the engineers and contractors who rebuilt it.

This is a complete joke. Virgin should be made to pay first group compensation if they go on to lose the impending court action.

Hopefully they follow through on their threat not to bid for any rail franchise again. The sooner they are gone the better.

I wonder how much it would cost an airline to have a whole fleet of trains painted like and advertisement for the airline?

Remember the above when Branson talks about running the WCML for free!!

Seems that he only thinks free enterprise works when it goes in his favour when fact is some you win some you loose as he should already know after loosing Cross Country franchise.



I was once involved as an 'insider' to an International firm. Everything I did as a senior analyst had to be run through with our Solicitors and Legal Department. We spent an enormous amount of time making sure all contracts obeyed the law and not open to legal challenge. But nothing is ever black and white and in the end choices have to be made. No one can forsee the future ... no one knows what passenger levels are going to be on the Railways next year or in 10 years time, no-one knows what is going to happen to the British economy. All these are imponderables. I am sure everyone involved at the Department of Transport did these things too, and Branson will eventually lose his appeal. He should move on. There other challenges on the Railways he could tackle, other franchises up for renewal. Why doesn't he aim for the East Coast Main line as a new challenge for Virgin Trains for example ?

Nothing suspicious about the GW franchise running until July rather than April 2013. DfT was overloaded with work with so many franchises on the go at the same time, plus blockades at Reading made it best to keep current operator on the line until they were over, and IEP contract close out took longer than expected to finalise between the DfT and Hitachi. The various bidders have to be allowed to discuss the new train specifications with Hitachi and they are to have until December instead of September to do that now. It's all on the DfT website in the ITTs sent to the four bidders.

Ultimately there has to be a re-consideration now. If Richard Branson really is offering to operate the franchise on a "not for profit" basis for a period of time, then the government has no choice but to take this seriously as providing best value to tax-payers. Whilst I feel very sorry for the department of transport caught up in this, and bidding "via the press" is far from ideal as it negates due process, nevertheless that is a new offer now on the table. The general public for sure might really rise to the concept of buying train tickets that are purely cost-only, not-for-profit. So if this revised Branson bid goes ahead, and I hope it does, there should be strong market research in to the motives of WCML travellers in instances where they face of choice of operator.

As an employee of FGW for the last 12 years, I can assure Les of Manchester that my morale, and as far as I can tell, all the colleagues I work with has not been destroyed, quite the opposite in fact.

Paul Allen - the current franchise 'belongs' to Virgin, but that ends in December after 15 years. The infrastructure belongs to Network Rail (a public company in all but name), the trains belong to train leasing companies. Virgin has only 'invested' what it needed to to run the franchise - in return it made handsome profits. Virgin also made a complete hash of the Cross Country franchise, a farce which cost the taxpayer dearly. Who runs the West Coast franchise is up to the Government, if you take into account the grants to Network Rail the whole operation is being subsidised by the taxpayer to the tune of many £millions and it will continue to be. If First is judged capable of paying more for the franchise than Virgin wished to then it is right that they won the franchise. Perhaps Virgin should have bid on the basis of receiving smaller profits?

Mr Allen, can you please enlighten me as to what he's spent million on please ?
Just curious.

Mr Allen , please enlighten me , what has he invested millions on ?
Trains , station ? just curious.


Strange how the Great Western franchise has been delayed by 3 months. It makes me think there's something underhand going on in that if First lose out on the WCML they will retain the GW.
As for the WCML, why let First ruin it and destroy staff moral in the same way they have on the GW.

i smell a rat at the dft come on richard this franchise belongs to virgin he has invested millions on the west coast mainline

It will all end in tears when the bubble bursts and everyone is looking for a scapegoat. No doubt, if it all goes wrong, First will lay the blame at Virgins door saying that their objections 'shook' investors confidence in First as a company and Virgin will say "I told you so", and the losers? Need you ask. Higher fairs, tax payers money to 'help' when things go pear shaped and, if it really gets out of shape, more British tax payers money to re-nationalise the line or lines. "Oh to be in England now that summer is here". Well it's almost autumn so start to batten down the hatches, I think it will be a long cold winter.