Posted 15th September 2011 | No Comments
Tram project moves ahead after government intervenes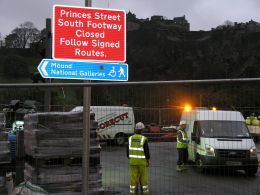 THE SCOTTISH GOVERNMENT has released the remaining funds needed to complete Edinburgh's troubled tram project. It is also effectively taking control of the scheme from Edinburgh City Council.
After emergency meetings last month, councillors had voted to retain the section of the line from Haymarket to St Andrew Square.
They had briefly chosen to terminate the route from the airport at Haymarket in a bid to control spiralling costs, but the Scottish Government responded to that decision by withdrawing the last £72 million which had been payable as part of a £500 million grant.
Councillors then overturned the original decision after some political groups on the council had changed their stance, although the Conservatives maintained their opposition.
The council's tram development company TIE is now being wound down after a series of project management crises, and managers are being brought in from the Scottish Government to oversee the scheme, which should now see trams running between the airport and St Andrew Square, which is just off Princes Street, by mid-2014.
Meanwhile, council officials are now trying to reach a fresh agreement with the construction consortium of Bilfinger Berger and Siemens. The relationship between TIE and the consortium had been repeatedly mired in disputes over costs and timescales, which at one time brought construction of the line to a virtual halt.
The line, when it opens, will only be a part of the vision for the restoration of trams in the Scottish capital. The network, as originally planned, had included a loop onwards from St Andrew Square to Leith and Newhaven and back, plus another route serving the south-eastern suburbs of the city.
The fleet of 27 CAF trams is larger than necessary for the surviving line, but attempts to dispose of some of the surplus vehicles have failed so far. Transport for London has chosen to buy six new Stadler trams for its increasingly busy network in the Croydon area, after declining a leasing deal with Edinburgh.
The complicated and often deeply troubled saga of the Edinburgh tram project may become clearer soon, after a public inquiry was announced by First Minister Alex Salmond last month. However, he said it will only go ahead when the scheme has 'greater clarity' than at present.