Posted 2nd September 2011 | 2 Comments
Trams plans face make-or-break decision today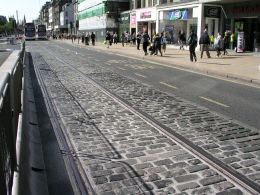 Tram lines along Princes Street -- laid in 2009 but yet to be used
COUNCILLORS in Edinburgh must decide today what to do with their crisis-ridden tram project, after a warning that they have almost no more time before a contractors' termination clause is activated which would cost £161 million.
The events of recent days have seen a see-saw of changing policies. It's only just over a week since a combination of Labour and Conservative councillors overruled the Liberal Democrats and voted to terminate the tramline at Haymarket, so saving £231 million in borrowing costs.
This decision would have left Princes Street without trams, even though rails were laid in 2009 at the price of closing Edinburgh's showcase shopping street to traffic for nearly a year.
But after last week's decision fresh uncertainty emerged, when the Scottish Government warned that terminating the line from the airport at Haymarket would result in the withdrawal of remaining government funding.
£72 million has yet to be paid out of a pot of £500 million, which itself only narrowly survived just over four years ago when the SNP gained minority power in Holyrood in May 2007 and agreed to help fund the trams as a means of keeping crucial Green Party support.
A further problem with terminating at Haymarket would be the additional financial penalties involved in cancelling the Princes Street section, which would include compensation to the contractors as well as the actual costs of restoring the street itself, plus the additional price of installing a new turnback facility at Haymarket.
The Lord Provost is presiding over an emergency meeting today, when councillors must make a critical, once-and-for-all decision about whether to proceed with the project at all, and if so whether the whole of the surviving line from the airport to St Andrew Square should be completed.
Already more than three years behind schedule, the Edinburgh tram project has lurched from crisis to crisis, with its projected network repeatedly cut back in a bid to curb ever-rising costs.
The line from the airport to St Andrew Square, just off the eastern end of Princes Street, is all that remains of an ambitious plan to build a network which would have reached Leith and Newhaven via a loop, and also taken trams down to the south eastern suburbs of Edinburgh.
Another question is what to do with the city's now embarrassingly-large fleet of 27 CAF trams. Efforts to dispose of some of them to other operators have so far failed.
The council-owned tram development company TIE may also be facing a bleak future, amid rumours that it too could soon be wound up.
The possibility remains that an outside consortium could be brought in to take over the floundering project. One approach, from Bombardier and the French operator RATP, was apparently rejected in July, but it's reported that the consortium may still be interested in making a fresh bid.
Reader Comments:
Views expressed in submitted comments are that of the author, and not necessarily shared by Railnews.
The damage to the reputation of Edinburgh is clear, but this debacle will also have a negative impact on future light-rail systems proposed for elsewhere in the UK. This kind of miss-management is what made the DoT reluctant to invest in the schemes in the first place. This just re-enforces their case.