Posted 26th October 2021 | 3 Comments
Lumo managing director says 'we've got the price right'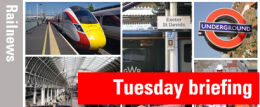 Lumo managing director says 'we've got the price right'
The first open access Lumo service from London to Edinburgh left three passengers behind on Monday morning, because there appeared to be a problem with their reservations. But other passengers at King's Cross told reporters they were 'delighted' with the low fares. Lumo is owned by FirstGroup, and has started running two trains a day between London and Edinburgh. The number is set to increase to five a day in the New Year. Lumo managing director Helen Wylde told the Independent: 'We got the price right. We're doing really well with our sales. There is a gap in the market. It's proved the point that, if you make it affordable, people will use the trains.' Meanwhile, the three stranded passengers were rescued by LNER, which found them places on its 11.00 service to Edinburgh.
First black train driver remembered
A plaque has been unveiled at London's King's Cross in memory of Wilston Samuel Jackson, who was the first black driver to be employed by British Railways. He arrived in London from Jamaica in 1952, and joined BR almost immediately as an engine cleaner. There were protests from some other staff when he gained the position of driver in 1962, and both his legs were broken two years later when his engine collided with the rear of a freight train at Finsbury Park, as the result of a wrongly clear signal. He returned to the railway in 1966, and later moved to Zambia to become a railway trainer. Wilston died in September 2018 at the age of 91. His youngest daughter Polly Jackson said: 'My father dedicated much of his life to the railway. He was never late or missed a day, and he was so proud of his work, despite the many challenges he faced. Today was a fitting tribute to his life and career.'
Reader Comments:
Views expressed in submitted comments are that of the author, and not necessarily shared by Railnews.
Does this illustrate the idea that it may be advisable to have, on main lines at least , a set of two or three operators each aiming to attract a different market sector, rather than the present "try to catch all " operations? I guess this is a slowly evolving thing, exemplified by "Ouigo" in France, or "Flixtrain"in Germany. In addition, there would arise a degree of competition ( benefitting passengers) between such operations.
[You have posed this question many times, David, and you always get the same answer from me. I believe OA operators are a bonus overlay on domestic main lines. I am convinced you must have a contracted operator providing a comprehensive core service, or the result could be chaos. The idea of 'right of access' was rejected by the first rail regulator in 1996. This matter is discussed further in Hot Topic in the November edition of Railnews, published on 11 November.--Ed.]

I guarantee that Lumo will succeed throughout the remainder of this year and into next year and beyond with their low cost rail service to Edinburgh Waverley to and from London Kings Cross. And to add Stevenage as a additional stop.
[Stevenage is already on the list of intermediate stations.-_Ed.]