Posted 25th August 2021 | 4 Comments
Union demands rethink over rail cuts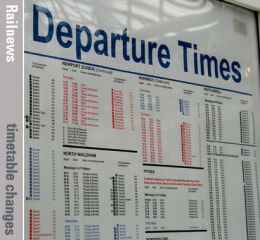 THE RMT is demanding a rethink over planned timetable reductions in the wake of the Covid-19 pandemic.
South Western Railway has calculated that demand for commuting and business travel will stay lower, at least for the foreseeable future, but this will be offset by a small increase in leisure travel.
It has published a consultation which sets out a potential December 2022 timetable, featuring fewer trains on most routes.
The SWR's proposals have prompted the RMT to write to rail minister Chris Heaton-Harris, calling on him to intervene.
RMT general secretary Mick Lynch said: 'The messaging from the Government and the rail industry is a total shambles. On the one hand we have the rail minister himself saying that rail passenger demand will fully recover post-COVID and on the other hand we have private train operators like South Western Railway claiming otherwise in order to make swingeing cuts to services and ultimately jobs.
'It is an absolute scandal that in the year we host vital climate talks at COP26 that the Government and rail industry is pursuing a policy of rail austerity as short sighted as the Beeching cuts of the 1960s which will just force more cars on to the roads.
'Today I have written to the rail ninister calling on him to intervene, do his job and act as a champion and guardian of our railways and not the axeman for Her Majesty's Treasury. These cuts must be stopped.'
South Western Railway said: 'Even though passengers are now returning to the railways, all the forecasts suggest they will not return to pre-Covid levels for the foreseeable future. The December 2022 timetable is our opportunity to plan for a long-term timetable that will retain the reliability improvements we've made, meet the forecast demand and provide value for the taxpayer while balancing other local and national priorities.'
Reader Comments:
Views expressed in submitted comments are that of the author, and not necessarily shared by Railnews.
The World has changed significantly during the last 18 months. In my locality local Pubs and Hotels have shut for good, and 3 of the local Churches have said it will be doubtful if they will ever re-open. Many organisations are only kept alive with public cash borrowed and printed by the Government. The more I think about the future for Rail or even our local Bus Services - all of which have a fraction of their 2019 passengers - the more unsure I am. I pass Tilehurst and Theale Railway Station Car Parks every day. They are not even 20% full where back in 2019 one could never get a space. Before anyone decides the future you've got to know how much cash is available either from fares or the taxpayer. It will be a case, in the short-term at least, of saving cash and cutting services, not spending it and expanding.

Why does this company need to use a 2022 timetable "to plan for a long-term timetable" when they'll be abolished in 2023?

Given the very large number of people recruited into utterly non-essential senior positions from the random name generator (eg integrated digital platform systems delivery manager) in recent years, often over 500 at each operator all on salaries above £65-140K, the savings should come from them first before any cuts to train services or actual 'staff'.