Posted 17th August 2021 | 7 Comments
Optimism increases over rail use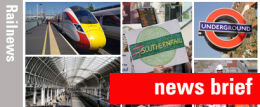 THERE are more predictions that the demand for rail travel is set to continue increasing until it reaches pre-Covid levels. However, the pattern of demand seems likely to change, with softer peak hours but greater demand for leisure travel.
The latest person to take this view is rail minister Chris Heaton-Harris, and it comes hard on the heels of a Network Rail statement saying that the number of passengers using Leeds on a Saturday earlier this month was back to normal.
At the moment, the Department for Transport is reporting that train travel has risen to about 57 per cent of its pre-Covid totals.
When he was asked if we will see passenger numbers recovering, Mr Heaton-Harris replied: 'I think we will but I don't think there will be the numbers at the same times of day that there used to be.'
He told the Press Association that 'we're going to be sweating the assets in a very different way. The leisure market is recovering, and recovering strongly.
'Probably for the first time in the railway's history you're getting as many people travelling on Saturdays and Sundays as you are during the week, and in lots of places more.'
However, Mr Heaton-Harris also warned that 'rail has to compete for its market' against other modes of transport.
Network Rail chairman Sir Peter Hendy has been saying for some time that the demand for leisure travel would rise once Covid restrictions had been lifted.
Reader Comments:
Views expressed in submitted comments are that of the author, and not necessarily shared by Railnews.
Indeed, passengers are returning to trains in the North West. Whilst I have no information regarding commuters, I have noticed that off-peak leisure travel does seem to be picking up considerably.

However, there are still serious problems on Northern, with frequencies on many routes being affected by staff shortages and the ongoing situation with Class 195 and 331 units. This needs to be addressed, if they want footfall back to pre-pandemic levdels.

Without the weekday peaks in demand, around a third of 2019 traincrew on [former] commuter routes into London and other major cities won't be needed. Meanwhile, the collapse in high-yield long distance business travel also leaves revenue on intercity routes likely to be down by a third on 2019, permanently.
[Collapse? Permanently? Well, if you say so.--Ed.]

I think the government should follow France and ban all internal domestic flights on the UK mainland to encourage people to use rail network as it has capacity and has less impact on the environment.

[France has only banned domestic flights which parallel rail routes and on which the same journey can be made in no more than 2.5 hours. If a similar ban was imposed here, flights to places like Cornwall and the Scottish Highlands would be unaffected, but there is certainly not much of a case for allowing flights between, say, London and Manchester.--Ed.]

The leisure travel future requires the reinstatement of unused platforms at places like Newquay, Barnstaple, Barry Island, Tenby, Aberystwyth, Morecambe, Windermere, and others. At Bridlington, they have just sold the excursion platform to developers, ridiculously shortsighted.

Locally in the North West I am seeing commuters have returned to 70/80% of pre-peak but the number of leisure travellers travelling in peak is massively up.

It's worth remembering that it is August and rail commuting always fall off in August so it won't be until next month that we can start basing usage on normal working months .

I have noticed use of London Underground is increasing but the C2C trains I use beyond London around 5pm while getting busier still have many empty seats where they used to be standing room only .

Use of trains for day trips to London are however increasing thins getting those who used to commute back onto the railways.