Posted 23rd August 2021 | 11 Comments
Concern grows about HS2 eastern leg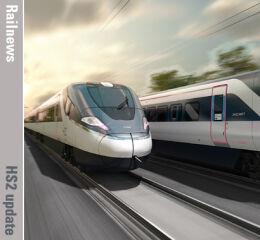 ANOTHER leak has raised concern still further that the eastern leg of HS2 is unlikely to be built in the foreseeable future.
Although the western leg between London and Manchester is progressing, with construction underway on Phase 1 to Birmingham, the government has been declining to make any commitment to Phase 2b to the East Midlands and Yorkshire, saying only that the Department for Transport's Integrated Rail Plan, which is running very late, will clarify the situation.
Eyebrows were raised as long ago as January last year when the newly-appointed HS2 minister Andrew Stephenson promised to 'bring forward legislation to bring high-speed rail into Manchester as soon as practical', but did not mention Leeds.
Since then there has been a series of speculations and leaks suggesting that the government's enthusiasm for the eastern leg is dwindling, in the face of rising costs on Phase 1 and the railways' general cash problems caused by the Covid-19 pandemic. One reaction has been the reduction of Network Rail's enhancements budget by £1.5 billion, but this amount will not be nearly enough to rescue HS2.
The latest leak was published by the Sunday Mirror, which quoted an unnamed source as saying that 'there's no way we're going to see this built in our lifetimes'.
There have been mixed reactions. Some MPs in Yorkshire would prefer to see the eastern leg budget spent on other transport projects. The Guardian quotes the member for Rother Valley Alexander Stafford as saying: 'What we need is the money invested in transport infrastructure that might actually bring a tangible benefit to seats like mine. We need a better bus service and better links to Manchester across the Pennines rather than a hugely expensive white elephant that is sucking resources out of areas like mine and will only benefit a tiny number of people living in central Leeds.'
But the idea of indefinite postponement is dismaying other politicians and business leaders in the region. West Yorkshire Mayor Tracy Brabin said: 'The government cannot talk about levelling up and a commitment to the north without addressing the decades of underinvestment across our transport networks.
'The eastern leg of HS2 is essential to providing the rail services that work for our communities, as part of a joined-up transport system that connects people to better jobs, better education, and more opportunities.'
Reader Comments:
Views expressed in submitted comments are that of the author, and not necessarily shared by Railnews.
" the Department for Transport's Integrated Rail Plan,"
Which may never, ever see the light of day, possibly
DfT & most Importantly, the Treasury HATE spending money on railways, after "Modernisation Plan" / GW electrification / W Coast upgrade / Crossrail
We are NOT going to see widespread electrification, not if the Treasury can help it.
They are still fixated on road transport

Could HS2 Eastern Leg reach Hull.

One further consideration re. the reutilisation of the ex Great Central formation as a much cheaper , conventional speed way of providing extra capacity south of Nuneaton / Rugby:-

There used to be a few miles between Ashenden (Great Westrn) and Grendon (Great Central) with a full speed llink between them . This could give facility for traffic from north of Nuneaton to terminate at either Marylebone or Paddington ( remembring extra platform capacity available once Crossrail starts ).

It's worth remembering that HS2 was originally planned over a decade ago and the eastern leg was seen as a cheap way of giving benefits of HS2 to MML and ECML .

However, since then we have the new generation of trains which are in fact in the family of High Speed Trains with their design and top speeds of around 140 mph and therefore upgrades to ECML and electrification and upgrades to MML will mean journey times on these lines once higher speed becomes the norm won't be much different to going the long way around vis HS2 eastern leg and so a redesign of HS Network replacing original eastern leg with a new east to west railway across the north with new trans Pennines tunnels might be a better way of investing funds with a new Liverpool to Hull HS line which would still link to HS2. ,

Anyway work on London to Crewe HS2 is now cleared and the next stage will be Crewe to Manchester thus covering the main WCML a line who's top speed is still 100 mph without tilting Pendolinos!

Yes, I would put phase 2b in the "doubtful folder". Who will want to go from Leeds, York or Tyneside to the Capital via Birmingham, when the projection is just 8 minutes time saved? Who wants to go from Nottingham via a station miles away ?

As far as benefit/cost ratio is concerned , this superfast technology is best suited to distances of at least 240 miles ; if so, the only suitable LGV in GB could be London to Teesside and Tyneside and on to the Scottish Central belt, plus a bit of more marginal business from centres in Yorkshire. Manchester, Liverpool and Birmingham are major centres,but not in need of LGV speeds , being already faster, centre to centre, than aviation, with day returns being possible.

If HS2 reaches Birmingham, then phase 2a would be justified in terms of giving a through route to points further North. Phase 1 on its own would be a classical white elephant. The suggestion to use the trackbed of the former Great Central for a conventional "cut off " line from Nuneaton to Calvert to give extra capacity at a fraction of cost of HS2 appeals to me, too.

Whether a "new build stretches" series of bypass lines on ECML or a suitable new "spine" line via the East Midlands would be the most suitable way forward in this , as most appropriate, the benefit / cost would probably be much better than the current offering.

National Infrastructure Commission, suggested the eastern leg should be shelved in favour of upgrading existing lines to the Midlands. Looks like their advise was taken. IPA gave London-Birmingham amber/red and Phase 2b, that is also Crewe to Manchester, a red 'unachievable' rating.

The only real construction has been the Chiltern Tunnels. To save HS2, a HS2 line can be built from Old Oak Common to the WCML at Rugby via Aylesbury using the Chiltern tunnels. From Aylesbury to Rugby the Gt.Central trackbed can be reused. At Rugby the line can veer east away from Rugby to the open fields with flying junction north onto the WCML. The Gt.Central trackbed is pretty well intact from Aylesbury to south of Rugby. Those who say the Gt.Central cannot be reused from Rugby to Aylesbury are writing nonsense. No show stoppers there.

At Aylesbury a branch into an uprated Chiltern Line.

What will that give us? Two branches:

1) one to the WCML at Rugby. The two extra WCML tracks into London will release capacity south of Rugby.

2) more capacity release on the WCML by moving the Birmingham trains back into the Chiltern Line. Times to Birmingham will be better than HS2's as the route is direct with a clear fast run through the London suburbs.

3) A station at Aylesbury to serve Buckinghamshire - these people are greatly aggrieved over HS2.

Sorted.
a) Capacity on the WCML solved - if it was a problem.
b) Buckinghamshire has a station.
c) A fast line to Birmingham.
d) London commuter lines freed up northwest of London.

Rest of world is investing DEEPLY into heavy infrastructure...
UK... the glorious global brexshitastrophe britain... retreats from pre-covid infrastructure commitments. The thought, concept of Investing in the Future - not in the tory-tards vocabulary... lol

I am not surprised that the Eastern Arm is being reexamined. It needs tweaking, not dropping. In February following publication of the National Infrastructure Commission (NIC) advice to Government, Greenguage outlined 3 options for the Eastern Arm of HS2.

Option 1: the original HS2 proposal,

Option 2: Upgrading existing lines,

Option 3: Extension north of Nottingham via the East Coast Main Line

I have increasingly favoured Option 2 - upgrading the Erewash Valley line north to Chesterfield - slightly to the west of the planned HS2 alignment - an upgrade of what was once a main line but is now largely used only for freight — the 'Old Line' via Rotherham Masboro'.

It avoids the recent housing estate on the current Eastern Route and can be tied into the existing route north and south of that problematic section.
Other services to/from Sheffield could also use the enhanced Erewash Valley line, if upgraded to mainly 125 mile/h operation - including East Midlands–Sheffield– Manchester services (to avoid both the reversal at Sheffield station and the double-back between Dore and Sheffield).

The comments by the MP show that long term infrastructure planning in Britain always takes a back seat to short term political needs. He needs to reatain his seat and that's all he's interested in, sad really

The rail link between Leeds, Sheffield & Nottingham is poor & would not be accepted in the south. The HS2 eastern leg is needed NOW to resolve this. Delay or cancellation would be yet another kick in the teeth for Yorkshire & the North East.