Posted 26th May 2021 | 10 Comments
TransPennine Upgrade moves forward with further funding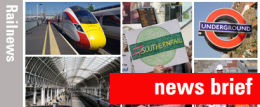 THE government is announcing further investment of £317 million to move the TransPennine Upgrade forward, after an earlier commitment last year to spend £589 million on increasing capacity.
However, it emerged in January that the money would not be enough to pay for electrification as well, but today's additional funding will be enough to wire up the section between York and Church Fenton, the Department for Transport said. It added: 'Proposals for even more extensive electrification on the route are currently being considered.'
The new funding also includes £69 million funding for the first stage of the Oxford Phase 2 project to improve freight capacity between Southampton, the Midlands and North, and £15 million from the New Stations Fund for new stations at Marsh Barton in Exeter, and White Rose and Thorpe Park in Leeds.
Transport secretary Grant Shapps said: 'Modernising and upgrading our vital transport links is critical to levelling up every part of this country, unleashing our economy and spreading opportunity.
'Following closely after our reforms to deliver a modern, green and innovative railway that meets the needs of the nation, this package of £401 million investment will help deliver reliable, punctual services that passengers can count on.'
Reader Comments:
Views expressed in submitted comments are that of the author, and not necessarily shared by Railnews.
"but today's additional funding will be enough to wire up the section between York and Church Fenton, the Department for Transport said."
Do we need any more proof that the DfT are clueless and not fit to manage the railways?

Once York and Church Fenton, Leeds and Huddersfield and Manchester and Stalybridge are electrified, from what Hitachi have said, I suspect that Class 802s with one battery pack will be able to get across the Pennines without using diesel.

You only have to look at how the claimed battery range from Vivarail has grown to suspect that Hitachi with state of the art battery packs from Sunderland could have a range substantially more than they have stated.

This just sounds like softening up Yorkshire because the eastern leg of HS2 isn't going to happen perhaps. Excellent comments above pointing out Grant Shapps is announcing things that have already been announced and started

Yet another reheated ministerial announcement re Trans Pennine investment. Let's recall that when electrification of the TP route was initially announced there was an expectation that completion was long anticipated by now. While it is welcome to see more cash being made available to improve this route it is still only buying a partial solution while leaving major issues such as the Castleford corridor capacity unresolved.

It's not even York to Church Fenton (13km) - the wires already run to Colton Jn so that is just 6.5km - a step in the right direction, but will still (temporarily) be OHL to nowhere.

Thank you for.....not very much really. The wiring to Church Fenton is already underway and what does it achieve? A few more miles for the TP 802s to suck the juice. At the moment they usually raise/drop the pantos between Colton Jn and York.

I suspect that detail estimated costs for the rest of the project have not yet been submitted by NR......but are they costing civil engineering or that plus wiring? Wiring to Huddersfield is supposed to be in the plan but no further!!

Err...don't they mean between Leeds and Church Fenton?

This isn't news in the sense that the masts are already marching south towards Church Fenton from Colton Junction. It was announced many months ago. What will be announced next, the wiring of the ECML?

I am confused, "today's additional funding will be enough to wire up the section between York and Church Fenton,...". This section of line is currently being electrified (between Colton Junction and Church Fenton), so has this been done without funding in place?
[We can only quote the DfT: '£317m funding to develop the Transpennine Route Upgrade to improve connectivity between Leeds, Manchester and York and commence early works, including electrification between York and Church Fenton.'--Ed.]