Posted 23rd July 2020 | 7 Comments
Transpennine boost as £589m budget is announced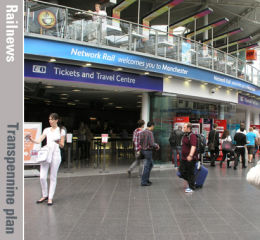 THE Department for Transport has announced a budget of £589 million to launch work on upgrading the Transpennine main line between Leeds, Huddersfield and Manchester.
A Northern Transport Acceleration Council is being set up today, which will be 'dedicated to accelerating vital infrastructure projects and better connecting communities' in the north of England, the DfT said.
There will be some four-tracking of the most congested sections, although precise locations have not yet been revealed.
The DfT also promised that 'most of the line will be electrified', adding that 'our ambition is to go further. Full electrification, digital signalling, more multi-tracking and improved freight capacity are now under consideration as part of an "Integrated Rail Plan" due to report in December'.
Upgrades to allow more electrically-hauled freight on the route will also be considered in the Plan, while work is under way 'to tackle the bottlenecks at either end of the route, without which the upgrade's potential cannot be fulfilled. Leeds station is being resignalled and a new platform is being built'. Development funding of £10 million for the Manchester area was awarded last month.
Transport secretary and Northern Powerhouse minister Grant Shapps said: 'People across the North rightly expect action, progress and ambition, and this government is determined to accelerate improvements as we invest billions to level up the region's infrastructure.'
The Mayor of Manchester Andy Burnham has welcomed the news, saying: 'This feels like a gear change from the government in the delivery of transport improvements in the North of England and I welcome the new drive that the transport secretary is bringing to this. People here deserve a modern, reliable public transport system and it is my hope that the Northern Transport Acceleration Council will bring forward the day when that is a reality.'
Labour's shadow transport secretary Jim McMahon responded: 'Whilst we welcome an announcement of devolution of transport powers, we've heard all this before. Transport for the North was set up to deliver the same aims as this new body, yet it had its roles and responsibilities pulled from underneath it.
'The geographical divide in transport spending has exacerbated under the Tories. Transport spending in the North is two and half terms lower than in London. If the North had seen the same per person investment as London over the last decade, it would have received £66 billion more.
'The Government need to deliver tangible action and give the funding and powers needed to rebalance infrastructure spending across the country.'
More details of the plans for Transpennine will be included in the August print edition of Railnews, RN282, published on 30 July. The new edition and some previous issues can be obtained by calling 01438 281200 from UK numbers or +44 1438 281200 internationally, and selecting Option 2.
Reader Comments:
Views expressed in submitted comments are that of the author, and not necessarily shared by Railnews.
Reinstatement of four tracks between Heaton Lodge Jn and Thornhill LNW Jn is already planned. As the only freight traffic west of Huddersfield appears to be night time empty biomass trains from Drax to Liverpool bulk terminal why would they need any more loops?
Freight traffic through Mirfield is biomass as above, Knowsley - Tees Dock rubbish containers (two each way per day) and the Immingham - Preston Dock heavy oil train and return empties. Yes the LNW west of Huddersfield SHOULD be electrified but the tunnels will take months of possessions.

I would sort out the castlefield corridor first, then electrify and four track where it can be done, and also possibly reopen the woodhead route for freight / passenger diversions.

Now can we finally get those two extra through platforms for Manchester Piccadilly?

More pie in the sky 'jam tomorrow' waffle as Labour says heard it all before!

About time. Just hope there is no half measures. Sounds to me if it the network Plan from Huddersfield westwards for four tracking with electrification from Huddersfield to Leeds.

Suggest, Manchester Victoria to Staylbridge is added to the electrification as most of the work as been done.

No mention of continuation to Colton Junction, York or Selby. Half a job?