Posted 16th December 2020 | No Comments
Inflation-plus rail fares increase confirmed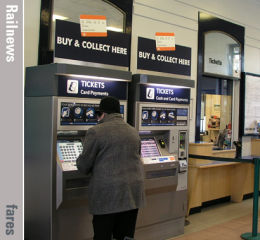 Updated 11.05

FARES on National Rail will be increased by 2.6 per cent next year, but the government has put back the increase from the first week in January until 1 March, saying that the decision to delay the increase will offer 'a significant window for commuters who cannot work at home to purchase cheaper season tickets at the existing rate and allowing greater flexibility in uncertain times'.
However, the decision to increase fares above inflation has sparked protests by opposition politicians, transport campaigners and rail unions. One union leader dubbed the rise as 'extortionate and plain daft', while a campaigning group said the decision 'sends entirely the wrong message'.
The increase is based on last July's Retail Prices Index plus one per cent and strictly affects regulated fares, which include season tickets, but it is not clear what will happen to unregulated fares. These make up around half of all tickets sold and have been decided in the past by the individual franchise holders. The operators are now running under Emergency Recovery Measures Agreements rather than franchise contracts, and all their revenue is payable to the Department for Transport.
The DfT pays the industry's costs in return, and it has been estimated that the drop in rail revenues caused by the pandemic will cost taxpayers a total of £10 billion this year and next.
Rail minister Chris Heaton-Harris said: 'Delaying the change in rail fares ensures passengers who need to travel have a better deal this year.
'Right now, our priority must be ensuring our transport network is safe for passengers and staff, and we urge members of the public to follow the Government's advice and only travel when absolutely necessary.
'By setting fares sensibly, and with the lowest actual increase for four years, we are ensuring that taxpayers are not overburdened for their unprecedented contribution, ensuring investment is focused on keeping vital services running and protecting frontline jobs.'
The Rail Delivery Group, which represents operators, said the decision rests with the government.
RDG CEO Jaqueline Starr added: 'To keep fares down in the long term and support a green economic recovery from Covid-19 it is crucial to get people back travelling by train after the pandemic. While passengers will be disappointed at today's news, we are committed to working with government to make the fares and retailing system easier to use and pushing for better value deals like flexible season tickets.'
Transport Focus chief executive Anthony Smith pointed out that the fares system will need to change in response to different lifestyles after the pandemic. He continued: 'This could mean new flexible season tickets which offer better value for part-time commuters, and other tickets based on how people want to use the railway.'
It had already been announced that Transport for London fares will rise by RPI+1 per cent in the New Year. Reacting to the National Rail increase, Labour's transport speaker on the London Assembly Dr Alison Moore said: 'This rise goes beyond the usual kick in the teeth that commuters have come to expect from the Government each year, being the first time that ticket prices have been increased above inflation since 2013.
'As the vaccine is rolled out, train ridership also needs a shot in the arm to ensure that we avoid a car-led recovery from the pandemic.
'With Londoners and people across the country facing huge financial uncertainties, this decision is likely to achieve the opposite.'
RMT general secretary Mick Cash claimed that fares were being 'forced up to subsidise private profit', and repeated his call for complete railway renationalisation, while his counterpart at TSSA, general secretary Manuel Cortes, said: 'Ministers are well aware that millions have suffered this year with the uncertainty of employment, a changing picture on furlough provision, pay cuts, wages freezes and lost jobs. So a hike in fares of this size is both extortionate and plain daft.'
Campaign for Better Transport chief executive Paul Tuohy said: 'We are bitterly disappointed. The Government is committed to decarbonising transport, yet this rise will do nothing to encourage people to choose the train or help the green economic recovery the country so desperately needs.
'We understand that the Treasury needs to recoup some of the money it has spent on the railway during the pandemic, but the way to do that is by encouraging passengers back on to the trains, not by pricing them off. Raising rail fares sends entirely the wrong message on transport choices.
'Passengers now need urgent fares reform, including the introduction of flexible season tickets for people commuting part time, to help make rail travel a financially attractive choice or we risk people abandoning the railways altogether.'