Posted 25th November 2020 | 2 Comments
Support for rail services set to rise to £8bn this year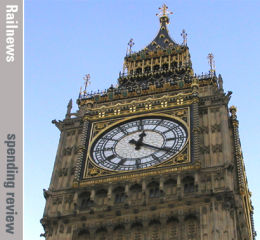 Updated 26.11.20 09.16
THE price of keeping trains running in England during lockdown restrictions, when passenger figures and revenues fall sharply, is set to reach a total of £8 billion in the year to March 2021.
The figure appears in the small print which accompanied today's Spending Review.
Light rail and trams in the provinces, Transport for London, buses and cycling are expected to share another £4.8 billion.
The Chancellor also expects to give more support to railways in the next financial year, starting in April, but the allocation has come down to about a quarter of this year's figure, at 'over £2 billion'.
It had already been revealed that supporting train services in England has been costing around £600 million a month since the first Emergency Measures Agreements were introduced in March.
Director of nations and regions at the Rail Delivery Group, Robert Nisbet, said: 'Given the crucial role the railways will play in the economic recovery next year, continued investment to keep services running is crucial so the network is ready when passengers return. Equally vital is funding to deliver the improvements that will improve journeys for passengers and support economic regrowth in communities across the country.'
Pascale Robinson, campaigns officer at We Own It, said: 'It's time the government faces reality. Privatisation has been a disaster on our railways. Rather than funneling billions to private rail companies, that money should be going into a publicly owned railway fit for the future, not into the pockets of shareholders.'
Norman Baker from the Campaign for Better Transport said: 'The failure today to announce a rail fare freeze is a huge disappointment to the millions of passengers looking to return to workplaces in the new year. To encourage people to get back on the train we need a fare freeze and flexible season tickets for people returning to workplaces part time. Without these incentives people will simply stay home, further damaging the economy, or drive to work, causing more congestion, more pollution and undoing years of work tackling climate change.'
Reader Comments:
Views expressed in submitted comments are that of the author, and not necessarily shared by Railnews.
Pascale Robinson appear to know nothing about the subject. BILLIONS are NOT being funneled into private rail companies and the pockets of their shareholders. Except for a small management fee (which would to a large extent be eaten up by some government department if everything was nationalised) this is all going to running costs for trains & stations, staff wages, etc. etc. I'm not sure why you'd even publish such an ill-informed and misleading comment in the article in the first place, unless it was intentional to point out how clueless some of the critics are.
[It is not our job to censor 'ill-informed' comments, whether within our general reports, on the Platform page in the print edition or on this website. As one famous editor said: 'Comment is free … but facts are sacred'. If we started to censor opinions with which we did not agree, there would indeed be a slash and burn. Even some of your comments might not make it, Mr Palmer!--Ed.]