Posted 20th November 2020 | 3 Comments
Avanti West Coast abolishes morning peak fares on Fridays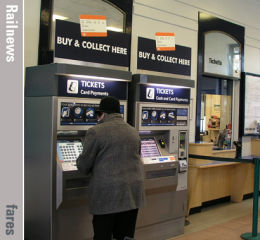 PASSENGERS on Avanti West Coast have been able to travel at off-peak rates from the start of services today, and Fridays will continue to be 'off-peak' until the New Year.
The axeing of more expensive fares is seen as one way of attracting passengers back to rail, and Fridays on AWC will now be entirely 'off-peak' for the rest of this year, because the operator had already removed afternoon restrictions on Fridays.
AWC's executive director, commercial, Sarah Copley, said: 'Removing the Friday morning restrictions gives customers more freedom to choose when they travel and when lockdown measures ease make the most of their extended weekends and days out.
'Just as importantly it allows us to spread demand and maintain social distancing on board our services. This will help our customers who decide to travel, to travel with confidence.'
Transport Focus director David Sidebottom added: 'Passengers will welcome this trial. Any move that helps save money and maintain social distancing should prove popular, and when the time is right, encourage more people to use rail services again.'
The move has come at the end of a week when concern grew about passenger figures in the longer term. On Wednesday rail minister Chris Heaton-Harris told the Commons Transport Committee that the cost of maintaining National Rail services in England since the first lockdown in March has risen to a total of £4.2 billion, and that during some months this year the cost of subsidies was more than £600 million.
Fears of a long-term fall in custom are also shared by rail operators, although running the most intensive commuter services each day tends to add to costs rather than profits, because the extra trains and other equipment needed are often largely redundant outside the peaks.
Abellio Group managing director Dominic Booth told the transport committee: 'We expect to be able to win back around 75 per cent on a like-for-like basis of passenger journeys,' but he conceded that travel patterns will change as some people are likely to continue to work from home for at least some days each week.
However, he did not foresee widespread withdrawals of services, adding: 'A combination of winning back a very healthy chunk of our previous patronage added to an enhanced role in the climate change agenda over the next several years we think calls for quite a substantial and large-sized railway to remain.'
Reader Comments:
Views expressed in submitted comments are that of the author, and not necessarily shared by Railnews.
Was thinking if Avanti West Coast could possibly operate some services going via Northampton including London Euston-Birmingham New Street, Manchester Piccadilly, Liverpool Lime Street and Stoke-on-Trent going via Northampton. With London Northwestern Railway to continue with their services that goes via Northampton.

Long overdue. Any chance of fitting openable windows on air conditioned trains, any time soon?