Posted 15th December 2020 | 4 Comments
Anger in Midlands as report downgrades HS2 eastern leg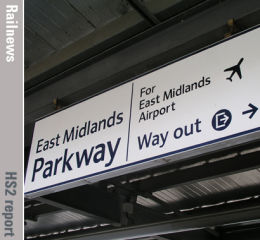 THE National Infrastructure Commission has published a new assessment which reduces the importance of the eastern leg of HS2 to Leeds via the East Midlands in favour of regional schemes.
The recommendations have angered and dismayed politicians and business leaders, with Nottingham South MP Lilian Greenwood describing the proposals as 'an insult'.
The NIC has examined a number of options in its report, Rail Needs Assessment for the Midlands and the North, and says 'the packages prioritising regional links do not include the full eastern leg of HS2 Phase 2b, but instead include a mix of new lines and upgrades, which has the potential to provide improved connections from Birmingham to the East Midlands as well as being potentially cheaper and faster to deliver', adding that 'packages of rail investments prioritising regional links are likely to have the most potential benefits for cities in the Midlands and the North'.
It does not rule out the eastern leg completely, saying that 'further schemes or enhancements might include a phased approach to the remaining sections of the eastern leg from the East Midlands to Leeds'.
The Commission recommends 'prioritising improved connectivity between Sheffield and Leeds, improved connectivity between Sheffield and Manchester [and] a new line from Manchester to Leeds via Bradford', and it also questions the need for a hub station at Toton, saying that an 'alternative option for consideration would be to improve the existing East Midlands Parkway station'.
There has been a wave of protests in the Midlands.
Midlands Connect director Maria Machancoses said: 'Some of the options in this report are very concerning. Sacrificing parts of the high speed network now would short-change millions of people across the Midlands and undermine our efforts to deliver a transport network fit for the 21st Century.
'HS2 must be delivered in its entirety, including its eastern leg from Birmingham to Leeds, alongside Midlands Engine Rail. To stall, scale down or delay now will cause irreparable economic damage to communities across the region – especially the East Midlands, which has suffered from a chronic underinvestment in infrastructure for decades.
'It's important that Government follows the evidence and advice of its industry experts and rejects calls to alter HS2's route or remit.'
She continued: 'A decade of planning has gone into making Toton not only HS2's East Midlands Hub, but also the site of thousands of new homes, a new centre for renewable energy and an innovation campus. Government is in the process of creating a Development Corporation for the Toton and its surrounding area, land has been purchased, our plans will create over 80,000 jobs for local people.
'East Midlands Parkway was assessed as a possible location for HS2's East Midlands hub back in 2015. The evidence was as clear then as it is now, this is not the best option.'
Nottingham South MP Lilian Greenwood, who is a former chair of the Commons Transport Committee, said: 'This report is an insult to the people of the East Midlands, whose interests have once again been cast aside by Westminster; this time at the hands of the National Infrastructure Commission.
'Downgrading the eastern leg of HS2, as suggested in this report, is completely unacceptable, and will condemn a generation, not only to a second class railway, but to a second class future – one blighted by economic inequality and a lack of social mobility.'
Labour's shadow transport secretary Jim McMahon added: 'If the Government is serious about improving British infrastructure, supporting jobs and improving connectivity in the north it cannot now row back from building HS2 in its entirety.
'Recent cuts to Network Rail and failures to deliver pledged investment in the north and Midlands show the Government is not keeping its promises.'
Reader Comments:
Views expressed in submitted comments are that of the author, and not necessarily shared by Railnews.
Two Trillion pounds for Covid... but a few billion for the Backbone of all future High Speed Rail interconnectivity... is tuppence too much.
How typically English! LOL
We are living witness to the fate of Every Empire of Human History... collapse to core, Implosion, followed by generations of despots, dictators, and tyrants who are only interested in being an old Etonian English Mugabe.


Legislation for phase 2a West Midlands to Crewe is close to receiving Royal Assent with first contacts let so work to Crewe is expected to get underway in the new year .

While the next section from Crewe to Manchester is being combined with Northern Powerhouse Rail with legislation in 2022 thus creating what will be in effect WCML2 !

Argument is underway about the eastern leg but given how this was drawn up a decade ago before Northern Powerhouse Rail was invented then whether eastern leg is still required is up for debate especially if the ECML is upgraded to 140 mph operation providing s similar London to Leeds service in only small extra time than via HS2 eastern leg .



Yes, the currently planned HS2 is too short to make much benefit / cost sense. Also, the Birmingham - Leeds branch is circuitous and would apparently only save about 8 minutes London - Leeds compared with more direct trains via the ECML.

Very High Speed service only brings big benefit / cost returns for journeys of at least around 240 miles.

A bigger need , as NIC seems to have realised , is improving intercity service between provincial centres. In particular , the East Midlands ( Northampton , Leicester, Nottingham ) have virtually lost all quality service to centres further north ( Manchester, Leeds, Newcastle, Edinburgh, Glasgow). Milton Keynes is fortunately on the WCML, and now has trains to at least some of these.

Finally, the pressure on public finances as a result of Covid has led to an outbreak of common sense. Prioritising regional links and connectivity between key cities should have been the guiding light from the outset. Toton is a nonsense as an interchange.

It is now perhaps too late to defer phase 1 but let's hope this report is taken fully on board by the Treasury and that HS2 is London/Birmingham only.