Posted 5th November 2020 | 6 Comments
Claims that HS2 costs are soaring are 'baseless' says DfT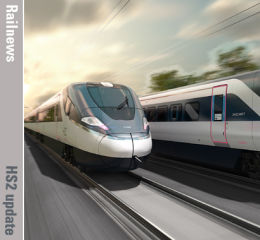 CLAIMS that the final cost of HS2 could be £170 billion have been dismissed by the government.
Lord (Tony) Berkeley, who is a veteran critic of the scheme to build high speed lines between London, Birmingham, Manchester and Leeds has warned that the eventual price could be almost three times as much as the original estimates, and that Phase 1 between London and Birmingham, now under construction, could cost five times as much.
Supported by surveyor and engineer Michael Byng, Lord Berkeley had said: 'One saving would be to cancel or cut down the scope and cost of HS2. A fraction of this amount spent on railways in the North and Midlands would bring jobs and benefits much more quickly.
'Michael Byng's latest estimate (October 2020) of costs for Phase 1 are £74 billion and for Phase 2A £14 billion at second quarter 2020 prices. So you will be able to get from London to Birmingham and Crewe a few minutes quicker for £88 billion. These cost increases have come about due to more information being available about these parts of the project, as well as inflation. Michael Byng's methodology has never been challenged by HS2.'
However, the calculations have been rejected by the Department for Transport, which said: 'We do not recognise these baseless, false figures. Just last month we provided an update to Parliament on the costs of the project and confirmed that it would be delivered within the funding envelope.
'Earlier this year, we comprehensively reset the HS2 programme, introducing a revised budget and funding regime, and pledged that we would be relentlessly focused on controlling costs – this has not changed.
'Construction of HS2 is already underway, and once built, it will become the spine of the country's transport network, bringing our biggest cities closer together, boosting productivity and rebalancing opportunity fairly across the country.'
Lord Berkeley served as deputy chairman of the official Oakervee Review into the scheme, but he and most of his colleagues were told to step down before any of its conclusions had been published. He is also opposed to taking HS2 into Euston, saying that a terminus at Old Oak Common would be a cheaper alternative.
Meanwhile, HS2 minister Andrew Stephenson revealed in October that the spending on Phase 1 has reached almost £10 billion – a quarter of the budget for this section. Lord Berkeley commented: 'On most major projects, a rule of thumb is that costs incurred before permanent works are started rarely [exceed] 10 per cent of the total cost.'
He added: 'Rail passenger ridership is running at around 40 per cent compared to the previous year. We must surely consider whether, even in the medium term, ridership will ever return to the level seen recently, coupled with the growth forecasts which were used to justify the construction of HS2.
'The HS2 gravy train goes on; whereas DfT ministers try to cut back or delay expenditure on other new rail projects, including those most needed in the Midlands and North, nobody seems to care about the still escalating costs of HS2, the ongoing environmental destruction and whether the demand is still there and of course whether the country can afford such a vanity project.'
Reader Comments:
Views expressed in submitted comments are that of the author, and not necessarily shared by Railnews.
Lord Berkeley seems to be trotting out he old argument of excessive cost for a few minutes saved, rather than looking at the bigger picture.
Surely the greatest benefit will be freeing up paths on the WCML for freight and local passenger services. The freight will take lorries off the roads, contributing to the reduction in emissions (and probably result in the road surface lasting longer, which equals lower maintenance costs) and the release of WCML paths closer to cities like Manchester will enable local trains to either run a more intensive service, or a more punctual one.

A billion here, a billion there... Same as the 'precious' eight billion no longer paid to EU but will be paid 10x over in creating and operating the England only infrastructure all pale in comparison to the Trillions spent on covid.
Stop penny-whinging about the cost was said to be X but is going to be Y. Fact is with all infrastructure projects - there are unknown elements that could cost less but more likely to cost More.
It is the price it will be to construct and open.
HS2 and tory policy is still very myopic as the section from OOC to the delta junction is only going to be constructed with provision for two tracks. By the time it opens in 15+ years, capacity will have already outstripped two tracks. The core - pinch point should be built Now with four tracks between OOC and the Delta Junction.
The OOC station does not have sufficient platforms and there is no provision for 'through tracks' in centre as with HS1 and other HSR's.
The number of platforms at OOC - doubled with a tunnel and tracks built to interconnect with the GWR. The southern most four platforms to have the ability to access - join the GWR. Building it now will be easier and cheaper. Trying to add it later will be - messy, inconvenient, or impossible.
Additionally OOC should be below the GWR OOC station to reduce the interchange time. GWR down escalators to a mezzanine level and escalators to the platforms below. The mezzanine level is the passenger interchange dwell time zone. Canary Wharf is a good example. It would have been a better station at CW if it had been constructed with connected levels of: Mezzanine, JLE/Bakerloo, Bakerloo, xrail, and the lowest level being HSR multiplatforms. CW could have been 'efficient' if it was a four level - stacked, station.
This sort of logic is also missing again and again. Manchester Airport, should be Under the existing station/terminal! It should not be other side of airport many km distance.
Toton Parkway Station - logic would have the railway tracks between the TPS to Nottingham... and to Derby... land aplenty both east and west of TPS to move the current railway track / sleepers a bit further apart so HS2 UC gauge (Plus future double deckers) to enable service patterns of LES, OOC, Birmingham int'l airport, TPS and then terminate (and return) from both Derby and Nottingham. Looking at the track beds between Toton and Nottingham, I would think the only thing required is electrification and trimming of platforms or moving of rails at Beeston. There used to be many more sets of tracks in past. The current layout has four to six in the space of what used to be ten, twelve or more along the route between Nottingham and Derby. The cost of OHLE from Toton Parkway the very few km east to Nottm and west to Derby is inconsequential to the overall project.
The OOC spur to the GWR can be joined into HS4Air at a delta junction under what will be T6, double delta... AMS, CDG, Brussels, to Lille to Ashford, to Maidstone, to LGW, to LHR, to Birmingham International, Manchester International, East Mids Airport ... further north airports. Making the zone 500km centred on the channel tunnel all in the quicker to take HSTs than to fly.
To the East end of OOC, a spur ... for either now or later tunnelling - connecting OOC to Stratford International, Ebbsfleet, Ashford - CDG, AMS etc.
I am still waiting for Local services between places in SE England and NW France and Belgium. There should be at several trains per hour from Canterbury, Hastings, Maidstone, etc to Ashford to Calais to Bruges in north and to Amiens and Rouen to south of chunnel on east side.
A local metro service, clock faced time tables using 200m TGV double decker or similar rolling stock.
There is a total lack of Logic in Rail transport of getting people from A to B and back to A in an as reasonable time as possible.

Just a PS..

King's Cross is another station where local trains are being diverted into Thameslink, making more platform capacity possible for "national" trains.

Also, for a relaid GC to junction with WCML, a new section would need to be built to bypass Rugby and junction south of Nuneaton. ( The original GC route could not be joined to WCML , without demolishing Rugby Midland station and surroundings.)

The only justification - and its a reasonable one - is that HS2 creates jobs at a time when we are going to see unemployment go through the roof. It is a scheme that fits the classic bill for investment, - A Government borrows cheap money for an infrastructure project at low interest rates whilst there is many people wanting work. My one objection is that all of the staff on this project seem to be paid a lot more than 'the going rate'.

The version of HS2 we have is very questionable.

(a)The route chosen is through highly developed / populated country, giving high per- mile construction costs

(b) The cities involved are large, but relatively close to London ( 116 m for Birmingham, 189 m for Manchester), with rail already having the" lion's share" of this market. The W Midlands and the Northwest could get better value for money in other rail investments. On the other hand, cities further north, in Teesside, Tyneside and the Scottish Central Belt have more potential for getting a "sea change"due to HS rail.

(c) The much quoted capacity crisis between Rugby and Euston may now be superseded due to COVID. If there still is a problem, extra capacity conventional track , utilising a rebuild of parts of the ex - GCR, and its route south, which is, from Calvert southward, a current working line, would cost only a faction of the current 240 mph proposal.

(d) Yorkshire cities such as Leeds could also make use of this possible HS line on an East Coast alignment, which although being in the same situation as Manchester, would entail virtually no additional costs.

(e) Marylebone and Paddington between them should have extra available platform capacity with the diversion of local commuter trains into Crossrail.Another possible use of a partial GC rebuild could be as a new freight artery, again bringing relief to the WCML.