Posted 14th February 2020 | 1 Comment
Minister who insisted HS2 costs were stable leaves DfT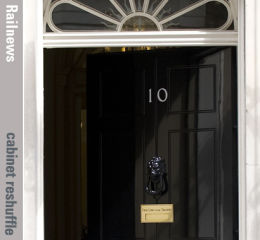 TWO transport ministers have lost their posts at the Department for Transport in Boris Johnson's cabinet reshuffle, in which the headline change was the unexpected departure of chancellor Sajid Javid.
The two leaving the DfT are George Freeman and Nusrat Ghani, who may have been the last minister to allege in the House of Commons that the budget for HS2 had not gone up and that the construction timetable had not slipped.
On 10 July last year she was speaking in a Westminster Hall debate when she said: 'The business case is clearly solid: there is one budget and one timetable—HS2 will continue on track … I stand here to state confidently that the budget is £55.7 billion and that the timetable is 2026 ​and 2033.'
In fact, HS2 Ltd chairman Allan Cook was at that time in the final stages of preparing his 'Stocktake' of HS2, in which he predicted that the final cost could rise to £78.4 billion. At least one forecast has now suggested £106 billion, at 2015 prices.
Last night Ms Ghani wrote: 'Huge privilege to have been transport minister and we've achieved so much In two years. Thanks to the great team in the Dept and now I get to spend more time with family and constituents.'
Mr Freeman has made it clear that he is disappointed. On Twitter, he said that it had been a 'huge privilege' to shape the DfT's new 'Future of Transport' strategy, and that he was sad to no longer be part of it.
Transport secretary Grant Shapps has kept his cabinet seat as transport secretary. Andrew Stephenson has been named as a minister of state in the DfT, with Kelly Tolhurst and Rachel Maclean as parliamentary under secretaries of state.
Andrew Stephenson will be responsible for HS2, Northern Powerhouse and the Transpennine route upgrade, while Chris Heaton-Harris continues to be in charge of general rail matters, including East West Rail and Crossrail in London. Kelly Tolhurst's brief consists of maritime and aviation, plus 'security and civil contingencies'. Rachel Maclean has been given the future of transport, as well as Britain's transition from European Union membership and transport decarbonisation.
Reader Comments:
Views expressed in submitted comments are that of the author, and not necessarily shared by Railnews.
The minister to breathe down the neck of HS2 management needs to be a consistent supporter of the project, but someone who will happily 'put the boot in', as required. The easy days for senior HS2 management of bagging the 100s of £k per annum on the gravy train are over.