Posted 23rd July 2019 | 6 Comments
HS2 challenges grow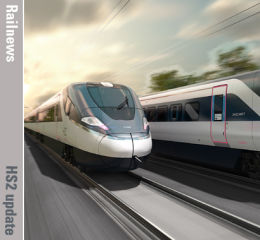 THE Labour Party is increasing the urgency of its demands for an inquiry into HS2.
The call follows unconfirmed reports that HS2 chairman Allan Cook has written to the Department for Transport warning that all phases of the high speed project will cost more than £55.7 billion. According to the Financial Times, he has advised that they will cost a further £30 billion.
A number of external commentators have already been claiming that the official figure of £55.7 would prove inadequate, even though it includes substantial contingency allowances.
On 2 July, Lord Tony Berkeley told the House of Lords: 'The department argues with me and the cost engineer Michael Byng, who has suggested that it is more like £156 billion, but no one has ever challenged his estimate. The Government just say that they do not recognise it. They have not come up with any alternative, even in front of the Select Committee a few years ago. I fear that there is a concerted effort by officials and successive Ministers to prevent scrutiny of the costs and programme, to refuse to discuss ways to reduce costs and generally to batten down the hatches.'
In the wake of the reported letter from Allan Cook, Labour shadow transport secretary Andy McDonald said: 'This warning from the chair of HS2 on spiralling costs flies in the face of repeated assurances from Chris Grayling that the project will be delivered within its budget. Only last week Labour proposed amendments which were designed to tackle cost issues head on, but they were rejected out of hand by this Government. We also proposed a peer review of the project but the Government said no. They should reconsider their stance and embrace that independent review. It is clear that the Government and HS2 have a lot of work to do if they're to restore confidence in this project.'
Meanwhile, HS2 Ltd has declined to confirm or deny the reports of Allan Cook's warning. The company said: 'We don't comment on leaks or speculation. We have previously noted that our chair, as you would expect, continues to scrutinise the programme, and regularly reports back to the Department. We are determined to deliver a railway that rebalances the economy, creates jobs, boosts economic growth and is value for money for taxpayers.'
Reader Comments:
Views expressed in submitted comments are that of the author, and not necessarily shared by Railnews.
Whatever happens with HS2, and in my opinion it would be ludicrous to halt Phases 1 and 2a now, a solution has to be found for the Rugby - Coventry - Bham corridor. Four tracking is not an option, due to multiple obstructions, so we are looking at a new route to take London services off the existing formation. This won't come cheap, but just leaving West Midlands services in their current congested state would be totally unacceptable. Meanwhile, the suggestion of those funded by the Taxpayers Alliance to divert Cov-Brum services via the abandoned 1830s link through Coleshill are laughable.

Any abandonment of HS2 would put us back at Square 1, so I urge everyone to persevere with HS2.

When I see a container train crawling along the WCML I think of how much line capacity it is soaking up that could be used for the ever increasing passenger traffic. The Great Central was never a great passenger link but earned its living from freight and that is what is needed now. A lot of the formation needed still exists and could be far more productive than HS2 if rebuilt with freight services as its primary use. This country is not big enough to really need TGV style railways, we do need more rail mileage across the country and the money being wasted on HS2 could be better spent on desperately needed lines elsewhere.

Crossrail is destroying all confidence in the UK to manage large Rail Projects without time delays and huge cost over-runs. Added to the electrification problems of the 'Great Western lines, any certainty over the cost of HS2 has to be questionable.

Always remember that without Pendolino tilting trains the WCML is still a basically 100 mph and a very full one with little spare capacity for additional trains !

HS2 is in reality WCML2 with sections of MML2 And ECML2 bringing relief to all three lines and providing capacity for more regional and local services using paths freed up.

It's also worth remembering that HS2 just like railways, motorways and canals is centred on Birmingham and NOT London !

One of tge biggest complaints from the north was the failure to introduce regional Eurostars but without HS2 these will never happen because our railways are simply too small for continental loading gauge trains and don't have tge spare capacity or suitable speeds to make Birmingham to Paris viable .

It's worth remembering the amounts spent on building motorway network and it's time investment in new railways got its turn !

"Value for money" is quoted by HS2 Ltd. The poor benefit / cost situation of this project has been pointed out already ; perhaps we should be asking not " whether?" but " which version ?"

Birmingham and Manchester are both too close to London for the generation of much additional benefit : day return trips are already quite feasible, with rail already having at least 80% of this market. At the same time, construction costs are high, at least in part due to expensive high speed , wide bore tunnels and high property values.

Perhaps a version of HS railway that could be more cost effective may be to target Northeast England and the Scottish Central Belt instead, where distances from London are such that "sea change" could happen, with new day return possibilities and better competitivenes with aviation. Construction of 2 or 3 high speed "new build stretches" as cut -offs along the ECML could achieve these aims for a cost around £20bn.

As for WCML capacity relief, we have to ask whether this aim could be achieved more cheaply through extra conventional construction ; in particular, through bringing a rebuilt Great Central into use between Rugby / Nuneaton and London ( cost around £4bn) ?