Posted 11th February 2020 | 9 Comments
It's official: Johnson's Cabinet gives HS2 the green signal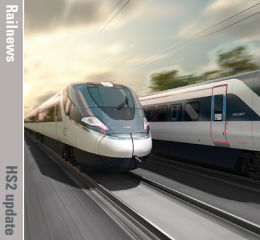 Updated 14.06 11 Feb.
PRIME MINISTER Boris Johnson has announced that HS2 is going ahead, and reaction has been coming in.
However, he has criticised the management of HS2 Ltd, particularly in its approach to local communities.
Mr Johnson said: 'The Cabinet has given High Speed Rail the green signal. We are going to get this done. And we are taking action to restore discipline to the project.'
He also said Northern Powerhouse Rail will be developed. He continued: 'Some have suggested cancelling HS2 to get Northern Powerhouse Rail done. But this is not an either-or proposition. They will be part of one integrated plan – High Speed North.
'Let us bring about a future where high speed trains glide between our cities.'
There will also be a minister appointed soon to look after HS2.
Labour leader Jeremy Corbyn responded: 'Today's piecemeal announcements do not repair the damage done by a decade of Tory government.
'The Prime Minister laments our inadequate infrastructure, yet it's his party that has been starving the country of investment for the last 10 years resulting in the worst regional inequality in Europe.
'Yet today the Prime Minister is selling his announcements as a prize for parts of the Midlands and the North. I tell him: people in those regions to whom he promised so much in the general election are going to be sorely disappointed.'
Midlands Connect Chairman Sir John Peace said: 'HS2 is the only shovel ready infrastructure project that can future-proof our rail network, keep rail travel affordable and bring our country together in an environmentally-sustainable way. We must now get on delivering this once-in-a-century upgrade of our rail network to level up the economy and unleash the potential of the Midlands and the North.
'HS2 is already a catalyst for huge regeneration in Birmingham city centre; now, we can get on with bringing the same transformation to the areas around the other Midlands' HS2-connected stations.'
Rail Delivery Group chief executive Paul Plummer said: 'These are crucial decisions that will turbo-charge rail's role in levelling up Britain's economy. Taken together, HS2 and High Speed North represent vital investment to improve today's railway and, through seamless integration with the existing tracks, build a reimagined rail network for the next 100 years.
'High Speed North will increase capacity and improve reliability while bringing the north of England closer together and build on the roll out of new trains across the region. HS2 will mean more frequent local services on existing lines, less road congestion with more freight going by rail and faster, and more punctual journeys between many parts of the country.'
Rail Forum Midlands CEO Elaine Clark said: 'This headline decision that HS2 is to proceed is good news for our members, good news for our regional and national economy and good news for rail commuters who can now look forward to the much needed additional capacity that HS2 will bring. Despite what some people may argue it's also good news for the environment as HS2 will help us reduce carbon emissions and by freeing up capacity on the existing network will help move freight from road on to rail.'
Railway Industry Association chief executive Darren Caplan said: 'The Railway Industry Association and our members support the Government's decision today to get HS2 done, a decision that could unlock a new "golden age of rail".
'HS2 will not just boost the UK's economy and connectivity, but will also enable other major rail infrastructure projects to be delivered too, such as Northern Powerhouse Rail, Midlands Rail Hub, East West Rail, Crossrail 2, and a range of other schemes.'
Dr Jenifer Baxter, who is chief engineer at the Institution of Mechanical Engineers, said: 'The Institute is delighted that the Government has retained confidence in the benefits of HS2. The resulting improvements to both north-south and east-west flows in the North of England will lead to economic growth, modal shift from road and air to rail for both passengers and freight. This will provide significant benefits for reduced greenhouse gas emissions and reduce pollutants that contribute to poor air quality.
'The routes minimise the impact of construction on the operation of today's railway with opportunities to investigate how the high-speed rail link can be delivered with minimal environmental impacts. For example, more refined modelling using information from High Speed 1 might indicate where some expensive tunnelling may be avoided.'
RMT general secretary Mick Cash said: 'This Government has dithered over this decision for far too long which has meant uncertainty and delays to this vital rail project. The Government and HS2 must take steps to ensure that jobs on the project are directly-employed, with union agreements, a safe workplace, and without the scourge of blacklisting.'
Not everyone is in favour. Jonathan Bartley of the Green Party said: 'Today's decision by Boris Johnson proves once again he will choose vanity projects over common sense. The economic and environmental case for HS2 has slowly crumbled since it was announced a decade ago. From whatever angle you look at it HS2 is a colossal white elephant.
'It is time to put this project out of its misery and instead allocate these funds to facilitating a local and green transport revolution. We need projects that favour regional connectivity and help local people in their daily lives.'
Nikki Williams of the Wildlife Trusts said: 'Nature is paying too high a price for HS2. We urged the Government to re-consider in the light of The Wildlife Trusts' report which evidenced the serious risk that HS2 poses to nature – and to take notice of over 66,000 people who wrote to the Prime Minister asking him to review HS2. Today's announcement means that it is more critical than ever that the whole project is redesigned – before HS2 creates a scar that can never heal.'
Reader Comments:
Views expressed in submitted comments are that of the author, and not necessarily shared by Railnews.
It's not a matter of perfection but of what works. This is such a badly thought out scheme that one begins to question the professional competence of the promoters. HS2 was conceived as a standalone, and is very poorly integrated with the rest of the network. Even Oakervee recognises that - but expect no major changes. HS2 will be bulldozed through regardless – warts and all. And there are many warts!

Dead end stations should be avoided wherever possible – they are a bar to operating efficiency. The non-tilting 'classic compatibles' may whizz along HS2 at break neck speed but they will be SLOWER than the Pendolinos when they join the rest of the network. This is not progress.

Agreed. An Anglo-Scottish HSL – linking up with HS1 and the Channel Tunnel - would have been a much sounder proposition as rail has the competitive edge over longer distances.

The main concern now must be that HS2 will cost so much to build that there will be little to spare for any other rail projects (over which it is bound to take priority).

The tops of the Y will Indeed connect to the existing East and West Coast lines, albeit along different alignments to those which go into Manchester and Leeds, meaning places further north will certainly benefit from quicker journey times to places on the network by up to an hour. Curzon Street will also have trains going north and south, and West Midlands authorities envisage connection to the local metro.

However, I certainly agree that there could be an opportunity to ensure Manchester and Leeds (and Sheffield, Liverpool, Bradford etc) get access to the northern-feeding alignments, and would also be the first to say HS2 doesn't go far north enough. But it is will be better than what we have, so don't let the perfect be the enemy of the good.

Yes, the current HS2 plan is indeed flawed. Amongst these flaws is the failure to realise that those routes that need extra capacity often do not coincide with those where very high speed is desirable and viable.

Just as example, the greatest "payback" from very high speed would be on journeys of at lest 240 miles, which in Britain implies London to NE England and Scottish Central Belt, which are hardly affected by the current scheme.
At the same time, many of the shorter distance lines involved in the current scheme are unneccessarily expensive due to building plans incorporating very high speed ; conventional speed new lines for capacity relief would save significant costs.

Don't know why everybody is clapping. HS2 is a thoroughly bad scheme, fundamentally flawed. It gives high speed rail a bad name.

It's bad because it was conceived as a stand alone project and is not integrated with the rest of the network. It doesn't connect with HS1 or Heathrow Airport. It will run into dead end stations in Leeds, Manchester & Birmingham, and in the latter case, will have Curzon Street to itself as no other trains will call there. It requires two different fleets of train sets, one confined to HS2, the other to run on other parts of the network. The 'y' configuration is entirely London-centric and will draw more traffic towards London than away from it. Also, the North does not end at Leeds or Manchester. Trains to Scotland and the North East will still have to use 19th century tracks. Another point, the underground access at Euston is not as good as that at KX/StP (where there is also Thameslink connection).

Then there's the question about fares (about which the promoters are strangely silent). In view of the huge capital costs incurred, premium fares are likely to be charged – as is the case with HS1, which only the rich and better off sections of society will be able to afford.

HS2 is a case of a good cause in the wrong hands; as currently constituted it will not improve connectivity, rebalance the economy or provide greater social mobility (as promoters claim).

Whatever happened to HSUK's alternative plan? Certainly worth examining (if only to debunk). It couldn't be worse than the madcap scheme that Boris now wants to take forward.



Although I can accept there is a need for appropriate new rail infrastructure, It appears the current HS2 is not the most cost - effective solution there could be.

Without going into long - winded detail re the above, as it now seems very likely the project will get built, the phases 1 and 2a " hang together", making little sense if only one is completed without the other. Phase 2b , though, has much less justification as curently planned. If northern communities ( remembering the north doesn't end at Leeds and Manchester, but goes on to the Tees, the Tyne and Scotland) could oversee a rethink here, it may be no bad thing.

I have heard that HS2 is going to cost £106Billion which I have heard on the news. And I think that is correct.
[See our related story 'Long-awaited Oakervee HS2 review is published' (and the linked Oakervee Review) for the origin of that figure. The mainstream media have consistently given that total much publicity, probably because it is higher and therefore more newsworthy. At the moment, no-one knows if it is right.--Ed.]

Good news. Of course, we've been here before; HS2 was "greenlit" several times during the 2010s, including passing both Houses of Parliament and achieving royal assent, so it could quite easily find itself facing an uncertain future another two years down the line, couldn't it?

I'd also be cautious about delegating phase 2b to the northern powerhouse: while the localist in me would like to see northern authorities given more power over their own region's projects, the cynic in me suspects it is just a precursor for the government to cancel both HS2 2b and NPR when they decide the money has run out, and be able to blame the northerners' own "mismanagement" of the project.

Good news. A resounding defeat for those who don't understand regional economics or rail operations. It makes perfect sense too for Phase 2b to be taken off HS2 and put in the hands of those developing NPR and Midlands Engine, with a minister to be appointed solely to breathe down the neck of HS2 management in delivering Euston-Crewe.

Credit where it's due. Well done Sajid Javid and Andy Street!

The HS2 approval should have been given decades ago Long before the first shovel hit the ground. The clearance works started years ago, so the project started already!
They will it wont it dithering decision at the 23:59 hour is why the costs always escalate on all UK projects!
FFS out come the NIMBY's!!! Go Away!
People in Ruislip complaining about a tunnel that will be so far underground they will not know it is there.
The tree hugger greens - they always loose the plot when trying to justify their position on anything: damage to Ancient Woodlands. Every Tree and plant in UK was planted at some point by our ancestors. We have no Black Forest that has remained untouched since the regrowth from the dark age plague depopulation events.
Fact is rails are 1.435m apart, trains will be about 3 metres wide... with 4ish metres of envelope space between the trains on track and another on outer sides of the railway. It is about the same size as a two lane road, a lane in each direction, for cars/lorries... but can carry over 1000 people in each train in each direction with the planned 18 to 20 trains per hours in each direction.
IF we had outsourced to the Chinese, HS2 would have been built and operational decades ago when the first paperwork hit the desks in parliament.
A 15 metre wide path through or on pylons above the ground will Not destroy VAST Forests. We do not have VAST forests in UK.
The MPs stating they will want assurances their constituents get 'compensation' etc... Ruislip, Uxbridge, etc... are just a backhanded way of saying the COST will increase as those who have land and wealth will be given MORE from the tax coffers haha The sheer Hubris of that Ruislip MP!