Posted 27th August 2019 | 9 Comments
Ministers accused of HS2 costs cover-up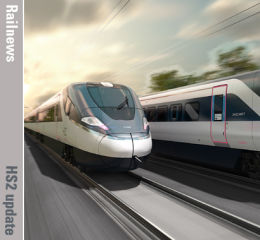 MINISTERS knew three years ago that the costs of HS2 were going to be higher than the official figure of £55.7 billion, according to reports.
It is said that documents seen by the BBC admit that the budget was not enough, although the DfT has continued to maintain that the project is on budget and on target to start opening from 2026.
The revelations will be another blow to the project's supporters, including Midands Connect, which says scrapping HS2 would be a 'disaster' for the region, while the TSSA union said the government is 'on the wrong track'.
The leaked documents were written in 2016, before MPs had voted in favour of legislation authorising Phase 1 between London and Birmingham. As recently as last month, HS2 minister Nusrat Ghani told MPs: 'The business case is clearly solid: there is one budget and one timetable—HS2 will continue on track. My right hon. Friend the Member for South Northamptonshire asked me to confirm at the Dispatch Box what the budget and the timetable are. I stand here to state confidently that the budget is £55.7 billion and that the timetable is 2026 and 2033.'
Even so, the leaked details include a record of a letter from transport secretary Patrick McLoughlin to the chancellor George Osborne, which warns that Phase 1 of HS2 was already set to be £1 billion over budget. The letter was sent in May 2016.
An HS2 director has also alleged that the overspend was known to be a lot higher, and that an underestimate of land costs was set to add at least another £2 billion.
More recently, HS2 Ltd has conceded that there are 'cost pressures'. Chairman Allan Cook has also been reported to have warned the DfT that the total budget could rise by £30 billion.
The Department for Transport said: 'Like all major, complex projects delivery plans evolve over time. We regularly keep Parliament and members of the public updated on progress.'
The project is now facing its toughest test so far because Boris Johnson has ordered a review of HS2, and a decision on a 'go or no go' basis is due by the end of the year.
Meanwhile the Northern Powerhouse think tank NPP is attempting to avert a negative decision by launching its own review of the scheme, which can be expected to include an assessment of how scrapping HS2 would affect the north of England.
Transport secretary Grant Shapps is due to make a statement to the Commons about the current state of play next week.
Reader Comments:
Views expressed in submitted comments are that of the author, and not necessarily shared by Railnews.
This debate about HS2 is going to continue until Phase 1 is completed.

London and the South East of England are the most densely populated part of Europe. With UK Housing Shortages the cost of Houses (and therefore compensation) is going to be a lot times higher than anywhere else in Europe. It will also mean many more people are annoyed and inconvenienced through noise and compulsory purchase. It is economic sense not to be London Centric but consider the North as the place for investment.

Michael has hit the nail on the head. Government complains of higher costs and compares to costs of similar projects in other countries and wonders why they do the job cheaper. Simple, higher costs here are a self-inflicted wound by interminable government dithering and endless inquiries/reviwws. Decide to do something, hold one round of reviews, make a final decision, and GET ON WITH IT.

Project Costs are Always double... treble of original estimated costs in UK.
WHY?? Simple! From the idea to increase capacity on the WCML by building another set of tracks (it should be a double set) until the first trainsets begin to roll will be over Three Decades!
Idea, concept, diagrams, construction... operational in under Five years (as is done in China), then the costs would be as estimated.
Twenty years of dithering and will it wont - back and forth 1001 times = anything and everything Infrastructure in UK delayed for Decades and designed and built for the capacity when first conceived as an solution to a problem.

There needs to be a full public enquiry and the whole project paused until then. There is no way that the projected budget makes any sense from a business point of view and taxpayers should not be required to fund a project which has so evidently spiralled out of control.

We don't need high speed rail but greater regional connectivity, which HS2 does not provide.

Get rid of the unnecessary Chiltern tunnels and the cost would drop a great deal.

When Brunel built his GWR it was built as capable for tge unknown speeds of 50 mph in an age dominated by the speed of a horse and tales of people's skeletons falling apart traveling on Brunels High Speed Railway!

If you building a new railway for the future then you future proof it by building to the best standards available and.Dont repeat mistakes of the past by building a line with unnecessary speed and thus capacity limiters which will affect the railway forever more !

So,HS2 was a £1 billion overbudget well it still doesn't exist so these are just figures on a spreadsheet just like with Crossrail when a £1 billion was removed from its budget by incoming Cameron government in 2010 yet nothing was removed from the project so it was again just numbers on a spreadsheet without anything solid .

It's worth noting the needless putting HS2 into tunnels to appease Chiltern NIMBYs which has added to the cost of HS2 !

Parliament voted overwhelmingly voted by 10/1 for HS2 at every stage of legislation under several governments so let's just get on with stage 1 for which funding is available!

A High Up insider in HS2 said 'HS2 is all about increasing capacity. The 'High Speed' bit was to make the project palatable to our Government and MPs.' Exactly right. It could be done an awful lot cheaper if the journeys took a bit longer.