Posted 11th October 2019 | 10 Comments
Rumours grow over future of HS2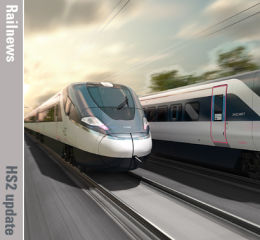 THE future of HS2 appears to be increasingly in doubt, as reports suggest that the forthcoming Oakervee Review will axe Phase 2b between the West Midlands and Yorkshire and possibly cancel the project entirely.
The review, which is being carried out by former HS2 chairman Douglas Oakervee with frequent HS2 critic Lord Berkeley as his deputy, was commissioned by prime minister Boris Johnson in August. They have been probing the scheme's costs, in the wake of a warning by the project's present chairman Allan Cook that the official budget of £55.7 billion was likely to be exceeded by some £30 billion.
However, some sources have been suggesting that the eventual cost of all the phases could top £100 billion.
Another possibility is that Phase 1 between London and Birmingham could be built more cheaply by lowering the maximum speed from the presently-planned 250km/h. Such a reduction would reduce the new line's capacity and lengthen journey times but still ease the pressure on the West Coast Main Line, where paths are in short supply.
The Department for Transport said: 'The secretary of state published the Allan Cook report as soon as Parliament returned, providing the Chairman's updated assessment of costs and schedule.
'The independent review into HS2, led by Douglas Oakervee with Lord Berkeley as deputy and a panel of advisers, will provide the department with clear advice on how and whether the project should proceed.
'We are not going to pre-empt or prejudice this work with a running commentary on progress.'
Midlands Connect had said it would be 'submitting compelling evidence to the review concerning the benefits of HS2 to the whole of the Midlands'.
MC director Maria Machancoses said: 'The massive benefits of HS2 to the Midlands are already being felt. Although a review must rightly scrutinise the project's deliverability, benefits and costs, we must not lose sight of the fact that HS2 will transform our transport network for the next century. Scrapping it or de-scoping it would be a disaster for the Midlands and the whole country.'
The review's conclusions are said to be due at the end of next week.
Reader Comments:
Views expressed in submitted comments are that of the author, and not necessarily shared by Railnews.
No HS2 the no NPR as there is not tge demand or money raising potential especially given NPR will have to fund 100% of its routes instead of being an extension of HS2 !

Worth remembering HS2 will cut London to Manchester journeys from just over 2 hours to just over an hour making Day return business trips viable thus saving overnight stays in Manchester or London.

All HS2 legislation has gained 10/1 majorities in both Houses of Parliament under different governments !

Go to Kings Cross and you will see how Network Rail is currently reinstating the 3rd tunnel in order to create extra capacity out of Kings Cross . Euston doesn't have the luxury of unused capacity and thus even without HS2 it still needs a double track railway to be built given lack of capacity for additional trains to cope with demand.

There is no long term strategic high-speed framework to link all major population centres. If there was it would be a series of high-speed projects that would be consecutively built over the next decade and a half. Northern Powerhouse Rail, from Liverpool to Hull, will not even be high-speed, just some sort of line faster than the snail rail which is already there, with not even a 'base' tunnel under the Pennines planned. HS2, is a north-south London centric plan, not being a part of a national high-speed plan. It is the end result. Pretty appalling.

HS2 from day one will have all paths full to bursting point. It will not cope with demand. It needs to be 4-track from London to Crewe. The North West takes the bulk of the rail traffic anyhow.

Realistically all the country needs is HS2 being 4-track from London to Crewe with a tunnel linking HS2 to H1 giving Continental access. Then:

1) Removing bottlenecks on the WCML, ECML, uprating the MML, uprating the WCML spurs to Liverpool & Manchester and using new high speed trains.

2) Have NPR high-speed branching into HS2 in the North West.

3) Leeds and Newcastle can enter the HS2 spine giving Continental access.

All at a fraction of the price of this half-cocked, expensive HS2 plan.

When I first campaigned for a UK high speed rail network over 15 years ago, my focus was on the 'Unique Selling Propositions' for high speed rail where only high speed was the answer. That was for faster services between Glasgow - Edinburgh and Birmingham - London to cut air pollution from flying, direct rail services between Liverpool, Manchester, Leeds and Birmingham to Paris and Brussels, and fast direct services from northern cities to Heathrow to cut out short haul flying to international hub airports. Only high speed rail can do these effectively, but have been ruled out because of the short-sighted WebTag business case studies of the DfT. What HS2 now does is confine improvements to places already well served by rail, whilst ignoring inter city links that do not include London such as Sheffield to Leeds or Nottingham to Liverpool, which need speed upgrades far more urgently.

It seems a little daft that only now, after ten years, that this project is being appraised, with billions already spent. The business case was flimsy when its projected cost was £38 billion, with current estimates running at nearly three times this figure it is obvious to everyone that it's an obscene waste of taxpayers' money.
Andrew Adonis's blue-sky thinking was an idea which acquired legs when the coalition government inexplicably agreed to promote it. It should have been dropped like a hot brick according to all the disinterested experts. The propaganda supporting this railway is being ramped up because for the first time since plans first appeared a decade ago there's a possibility that it will suffer the same fate as the TSR-2 nearly sixty years ago. We can only hope.

It is significant that the World's original high speed railways, Tokyo - Osaka (320 miles), and Paris - Lyon ( 235 miles), are long enough to have been able to give a "sea change" in terms of new day - return potential and competitiveness with Aviation.

The current version of HS2 , though , has a maximum distance of 189 miles ( London to Leeds or Manchester ), where existing itercity trains already have some 80% of the market to London. The only route in Britain that is long enough for the above type of "sea change"to happen would be London to Tees / Tyne / Edinburgh / Glasgow,

As for additional capacity, other people have already pointed to expanding conventional infratructure as the answer.

Just cancel the lot. The business case is flimsier than a chocolate teapot, unsurprising for a Jim Steer pipedream. Banging on about capacity without properly assessing the options for upgrading the existing network and proceeding on the assumption that faster is always better was always going to end in tears,

More anti-HS2 drivel from armchair experts, I see!

HS2 needs to be delivered in full. Nothing else will finally provide relief to the hopelessly overworked and overcrowded Coventry to Birmingham corridor, for example.

What does need to change is the management team at HS2 who have presided over a haemorrhaging of public support for the project, while pocketing obscene salaries.

HS2 has been nonsense from day one . Capacity is the key and not speed. As a first move put back in use available practical existing links that Dr Beeching took out and get shovels into the ground at a sensible cost. A rolling realistic programme. A number of smaller projects in various location all over the country to get things going.

The part that needs the extra capacity is Birmingham to London. The rest was always a bit of a Pipe Dream. Plenty of room for extra investment in the North and hopefully money can now be found for all the smaller schemes that have been proposed. The High Speed bit was a bit of a Red Herring to catch Parliament and the Publics attention. But in today's 'green culture' High Speed is not a term that goes down very well. In Air Travel 'High Speed' was replaced a long time ago by big planes with cheap fares.